| | |
| --- | --- |
| The magic night: Noche de San Juan | |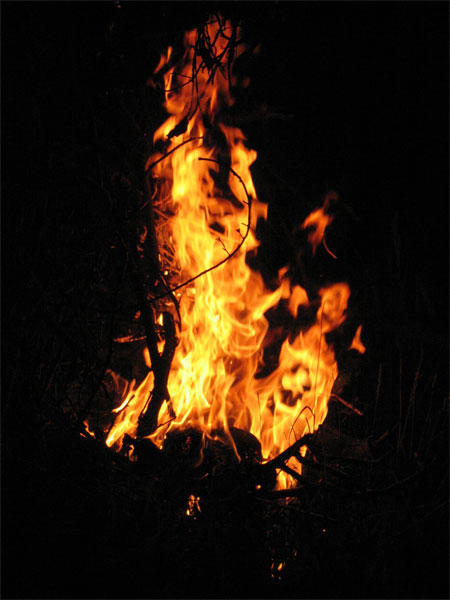 24 Jun 2006 @ 17:40, by Silvia Martínez

The night of 23 to 24 of June we celebrate in Spain la noche de San Juan (St John's night). It's the shortest and most special night of the year.

The fire becomes the king of the place, blazing in every corner of the country. Bonfires are started at 12am everwhere and the party goes on all night. Old and young people sing and dance around the bonfire, throwing to the flames their wishes written in a piece of paper.

Facing the bonfire, when you close your eyes and listen to the fire's crackle, it's like if you were back many many years in history to the pagans time, when the God of Sun was adored. This day is supposed to be in honour of Sain John the Baptist, but in reality it's an old pagan festival to celebrate the summer solstice and the power of the sun. It's the day when the sun shines in the sky longer, but also begins its journey to the winter solstice, that is a symbolic death. So in this day we celebrate life and death, light and darkness, what is to be born and what is to be left.

It's a night of magic and mistery, also called the witches's night. There are many legends from ancient times, saying that in this night Nature can show all its power, and the world of humans mixes with the world of Faerie. Conjurations and celtic rituals for love or money are made. Asturias, my region, is a land with celtic roots and celebrations like the San John's night are lived very intensely.

I was invited to my uncle's for dinner and we lit also our own bonfire in the garden. It was a lovely night, spent together with my family and my uncle's dog, who was scared most part of the time because of the fire. Here are some of the pictures of this night: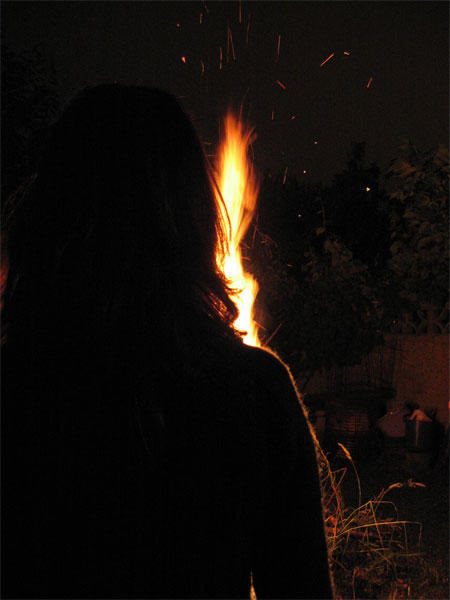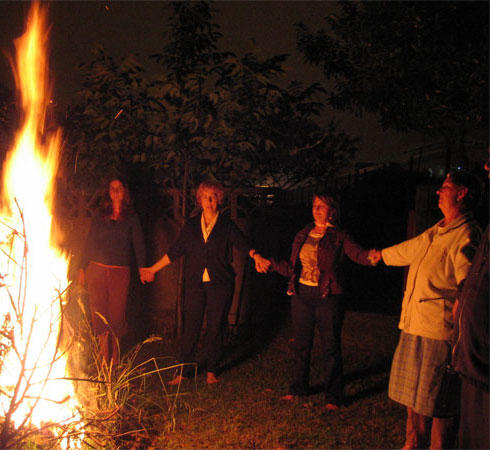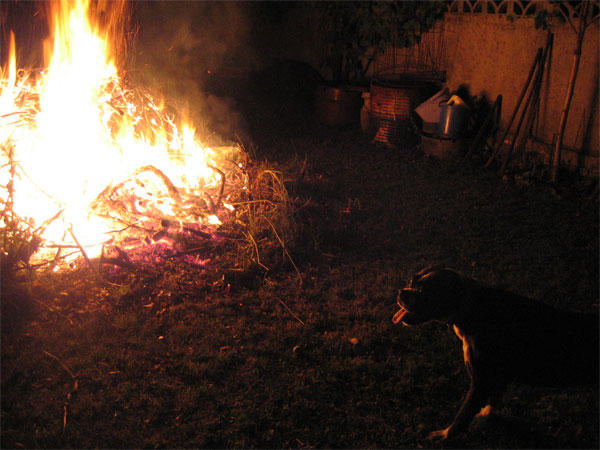 Category: Articles

---
11 comments

26 Jun 2006 @ 03:21 by jicoat : the fire!
Hi Sylvia

How wonderful for you and your family! It is great to be a small part of your world.
love, Jane

*******
Thank you Jane, I wish you could have been here that magic night, it was really wonderful! Hugs from Asturias :-)


---
26 Jun 2006 @ 03:25 by : Looks like a powerful gathering
I look at you all wearing jackets around a bonfire and I marvel that you can stand in such a different climate. So close and yet so far.
Around here, it's still so hot even at night, i can only mentally transfer your ceremony to 2 months ago. And doing so, i can join your circle in camaraderie!

To life, Silvia

*******
Judih, it was powerful for sure, the energy there was very strong, I even practiced a bit of Tai Chi there in the garden while the fire was still blazing. Here we usually have pretty mild nights, even in summer. Not much cold in winter and not much heat in summer, perfect! Well, no perfect because we have too much rain... Anyway, thanks to the rain we have green landscapes, so we shouldn't complain :-)


---
26 Jun 2006 @ 16:17 by scotty : Fabulous pics
seems like you all had a wonderful time !!

I love so much your sharing with us - thankyou Silvia !!

( I adore the second pic - it looks like the profile of a face with a bulbous nose and standy-up hair LOL )

******
That's cool!! I had realized about certain "faces" in the first photo, but not in the second! You're right, it looks like a face hehehe. The fire is really magic ;-)


---
27 Jun 2006 @ 07:38 by : Here's The Scene In Denmark
http://lava.nationalgeographic.com/pod/pictures/sm_wallpaper/06407_101.jpg

Bornholm Island, Denmark, 1997

With the sky still aglow at 11 p.m. on Midsummer Eve, Danes build bonfires along the shore to burn effigies of witches, banishing evil spirits from the land. Singing songs and daring leaps across the dying embers completes the Midsummer Eve celebration, one of the country's most beloved traditions.

******
What a cool picture, I love it!! Another friend of mine in Denmark also told me that they celebrate the noche de San Juan almost in the same way as we do. And probably some other countries also do the same. It would be great to be able to see the Earth from outside that night, with all those little bonfires in different points of the planet :-)


---
27 Jun 2006 @ 07:51 by jstarrs : It's important to maintain...
..some traditions, isn't it?
So much 'memory' is being lost.
Thanks, Silvia.

******
I like the traditions that we have here in Asturias and usually try to participate in as many as I can. It's a legacy from our ancestors, it cannot be sold or bought, just accepted as a gift to enjoy it :-)


---
6 Jul 2006 @ 14:35 by Anabel @156.35.192.4 : me encanta
Yo tambien pase la noche con mi familia disfrutando de la magica noche de San Juan. Me han gustado mucho tus fotos del fuego, realmente preciosas, sobre todo la segunda.

******
Gracias Anabel. Para entender realmente cómo es la noche de San Juan hay que vivirla, me alegro que tú también lo hayas hecho :-)


---
23 Jul 2006 @ 19:24 by : Thanks
for the Great Story and Pictures.
**--
Wishes to the Flames.
Smoke to the Sky.
Falls again as raindrops,
Into your garden of dreams,
and all you need to do,
to make those dreams come true.
**-_-**
John

******
Thank you for your comment, John. And for the nice little poem as well. It would had been wonderful to recite it around the fire that magic night.


---
11 Oct 2007 @ 20:33 by Cindii @206.169.65.43 : Yay!
Thanks. You just saved me a ton of research I needed to do on my project for school. =)


---
23 Apr 2008 @ 02:06 by ASDFGHJKL @70.131.65.105 : Cool
I like the warmth of Fires


---
23 Apr 2008 @ 02:08 by ASDFGHJKL @70.131.65.105 : Cool
I like the warmth of Fires and i need help on a project for Puerto Rico


---
23 Jun 2008 @ 15:52 by @79.153.238.140 : Report
Hola! he utilizado una pate de tu entrada por describir lo que es la noche de S. Juan en Espana...he dicho tambien que es de tu blog, y he puesto el enlace, si te molesta dimelo y lo quito!
Hasta luego!


---
Other entries in Articles
22 Oct 2006 @ 09:54: How to improve your motivation for life?
25 May 2006 @ 10:14: Squidoo lenses
17 Aug 2005 @ 07:58: The sound and tibetan bowls




---