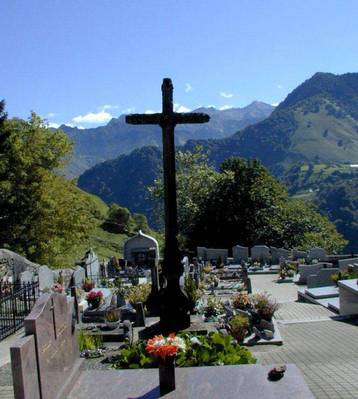 15 Apr 2006 @ 11:39, by Richard Carlson

A photo of a churchyard in Lascun

How can I construct my humble hut right here in the midst of Oxford Circus? How can I do that in the confusion of cars and buses? How can I listen to the singing of birds and also to the leaping of fish? How can one turn all the showings of the shop window displays into the freshness of green leaves swayed by the morning breeze? How am I to find the naturalness, artlessness, utter self-abandonment of nature in the utmost artificiality of human works? This is the great problem set before us these days.

---D.T. Suzuki, addressing a conference of world religions in London, 1936

Let life happen to you. Believe me: life is in the right, always.

---Rainer Maria Rilke

Winter having come,
the crows perch
on the scarecrow.

---Kikaku

Ilona is in the Pyranees this Easter weekend, where snow may cover the mountaintops all the time...so Kikaku's observation may not be completely inappropriate today. Besides, the cross is something of a scarecrow too...and in the winter of our discontent the crows sit on it and caw away.

No more sermons today in this quiet day of expectation and hope---unless I can't help it. The 6:00 morning here was utter mystery. We have a new pup that Jeroch rescued, as his chain had become entangled in a bridgepost. He must have broken loose with no ID, so we've welcomed him in. We named him Jacques in honor of Ilona's school quarter in France...and that was before the vet told us he's mostly Jack Russell terrier. Down the hill he went after a herd of deer breakfasting in the meadow, waking the late risers among the bird population.

It stormed here all night with lots of rain, but thankfully little thunder and high wind and no tornadoes, at least through our land. I haven't checked the news yet, but of course we were worried given what Iowa got yesterday in the full explosion of this storm system. I think I heard the news say there were so many tornadoes in Iowa no one even could count them. I dread the next time I'll hear my rightwing friends tell me all this weather of the past couple years is a natural cycle. "People have NO effect on the climate," I heard taught in a Middle School science class this week.

The air was wonderfully clear and just a little cool. A miststeam was everywhere. The dispersing clouds revealed a brilliant Jupiter in the southwest, but the gold decoration on the cloud fringes told me the moon was just below. Sure enough, a few minutes later there she was, looking still full but rather frowzy and tired, as if she'd been kept up all night by a stormy lover. The conjunction is a magnificent moonset to look for if you're a Sunrise Service person tomorrow.

We've been missing Ilona especially as Easter approaches. She is active in the Episcopal services we attend, helping the priests...and her absence around the altar hurts. No Easter baskets this year for the first time in our marriage. Empty basket syndrome. But she called us Thursday at dawn here. Her friend Keenan's mother had arrived from Cincinnati, where she is a physician. His stepdad is an avid hiker, so off they were going to a little town of population 200 called Lescun. The place is right on the major trail that traverses the entire mountain range.

Ilona says she definitely will be in a church tomorrow morning, and I imagine the experience is going to be just amazing. We went to a service at a little church on Georgian Bay a couple years ago, and all the references were to a great tradition of fishing in the town. I wonder if the people of Lescun herd sheep or something. This is the heart of Basque country up there, and I know she is curious about that culture. O gee, I am so envious!

I think on Tuesday they're going on into Spain to Pamplona for a couple days. This is where Jeroch's friend Karin just spent the last couple months. Both girls were at DeGaulle the same day, missing each other by one hour. Then some more time at San Sebastian before returning to Pau. Maybe they'll even get to attend some school finally!

This all seems so auspicious in my life. Yeah, I've lived in big cities and loved it, but at heart I'm just a country boy who likes hearing the peepers and frogs leap and dance in the increased wetlands this morning at dawn. May this time of transition revive us all!





Category: Spirituality

---
20 comments

15 Apr 2006 @ 16:13 by Quinty @68.226.88.25 : San Sebastian
is a "gastronomic capital." I hope she likes seafood? And doesn't let the chance escape her.

Many years ago San Sebastian and Biarritz were playgrounds for the aristocracy. I wonder it the same is still true? The Pyrenees are indeed magnificent, and I have a bit of a soft spot for the Basquelands, both French and Spanish, too. Being lucky to see all this at her age, I will be surprised if this isn't only the taste which will drawn her on to return in later years?


---
16 Apr 2006 @ 11:01 by : Comes The Dawn
No quiet mist this Easter sunrise...or moon/Jupiter conjunction visible. Angry clouds and colossal lightning display exactly in the southwest corner. Thunder rolling in! Birds sound excitement: we're in for another drenching...and things are going to be violent. Gotta shut down.

Maya Angelou on Rising Up~~~

"You may write me down in history
With your bitter, twisted lies,
You may trod me in the very dirt
But still, like dust, I'll rise."

Meanwhile in Lascun~~~

http://www.balades-pyrenees.com/lescun%2001.jpg


---
17 Apr 2006 @ 08:48 by : On To Pamplona
Easter Day emerged here, after such a threatening sunrise, in absolutely perfect fashion. Going into choir breakfast and rehearsal at 9, we dodged raindrops...but by the time we were out at noon, the sun was shining and Spring was visibly blooming everywhere. We had hoped Ilona would call family assembled at Grandma Kuhre's but it didn't come. Had a good walk and talk with Jeroch out to the sweat lodge he's built on the farm land, and then up to the pond. He and Karen may move in with us for a couple weeks in July, while the house they'll be sitting becomes readied---unless a new job opens up for one of them, upon which occasion they'll take off together for parts unknown. Ahh, how I remember when I was in my 20s...

So Ilona and entourage are in Pamplona today~~~
http://www.tomgrodek.com/Spain%20for%20Web/pamplona-diane


---
17 Apr 2006 @ 23:17 by Quinty @68.226.88.25 : Pamplona
You know that is a city my father introduced to Hemingway? This was in Paris in 1922 before either was known. Hemingway was only 22 at the time, on his second trip to Europe, after his first visit during the war in the Red Cross. And my father had only recently returned upon the completion of the war, the Great War, as they called it then. A Spaniard, Spain had remained neutral. And he had spent most of this time in Madrid, where he met many of the leaders of another approaching war, the Spanish Civil War. Though only a very few then were in the least interested in politics. Certainly not Negrin. The Madrid tertullias were most lively then.

He, my father, had been in Paris before the war learning how to paint from all the aspiring artists living in Montmartre. After the war he returned hoping to revive the flame. What he saw, though, was disillusioning. It's a very long story, though. If anyone should be interested in this story it may be found in Waiting at the Shore, my bio of my father.

Pamplona is in the north of Spain, a conservative area. Burgos was Franco's first capital once he was acclaimed Jefe Supremo of the whole works. His fellow generals proclaiming this in a solemn ceremony in the Cathedral of Burgos without benefit of a vote. Why, when a vote isn't necessary, go to the trouble? He, Franco, had murdered Mola and the rest was relatively easy. No one else claimed the title. But the Pamplona Hemingway saw, the San Fermins, is another matter. This was a most Spanish fiesta, one which Franco would not have disapproved of. And the legend lives on through the great book Hemingway wrote. Though I read it avidly, Richard, when I knew you way back then, today the blatant anti-Semitism in the opening pages makes me cringe, and I can't get beyond them. In spite of this, I'm still a great admirer. A new book is out, incidentally, which includes the various things Hemingway wrote about my father. Yesterday an old colleague tipped me off. I have it on order and haven't seen it yet.

Pamplona is a most atmospheric town. I'm sure there is much good food there. And the season, the season for bullfights, has begun. The perfect antidote, if you ask me, for the age of Bush. Go to a corrida, stand at the barrera, observe the oficionado Spaniards, the cape work, how brave the bulls are, the matadors, the whole incredible spectacle. Yes, a good way to forget the overall degeneration of the whole American imperial spectacle. Maybe it's just our turn?


---
18 Apr 2006 @ 09:10 by : A Fascinating Anecdote, Paul
and thank you for this...and all of them through the years. Paul's 2 volume biography of his father, Luis Quintanilla, collects them (except maybe a couple) in one spot. If you're an NCN member you should check quinty's Profile http://www.newciv.org/mem/showprof.php?time=1145374756796 . If not (and anyway) a visit to the site he built always is a revelation http://www.lqart.org/.

Coincidentally we were immersed last evening in the world-weary perception of another great American writer, in the film Capote. The marvelous capture of all the ambiguities that drew Truman Capote to those horrible and senseless murders in Holcomb, Kansas, in 1959, depicts the danger of getting too close. A self-inflicted death can beckon so easily in even a beautiful and gentle effort to "forget."

And now our little group of travelers is supposed to be lounging here~~~

http://members.shaw.ca/gfe/sanseb1.jpg

I hope we get a call today from San Sebastian, but maybe her phone card doesn't work in Spain. Or are the old folks back home a distant memory in the (at)tempting forgetting?


---
18 Apr 2006 @ 10:58 by : Easter Exchanges
A quiet time in London, decided on a visit to Westminster Cathedral (not Abbey) for a catholic mass. A huge cathedral packed to standing room only, with many site seers, Hindu, Muslim, suitcases, pushchairs, wondering around. While pleased to witness such interest and freedom of access etc, a solemnity was missing. However, compared to my last visit for the Memorial Service for Diana, with her Mother and Sisters present by Cardinal Heenan, that was no way going to be possible. As I was early, there was time to check out my usual place, and all resumed to a Latin normality with extremely amusing sermon on time travel (no tongue in cheek). My last mass in Europe was in St Michel du Mont in Paris - and yes the sense of devotion in European churches is palpable and never forgotten, nice to hear this has touched Ilona too, it has to be so much of the whole culture, which thankfully gets left alone. On Easter Saturday I watched Chocolat - with Juliet Binoche - such a wonderful story, being moved by the Air and Wind, and joie de vie. How on earth was the producer able to suggest to Juliet how to play the role? amazing!

Richard, the link to Quinty's profile informs that nothing has been entered, il ne marche pas.

@@@@@@@@@@@@@@@@@@@@@@@@@@

Yeah, I wonder why that is. It seems to me I've tried that before at a Log and it didn't work that time either. Oh well, NCN is a little like Alice In Wonderland in some regards. Click on People just below this page, and you'll find a box for looking up another member. Type in Quinty and off you'll go to it. As expected, lots of creative wit on the page.

---Richard


---
20 Apr 2006 @ 09:31 by jstarrs : San Sebastian
I went there some years ago, to join a group of dharma students, with Ganchen Rinpoche, who was teaching there.
http://www.lgpt.net/bios/rinpoche.htm
Up on that hill, above, I had my bag stolen with my passport and papers &, for a while, became a non-existant nobody until, months later, I'd re-done my papers.
It's a weird feeling, being a non-existant nobody, dependant on a bunch of papers for one's identity.


---
20 Apr 2006 @ 10:09 by : Lady Haig Remembers
Grange Rutan, the Bebop Wife Nobody Knew, often replies to stuff I send out or put up here. She is one of the greatest gifts the Internet delivered to me Out of Nowhere. Married a while to Al Haig, Charlie Parker's favorite accompanying piano player, she's got a book about the relationship coming out momentarily, it is said, that probably will shake up the jazz community a bit. The dispatches about Ilona's trip have stirred some memories (which Lady Haig is permitting me to post)~~~

April 11th: Ahhh, the youth is wasted on the young does not apply to the lovely Ilona and my skin tingled at the wonder of what she is going through and fills my soul with a silent smile as, for the first time in my life, I celebrate my birthday on Easter...but, when I was 60, my husband began a tradition of taking me to Paris and, even though, when I was with American Airlines, and 23 years old, won a first class trip around the world with the airline of my choice...I chose Air France and shared first class from Paris to Rome with Federico Fellini and his mistress, one of them, didn't know it at the time, and witnessed the arrival into Fumacino Airport with strobe lights scanning the dark skies as the red carpet was rolled to the self contained boarding ramp and there was his wife, Giulietta Massina, dressed in a full length mink down to her tiny sparrow feet as if a twin to Edith Piaf, holding a huge, actually monstrous bouquet of roses...waiting for the man to silently pat the fanny of the tall blonde and a bodyguard send her packing to tourist class as he deplaned to the applause of the paparazzi of the early sixties....ahhhhhhh what did I know but I knew I was in it...but it's Tuesday and this is what Ilona did to my world weary bebop heart...yes, she is your daughter Ricard...you are a good daddy and she is becoming a beautiful woman...Paris does that, even now...Happy Easter, Lady Haig

April 18th: The subconscious is an amazing place which dwells in supposed forgotten parts of us which seem to become ignited or probed by the mere mention of an author, a place, a scent and BOING a feeling erupts and we are in touch...with...yesterday. And, like that long forgotten radio phrase, "Who knows what evil lurks in the hearts of men...The Shadow knows" I was off on a jaunt to yesterday thinking thoughts because of Ilona, Spain, Hemingway and Capote and it seemed so absurd but I was in Acapulco, not in Spain, and I am barely 20 on a blazing hot day at the bull fights and a few rows away, before the whole "theatre" begins is Zsa Zsa Gabor dressed all in an audaciously and blatant pink outfit and that hat, oh that hat, shades her huge dark glasses but her gorgeous face is recognized despite her pretending not to see who sits close and she is with two handsome young men; the heat is so intense, the clay of the corrida so dusty it seems to rise and levitate to meet the beating down sun and I am about to see my first bullfight, to see the gore, to want the gore, to smell the hot gore and scream and taunt and join the crowd, to connect in some absurd way totally unrelated to my culture which connects me to John Goodman, my ancestor who came over on the Mayflower to Plymouth Rock in 1620. I want to be where Zsa Zsa hangs out and, having read Hemingway and Capote I am my own Ilona and I am another me...even now and then my subconscious takes me to Paris, six months later even before I knew about perfume and I am exposed in some sleek and quiet shop in what arrondismont I can't even remember, but I do remember what the exquisite elegant woman told me about "if you want to be a real woman you must put your perfume on when you are wet...real perfume...and pat yourself dry and never put it on again and your perfume will become you...start with Chanel it will never disappoint you...as you grow older, wiser, maybe by the time you are 23, you might find something with the middle notes and when you are really old, at 30, make sure your scent has a top note, a middle note and a bottom note...and your man will never leave you." How could I not listen as she slinked her way over to bottles which held such secrets...Who cared about politics...after all, I'm from the I Like Ike era...thanks for the ride Mr. Carlson, you never let me down. Lady Haig


---
20 Apr 2006 @ 10:33 by dempstress : Fantastic!
(The machine demands text to process this, but what more is there to say?)


---
27 Apr 2006 @ 11:13 by : This, again is for Ilona
Perhaps we could continue the fable of Lady Haig - on Perfume, with another possibly little known characteristic. Perfume is affecting to the Spirit. If Spirit is a living eternal entity, as many of us have always allowed, pure perfumes, essences, and incense, also speak to departed spirits as well as to the Divine which is known to permeate the entire spiritual kingdom. Apparently subtle perfumes as with embalming perform a very real relief and comfort to souls when slowly (over 14 days) shedding the material form from the earthly realms. This seems to the one item that can be carried over between the dimensions. This fact could be very interesting indeed, because of course in cyberspace there is no perfume at all, and I wonder how many people even wondered or considered the importance of this, when making their endless comparisons with ever increasing new computer technology, and new civs etc etc. On the same subject of equal import, there is one well known author I always return to, as another subject holds one in a sway of disbelief.

The effect of precious gems and metals, like gold, on the human form. All the well known gems are known to enhance, increase, certain qualities and characteristics in a person. Diamonds for instance do all what would be wished for the first thing to come to mind here!! However, the most interesting factor in this consideration, is not that this is true or not, but that the same world renowned author goes to state that one does not need the actual substances to effect these characteristics to the person (must be worn against skin) but that IMITATIONS will do. This to me is the most incredible fact of all. As everything this author has said is surely of fact, personaly experienced, then this remaining fact has to be considered too.

Life, capital letters, really is more beautiful and complex than we mere humans can contemplate, and please could we bear this in mind, at every moment when swanning about in Cyberspace and life. Hope all continues to fare well in France for Daughter of man by mighty river with green hills! (the Haig person story would seem a little dated, as it is unlikely that the same considerations pertain these days??)


---
27 Apr 2006 @ 15:47 by : We Shall Have To Wait
With my daughter, even now, requesting we wire her more money, I think I shall hold off on sharing the Ladies Haig 'n Raye on the sniffing essences. Before this journey Ilona's preferences seem to center around those of an ashram, but we shall see if Paris has its way with her.

It's always of interest to me how each person comes eventually to consider elements and methods to help him on his own particular way beyond this life. I tend to be rather matter-of-fact about it---like what kind of drug will go into the final drip---but I admire the Tibetan Book of the Dead above others for its amazing compassion. If you have seen tankhas painted with real gems ground into the pigment, you know the effect they can have on one's practice. One tends to lean more toward the philosophy of accept no imitations.


---
27 Apr 2006 @ 15:57 by dempstress : Well let's hope
that it's not because Illona has discovered tha 'Diamonds for instance do all what would be wish' that she's after additional funding.......


---
30 Apr 2006 @ 18:40 by quinty @68.226.88.25 : Why they hit the streets


Published on Wednesday, March 29, 2006 by the International Herald Tribune

France's Politicized Students
Capitalism Under Fire


by William Pfaff

 

The protests' ostensible purpose is to force withdrawal of a minor change in this French government's employment policy, but they have taken on a radically different significance.

The crowds in the street contest a certain form of capitalist economy that a large part, if not the majority, of French society regards as a danger to national standards of justice and, above all, to "equality" - that radical notion of which France is nearly alone in proclaiming as a national cause, the central value in its republican motto of "liberty, equality, fraternity."

Prime Minister Dominique de Villepin undoubtedly had little notion of the consequences when he launched what seemed to him a small but constructive employment initiative, intended to loosen current structural inhibitions to job-creation.

He inadvertently opened what many of the French see as a central question to their national future, just as two years ago they saw in the European constitutional referendum disturbing questions about the future nature of the European Union and about the model of capitalism that would prevail in Europe's future.

They are not alone in this concern. A kindred debate about "models" of capitalism has been a persistent factor in Germany, now suffering labor unrest, and in the European Commission itself, which since EU expansion to 25 members, has tipped away from the traditional European "social" model. Even in Britain last Tuesday there was the biggest strike since the 1920s, on the question of pensions.

The French, of course, have been against "capitalisme sauvage" ever since that rough beast loomed amid the satanic mills of Britain in the 19th century, subsequently making its trans-Atlantic journey to establish another lair.

A recent international opinion poll on the free-enterprise and free-market system, found that 74 percent of the Chinese say they think it the best system of all, compared to only 36 percent of the French. (The Germans were not far off the French.)

The essential question is, what capitalism are we talking about? Since the 1970s, two fundamental changes have been made in the leading (American) model of capitalism.

The first is that the "stakeholder," post-New Deal reformed version of capitalism (in America) that prevailed in the West after World War II was replaced by a new model of corporate purpose and responsibility.

The earlier model said that corporations had a duty to ensure the well- being of employees, and an obligation to the community (chiefly but not exclusively fulfilled through corporate tax payments).

That model has been replaced by one in which corporation managers are responsible for creating short-term "value" for owners, as measured by stock valuation and quarterly dividends.

The practical result has been constant pressure to reduce wages and worker benefits (leading in some cases to theft of pensions and other crimes), and political lobbying and public persuasion to lower the corporate tax contribution to government finance and the public interest.

In short, the system in the advanced countries has been rejigged since the 1960s to take wealth from workers, and from the funding of government, and transfer it to stockholders and corporate executives.

While that may seem an incendiary comment, it seems to me a simple factual observation. The criticism currently made of Europeans who resist "reform" is that their policies block managers from downsizing and outsourcing jobs, in order to add "value" to the corporation. (A recent headline in the International Herald Tribune read: "AT&T- BellSouth deal gets Wall St. applause. Merger would lead to 10,000 job cuts.")

I once called this "CEO capitalism," since corporate chiefs today effectively control their boards of directors and are also the biggest benefactors of the system, subject only to critical attention from investment-fund managers, themselves interested in maximizing dividends, not in defending workers or the public interest. (The well-known American fund manager, John Bogle, now retired, has taken up my argument and advances it in his recent book, "The Battle for the Soul of Capitalism.")

The second change that has taken place is globalization. The crucial effect of this for society in the advanced countries is that it puts labor into competition with the poorest countries on earth.

We need go no further with what I realize is a very complex matter, other than to note the classical economist David Ricardo's "iron law of wages," which says that in conditions of wage competition and unlimited labor supply, wages will fall to just above subsistence.

There never before has been unlimited labor. There is now, thanks to globalization - and the process has only begun.

It seems to me that this European unrest signals a serious gap in political and corporate understanding of the human consequences of a capitalist model that considers labor a commodity and extends price competition for that commodity to the entire world.

In the longer term, there may be more serious political implications in this than even France's politicized students suspect. What seems the reactionary or even Luddite position might prove prophetic.

© 2006 The International Herald Tribune


---
19 May 2006 @ 09:06 by : May In Paris
Well, they couldn't make it during April I guess, but who's complaining?

----- Original Message -----
From: "Ilona Carlson"
Sent: Thursday, May 18, 2006 6:06 PM
Subject: RE: chat

> Tomorrow we're headed to Paris for the weekend. We'll be there until Sunday
> afternoon. We're taking a 6 hour train ride and should get to Paris around
> 1:00 our time. You may try Kelly's cell phone. I wanted to call today, but
> we don't have a phone card...
>
> I'm rather excited, it should be a great time. If I can, I'll call you guys
> from the hotel and you can try Kelly's cell phone.
>
> I love you guys . . . And I can't express how much I miss you!
>
> Ilona.


---
19 May 2006 @ 12:30 by dempstress : How lovely for her
Hope she has a terrific time. She must already be a fair way through her trip I suppose.


---
19 May 2006 @ 15:24 by : The Flight Home
We're hearing there are a couple of options, depending on weather conditions. Possibly they'll fly out of Paris the morning of June 7th for Miami, and from there to Cincinnati. Or there may be a direct flight the next day. I expect she will have much to teach us.

http://www.francetourism.com/pics/paris-night.jpg


---
28 May 2006 @ 15:23 by Quinty @68.226.88.25 : La Ville Lumiere

I'm embarrassed to say that I don't recognize the bright building to the right. Does anyone know what it is?


---
28 May 2006 @ 19:57 by : Is That Over Toward Montmartre?
Sacre Coeur?


---
28 May 2006 @ 20:55 by Quinty @68.226.88.25 : No cigar on that one:
the photo is of the left bank. If you look toward the top, above the Eiffel Tower, you will see a long dark horizontal line. That's the Seine. Montmartre is way over on the other side, on the right bank, and that long brightly lit avenue on the left leading up to the church-like tower in question, could be seen as an arrow pointing in the general direction of Sacre Couer. Which has become seedy in recent years. (Graffiti, tourist schlock, etc.)

I know that area reasonably well and for the life of me can't figure out that tower. It may not be a church.


---
17 Jun 2006 @ 15:44 by Quinty @68.226.88.25 : 360* Paris

Just move the horizontal scroll bar starting on the left toward the right to go full circle. And for an extremely close up view of Notre Dame.

http://framboise781.free.fr/Paris.htm


---
Other entries in Spirituality
31 Jul 2010 @ 16:29: Innovation Yantra
31 Jul 2010 @ 16:01: Randy Paush - Lessons for Life
30 Jul 2010 @ 16:30: from Baudrillard to Verger: Diversification Vs Global Norms
22 Jul 2010 @ 13:16: Cartographers of No Man's Land
22 Jul 2010 @ 02:28: PUNISH BUSH & NEO-CONS FOR WAR CRIMES!
20 Jul 2010 @ 14:24: Getting other people to do stuff
16 Jul 2010 @ 22:57: Considerations on writing
14 Jul 2010 @ 14:53: Therapy Dogs Serve our Wounded Warriors
14 Jul 2010 @ 13:35: Consciousness of Pattern
13 Jul 2010 @ 17:04: What is Consciousness? - My answer on Quora.com




---