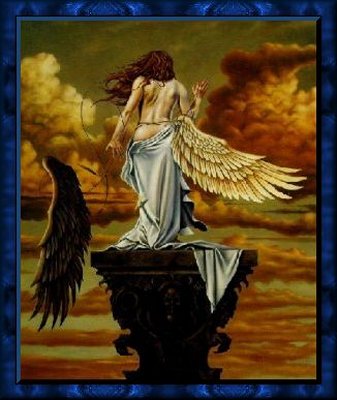 24 May 2002 @ 13:06, by Alana Tobin

I give honor to My Self, my NCN Friends and All of my Companions on the Path.

Prose: Honor to the Warrior

Visionary Artist: Diana Elizabeth Stanley
[link]

Honor to the Warrior


I Give Honor to the Warrior
She brought me, Oh so Far
Without her Sword and Shield
I'd not be Standing
Here with Scars

She Braved the Darkest Nights (Knights)
Fought and Faced Demons
Large and small
Traversing perilous Waters, She Did Burn
And in the Fires, Gained it All

Her Soul shone Bright and Sparkly
In the Darkest hour, She did Quake
As She Saw from Deep Below
To the Highest-Ivory Tower, Did She Shake

She Lives in All the Realms Now
Traversing Death and New Life Skies
Where She Meets her Many Allies
All in Perfect Timing and Disguise

The Warrior She is Fiercer
In Her Love and in Her Power
As the Choice to Be
In All Spaces at Once
Alchemizes Her, Literally by the Hour...

Written 5/24/02 © by Alana Tobin






Category: Spirituality

---
4 comments

24 May 2002 @ 16:33 by : Perfect in Disguise
Strong in shoulder, the wings come off, striding from pedestal, her drape slipping. This person: no more fooling around!


---
24 May 2002 @ 22:25 by shawa : Thanks!
...for the gift of these images! They nourish the soul. Loved the Tarot Master one, and the Healing Temple, and the Fairy Pond, and and and ...:-) And I love the Goddess shedding Her wings, what the heck, and striding from the pedestal, leaving the audience flabbergasted!...(And the poem is beautiful). And... Thank you!


---
25 May 2002 @ 07:16 by : And so she is
Awsome stuff! visions images all divine.


---
25 May 2002 @ 14:32 by : View and Vista
This vista waiting to be seen ... what is up to me to do but to atune my view?

Contemplating the winds at play in my wings, I think of some "there"; leaving them off, I am, more simply, "here"!


---
Other entries in Spirituality
31 Jul 2010 @ 16:29: Innovation Yantra
31 Jul 2010 @ 16:01: Randy Paush - Lessons for Life
30 Jul 2010 @ 16:30: from Baudrillard to Verger: Diversification Vs Global Norms
22 Jul 2010 @ 13:16: Cartographers of No Man's Land
22 Jul 2010 @ 02:28: PUNISH BUSH & NEO-CONS FOR WAR CRIMES!
20 Jul 2010 @ 14:24: Getting other people to do stuff
16 Jul 2010 @ 22:57: Considerations on writing
14 Jul 2010 @ 14:53: Therapy Dogs Serve our Wounded Warriors
14 Jul 2010 @ 13:35: Consciousness of Pattern
13 Jul 2010 @ 17:04: What is Consciousness? - My answer on Quora.com




---