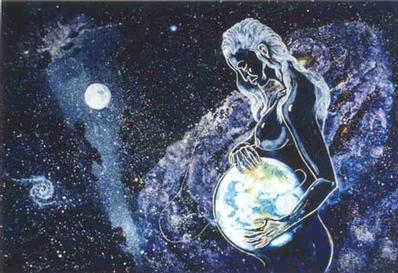 26 May 2002 @ 20:10, by Alana Tobin

Alana's Prose in Honor of:
The Meeting of the Sisterhood

Written On the Lunar Eclipse
May 26, 2002- in Sagittarius

Goddess Artist: M. E.Procknow-Image is Gaia
[link]

IN LIVING MEMORY

She Holds the Wisdom in her Bones
The Codes of Creation Dancing
Held deep inside her Throne
Informing and Romancing

Awakening her Presence Power
It Shakes and Moves as Thunder
Deepening, She Grows in Beauty
And Expanding this very Hour

Her Sisters now they come to Her
Remembering their Common Bonds
And Dancing now, they each Receive
Their Blessings and Magic Wands

Now in Hand, they make a Pass
As Winds of Change do Rise
The Power of it, is Shown to Each
In Reddish Amber Skies

In Community they come to Share
Their Love so freely Given
Yet no longer do they lose Themselves
Freed now from pasts, Forgiven

The Sisterhood Rejoins
The wounds now Healing Deep
Returned to Earth so Conscious
No longer do they Sleep

In Power they join in Purpose
To Bless the World this Day
The Journey they have Traveled
Has Long Prepared the Way

Each Steps Forth Now in Beauty
Their Power they have Honed
The World Now Ready to Receive Them
Maiden, Mother and Crone


May 26, 2002 – © by Alana Tobin






Category: Spirituality

---
5 comments

27 May 2002 @ 02:53 by : Honoring Sisters
Thank you for the magical circles you and the others have been creating out of a tangled web and winding network. We all join in the Spring cleaning. Fall cleaning too, eh New Zealand/Australia/South Africa? I know, sweet Alana, there is room for the brothers in your generous nourishment.

*******Yes Richard, "We are family, I got all my brothers with me." It is simply that yesterday was the Lunar Eclipse, and the Sisterhood called the women to come in special ceremony around the planet. On June 10th, the Solar Eclipse will call all the brothers to come meet with the sisters, and if opportunity allows, I will do ceremony with my bros and my seesters. In love, Alana


---
27 May 2002 @ 03:10 by : Gosh, what a way to wake up.......
.......and to be greeted by this little gem. I belong to a group of women and we went out into the High Desert and did a ceremony to honor the spirts of the water of the four directions. It was awesome with the full halo around the moon and the eclipse. Even the coyotes sang with us and the nighthawks were winging their way across the moon. Awesome. Sisterhood is so special. yup! :-)

Kay, you were right there in the telepathic heart space of the sisterhood, participating in communion also. Glad you're here! Alana


---
27 May 2002 @ 04:11 by swan : Sisters dance and sing.
The sisters were dancing, singing and celebrating at my house yesterday. The winds of change have cleared a path and we are all on our way to better things. Beauty is before us and around us, above and below. And our loving Creator is cheering us on.
I am grateful to the sisterhood and brotherhood of the ancestors and the sisters and brothers that are my companions on this path. And my soul sister, Alana.


---
27 May 2002 @ 09:39 by shawa : Haya, hey hey
... Magik is all around us, Magik is afoot! :-)


---
4 Jun 2002 @ 04:50 by : Dem Bones
Dem bones just keep on dancing that they do!! Beauty awakened is the Goddess energy transformed through Gaia and her children (boys and girls take a bow) awakened! But isn't there a delightful secret in the watery envelop we so skillfully wrapped our bones in when we landed as earthy organic creations. WHoo said the owl but no one knew!

I am giggling-How Cute Max! Tee hee!
Watery envelope indeed! WHoo Could they BE? Alana

Me + U = MU ? A CIVILIZATION to BE re-membered. Those watery creatures dancing 'awakening' to the beauty of creation (resonating music in our hearts) and the potential of a moment where shadows disolve in the Now filled with our divine aspect, exorcising the dis-ease of ego isolation seperated unflowing. One playing endlessly with the one. Oh the pain and the bliss of true essence evolving in this human form. Me thinks the Goddess calls loud again for her balance to be added in consciousness (the god energy?) to the dance. Indulge me if you can in my schitzoid screams, I AM lost in the realms of frustration, perhaps 'tis time to return again to the egg/womb of Goddess and wrestle the dragon of my expectations into more knowing flow in these times!! Max


---
Other entries in Spirituality
31 Jul 2010 @ 16:29: Innovation Yantra
31 Jul 2010 @ 16:01: Randy Paush - Lessons for Life
30 Jul 2010 @ 16:30: from Baudrillard to Verger: Diversification Vs Global Norms
22 Jul 2010 @ 13:16: Cartographers of No Man's Land
22 Jul 2010 @ 02:28: PUNISH BUSH & NEO-CONS FOR WAR CRIMES!
20 Jul 2010 @ 14:24: Getting other people to do stuff
16 Jul 2010 @ 22:57: Considerations on writing
14 Jul 2010 @ 14:53: Therapy Dogs Serve our Wounded Warriors
14 Jul 2010 @ 13:35: Consciousness of Pattern
13 Jul 2010 @ 17:04: What is Consciousness? - My answer on Quora.com




---