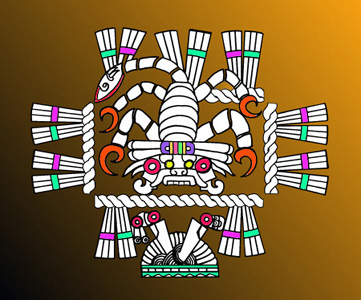 29 May 2003 @ 22:33, by John Ashbaugh

The scorpion is carved into Rock
Which serves as a throne
or chair of authority.
The tail is the symbol
Of the obsidian knife of sacrifice.
There are eighteen clusters
Of stalks, all of which save one
Is bound with a ribbon.
Within a cycle of eclipses,
Which may last for several hundred or a thousand years,
An eclipse returns every eighteen years,
to a place a third of the way around the planet,
and every fifty-four years,
returns to nearly the place of its previous occurrence,
with a small but noticeable shift in latitude.
The rope of continuity
Extends or emerges from
The body of this creature.
[link]
The symbol at the bottom is decidedly
Unbalanced, in motion,
Marking time.