| | |
| --- | --- |
| Reluctant Visionary Part Two: | |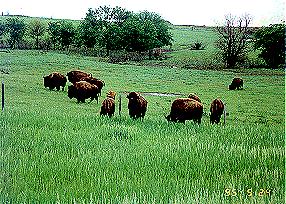 29 Apr 2004 @ 21:41, by Marissa A Spencer

Reluctant Visionary Part Two:


Now having had this dream, I really didn't know what I was to do. The next time I lay down to rest for a few and I was immediately was transported to a familiar place.

I went again to this arid scrub that I had been to before. The old man was once again before me. This time, without saying a word, he grabs my hand and starts dragging me up this steep rocky brush-ridden hill. This old man could move! I am being pulled to the top of an overhanging cliff. We can see over into a valley far below. It is a box canyon, with lush green growth and a beautiful stream running through it. I can see American Bison (buffalo) dotted throughout the valley. It was pastoral perfection. We gazed at this lovely, peaceful scene for a few minutes. He then pointed to the top of the mesa and I saw two horses; an appaloosa and a pinto. He grabs my hand and we start to go to ride. It was then someone came into my room and woke me up abruptly. Talk about a disappointment!

Life rather got topsy turvy after that and I didn't see the old man for a while. Later, the family went to Indian Grinding rock. A year or so after that .I met a Traditional Native American dancer. He was working in a Native American goods store in Old Sacramento. We ended up there by rather odd set of circumstances, but figured I must have been guided there. My daughter and I walk in and he seems quite interested in us immediately. We get talking and I decide to tell him about my experience at Indian Grinding Rock. He seems very interested and did not find it odd apparently. He then tells me the story of his life… pretty much from birth to present. I know this was a tremendous compliment and I was very much honored that he accepted me as a friend. He could tell I was not a wannabe Indian. Those are not particularly well thought of.

Whenever I went to Old Sacramento, he would be standing outside the store with a quizzical look on his face. When I was walking around he would be watching in my direction when I rounded a corner. He seemed to always know when I was coming and from which direction. This happened on five different occasions. When we had that first conversation, he was told me about the Native American Culture center that he had tried to set up in the 70's. There had been some legal problems and some local difficulties so it had not gotten off the ground for long. It was his desire to again attempt this great feat. He seemed to see my meeting him as a catalyst for getting it going again. For the next time we spoke he had set the wheels in motion to get it set up again. A few months after that he moved to live with his sister so he could devote his time to this project. I have not seen him since. I like to think that perhaps, I inspired him to get his project going again. He is truly great man and a good friend. I know that if I meet him again, it will be as though no time has passed. He has had a heart problem since youth, and I hope he has been sustained and blessed in his efforts.

© April 29, 2004 Marissa A Spencer






Category: Spirituality

---
2 comments

30 Apr 2004 @ 06:50 by spiritseek : Skookum
Keep your wonderful stories coming, I do believe great things have been learned and truely hope they continue.


---
6 May 2004 @ 15:49 by M Mitchell @216.79.34.196 : Spiritual Law and the Vegitarian diet
You can embrace such visions--never fear, except to offend
My visions Message are much about the raw vegetarian diet--, the Vine (Jesus) and having spiritual healing . I 'm a Christian Scientist. I have native relatives - Love is our survival--love for the creatures too.
I too have had extensive visions Error can be prevented if fortold by prayer. May the Father bless you and Jesus too.

************
thank you, love for all our relations. I agree.
I appreciate your kind words very much.


---
Other entries in Spirituality
31 Jul 2010 @ 16:29: Innovation Yantra
31 Jul 2010 @ 16:01: Randy Paush - Lessons for Life
30 Jul 2010 @ 16:30: from Baudrillard to Verger: Diversification Vs Global Norms
22 Jul 2010 @ 13:16: Cartographers of No Man's Land
22 Jul 2010 @ 02:28: PUNISH BUSH & NEO-CONS FOR WAR CRIMES!
20 Jul 2010 @ 14:24: Getting other people to do stuff
16 Jul 2010 @ 22:57: Considerations on writing
14 Jul 2010 @ 14:53: Therapy Dogs Serve our Wounded Warriors
14 Jul 2010 @ 13:35: Consciousness of Pattern
13 Jul 2010 @ 17:04: What is Consciousness? - My answer on Quora.com




---