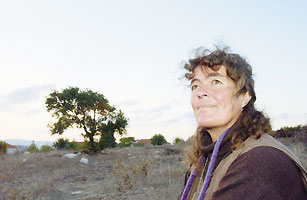 12 Nov 2005 @ 06:59, by Judih Haggai


Moreover / Walking the walk
By Gal Karniel [link]

Thursday afternoon, Germany-Israel

Sabine Lichtenfels, 50, who was a nominee for the Nobel Peace Prize as part of the 1,000 Women for Peace project, began her pilgrimage to Jerusalem in June, in Germany's Black Forest.

"Instead of building a tank, they should build a research tank for peace," she says, describing her vision. "Humanity needs to change its thinking." Under the motto "the humanization of money," she is trekking with a backpack, a sleeping bag, a change of clothes, a cell phone for sending e-mails and a journal, without a cent in her pocket. "I decided to go without money and I gave away all the money I had."

She reached Israel two weeks ago after walking through Germany, Austria, Italy and Greece, from which she flew. Now she is sleeping in a tent near Harduf and ventilating her feet in trendy Crocs shoes with holes. "From all the walking, I sometimes got blisters on my feet. I love walking because it's an integration of thought and movement, but I'm not the athletic type at all."

She was born in Munster in northern Germany and studied theology. She left the church "because I saw that theology was primarily a history of wars." In 1978, she helped found a revolutionary student movement ("Capitalism is the source, the reason for crime and war on the planet").


In 1995, with a master's degree in theology and philosophy, she established the Tamera project in Portugal - a global research village for peace. Tamera sponsors socioeconomic, ecological and technological studies. "The economic structure needs to be changed. There is a lot of fear, and because of the fear, people spend their whole lives trying to earn money, and then they reach age 70 and ask themselves what they did with their lives. We need new models that will prove that an alternative way of living is indeed possible."

And then people won't need money? "I don't think that the system of money will change substantially," she replies. "There will be money, but people won't use money as a means of security."

Her flight from Greece to Israel was paid for by the Tamera community, to which some of the money raised during the trip will be given. Other contributions are going to different projects, among them a peace village to be built in the Middle East.

She is aware, of course, that her solutions are utopian. "It's a dream, but new things have always been created from a dream. What's clear is that we cannot continue living the way we are now. I cannot prove that my way will succeed, but I have to try. Personally, I don't think I could live without hope."

The trek through Palestine and Israel, which is taking place in cooperation with the Golden Path organization, began on November 1 in Tabha in the Galilee. Lichtenfels is currently being accompanied by about 30 people - Israelis, Palestinians and Europeans. On November 21, she will attend a conference in Neveh Shalom of Israeli and Palestinian women who have been nominated for a Nobel Peace Prize. The walk will conclude on November 24 in Jerusalem (more information at [link]). In the evenings, there will be a production of a play entitled "We Refuse to Be Enemies" - about a potential suicide bomber who comes to an Israeli club - which Lichtenfels, a theater lover, created with her friends from Tamera. "I don't want there to be any more attacks," she says. "We're walking under the motto `Kindness.' Anyone who wants to walk with us is welcome. Our message is clear: `Palestine - Free, Israel - Free."

Why was it important to her to come to Israel? "November 9 is the anniversary of the fall of the Berlin Wall and also of Kristallnacht," she says. "I wanted to give a meaningful sign that we feel guilty, and that we want to support what we can. Because of the past, Germans feel guilty and therefore they are silent, as if they don't have a right to say anything. But I don't think that this is the answer. The Holocaust happened because people didn't speak out and said they didn't know about it. When I was young, I asked my parents and they said they didn't know, but they certainly could have known if they'd just opened their eyes. We have a responsibility to do that now."

And what's not right in today's Israel? "I think that the wall (the separation fence) cannot solve problems. It creates more separation and hatred. We have to support a process so that maybe 20 years from now there won't be a wall. And one can't wait for governments to act. The conflict in Israel-Palestine is part of a global conflict."

She currently lives in Tamera with her spouse, who stayed home. "I miss him very much, and my two daughters, too. In the meantime, I'm writing him love letters and poems." Did she give up a lot for the sake of this journey? "I have a feeling that I'm rich," she answers. "I've never suffered hunger or thirst, I've always found a place to sleep and I've met a lot of people."
__________________________________________________________
Timely event in light of the latest discussions here at New Civ. Shreepal's talking about organizing, Ming's talking about grassroots, Richard's talking about re-energizing. I believe along with many (Nora, Chris, Swan, to name but a few) that change begins in the self.

Sabine Lichtenfels is a woman who is actively, energetically moving towards her goal. Armchair intellectuals are needed - most definitely to set the concepts, the goals and watch over their fulfillment, but along with those who mind the intention, there's need for people to go out and make visible statements - statements that can rally support. We need to change tension between those who distrust to cooperation.

Will Sabine's organization, Tamera, make a difference? Will the group who are accompanying her throughout Israel create a community that will continue to grow?

Will her Theatre production awaken audiences? Drama is a brilliant form of opposition. Augusto Boel's Theatre of the Oppressed is one active example [link]. He motivated the oppressed workers of South America to re-think their position through psychodramatic play. This is a whole other train of thought, and currently the whistle is blowing and the caboose is about to pull out of the station (in other words, it's time to start my Saturday).

Read about Sabine and perhaps you'll find there are others who are picking up tent stakes and moving towards a more intimate global reality.