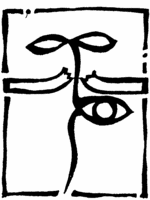 Welcome to the NewsLog or Blog of Heiner Benking. A kaleidoscope of insights and impulses collected first in the DaZiBao (Rio) process Seeds of Change Viewsletter of the Club of Budapest since 1995, continually updated ever since. Now available for broader distribution and comments in this blog - enjoy, and come again !

People to Watch:
Anthony Judge
Flemming Funch
Peter Jones
Alexander Christakis
quergeist



WHAT IS HOT?

GLOBAL SUSTAINABILITY EDUCATION
Conference Program

Berlin "Towards a Global, Embodied Covenant"

Re-inventing Democracy

Dialog among Civilizations - Dialog towards Unity in Diversity

Dialogues and Conversations - Participation and Moderation/Mediation: Ways and Means towards Re-inventing Democracy and Good-Governance

Positions and Identities in Global Contexts: Awareness of Self and Others with me, you, we, they and "others" models

Flatlands & Deeplands - a page about maps and models and Earth Literacy

Towards one Possible Global Embodied Covenant: Models, - not just Systems, Signs, Words and Images - Interdisciplinary Conference 2004: The Evolution of World Order - EWOC

Using Maps and Models, SuperSigns and SuperStructures - CODATA 2005

Granularity, Topicality, and Generalization of Information - Reflections about maps and models, orienting generalizations and their possible pragmatic and ethical implications and challenges, CODATA 2005


Oikos-Ecumene-Ecodomy - contribution to a conference on space and sacred spaces. The proposal to share a World House or House of Eyes as part of a cognitive panorama

Panoptic, the need to see big pictures on common jointly explored and discussed schemas or frames


*

I was asked for kick-start / short access-keys to my BLOG entries or central concepts, sites I often use or URLs I often link to. Here we go:

oikos-ecumene-ecudomy
systems-encyclopedia-new-terms
bamberg2007
menuhin
good-news
dropping-knowledge
sharing-action-wisdom
lovers-of-democracy
problematique
wir-lernen-sprechen
traumland-dialog
earth-day
systemic-dialogues
peace-roundtables
handelsblatt-neue-schulen-22-2-06
dialog-groupforms
cultures-generations-dialog
chance2000
bull-eyes
bpb-spielmethoden
seeds-of-change
rubiks-cube
meta-paradigm
magic-roundtable
higher-education
grand-challenges
global-covenant
earth-literacy
cognitive-panorama
ROBUST PATHS - AFRICA BEYOND POVDERTY
OPTICS OF ETHICS

TU TU WAS - Zusammenhaenge begreifen
FAW_NEWSLETTER
governance / 7 points
12 these education - LIFE IS TOO FLAT
WORKPLACES OF MIND
BOHM DIALOGUES


SIDE EVENTS
AIZU-Realities-landscape
HOUSE OF EYES
EXTENSIONS - Medical-Scientific Network /
Asilomar - sharing Voices/Spaces

BLOG


ENCYCLOPEDIA
see: ENTRIES / TERMS:
COGNITIVE PANORAMA 1) - 2)
COGNITIVE SPACES 1)
ECO-CUBE/KNOW MAP 1) - 2) - 3)
MAP (Mental) 2) - 3)
MAP TERRITORY RELATION 2) - 3)
MAPPING 2)
METAPHORIC FRAMEWORK 1) - 2) - 4)
METAPHORS (Classes of) 2)
MULTI-PERSPECTIVISM 1) - 2) - 4)
PANORAMA OF UNDERSTANDING 1) - 2)
PANORAMA THINKING 1) - 2)

ADD:
IID - Creativity & Cognition,Loughborough **
BLOG
BLOG
BLOG
BLOGBLOGBLOG
BLOG




A Quote I like:


Always do right. This will gratify some people and astonish the rest. (Mark Twain)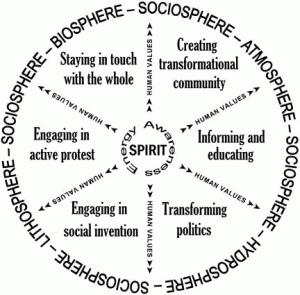 27 Sep 2016 @ 20:05
Maybe one day it is too late to speak up. I heard Hillary vesus Donald last night and I think I am biased as I learned in the MacGovern Campaign in the early 70ies and saw Hillary personally in the early 70ies when she had a heated discussion with all the Health Reform - American Instute of Medicine - in the National Research Council NRC in a time impossible in OLD EUROPE. It was 7 AM and I was totally pissed off by being called down to the lecture hall, as a prominent was to be attendend - so the most important National Debate was "well attended".
I was unhappy - having to leave that afternoon back to Munich - as important negotioations and concepts had to be put on "later". Unfortunate, as central issues on the international agenda where not followed up, even great mandates "have died" as I learned 2 weeks ago from out Science, Technologym and Eduction Secretary Wanka. What I strongly rejected... ****

I am personally bearing a grudge against "lawyers" - I personally had some very very bad experiences ***** but after insiting to sit directly before Hillary that morning, I was amazed how well she countere all the arguments against the HEALTH REFORM.

Following the US politics and even European Politics it is easy resign utterly frustrated. There are no Peace- and Situation Rooms, only Spin Rooms "interprete" for us - but we do not get to the roots and get the context. Early concepts for a WORLD PRESS CENTER were in the air those days. How naiive and early we have been...
****** *****

I am deeply concerned about the ways we do international politics the last 40 years - and much more !! We did stick to mind bugs and mind boogles. We have irnored to look out for NEW SCIENCE, NEW LANGUAGE, NEW THINKING, NEW COMMUNICATION and WAYS of SHARING !! - Deeply concerned - I need time to revist out maps and paradimgs, schemas and narratives and how to bring these different represenations together to more coherent constructions across modes, scales, mindsets, ....

when I hear Donald as the arch-enemy against the IRAK WAR I can not resist. Isn't he like a doublecrosser? Did he do a demonstration against the IRAK war - like we did the MONDAY demonstration for weeks:http://www.berlin-declaration.org/datei/quistorp/datei/gal3_8.html I never hear him speaking up !

Me I very seldom attend demonstrations, some of my friends tell me too little, but I feel with all sectors of the pie-chart above !
So maybe we should check how Hillary and Donald are doing in these fields !!


As we need to revisit here our our mindsets and paradigms, mind -bugs and -boogles [link], I think we should look into our worldviews and our limited "character-set" to present "realities". I looked long time ago into world-map - it is like a black-white dichotomy - the good guys and the bad. Only revisit the NEW PENTAGON map [link] and "the map" [link] Who in the USA is aware of such "maps" outside of the "fly-over lands" of "war-rooms" in the Pentagon !

We discussed "meta-paradigms" [link] and "super-structures" [link] maybe also: [link] but these politicians seem to be locked in their silos...







24 Sep 2016 @ 07:33
Yesterday at the LEOPOLDINA [link] 2 presentations were standing out: Impact of Ethical Values and "Intercultural Dialogue and its Enemies". This only to be eager todays full program here in Halle, Germany.

The Annual Assembly of the Leopoldina and its publications are of the highest stand in the public eye, its president is in the Scientific Advisory Board of the United Nations, and all the other Academies, in Berlin, Mainz, even Salzburg as the European Academy of Arts and Sciences have their own high reputation.

The Leopoldina https://www.leopoldina.org/en/events/event/event/2263/ is the German National Academy of Sciences - like the NAS in Washington. Not in the capital but in an appropriate historic setting ! In the countryside - with the known disadvantages. Me as an "ignorant" only being here once, 25 years ago when President Richard von Weizsäcker was in town in times when the whole German scientific and cultural landscape was under redesign after the Berlin Wall was gone.... see more personal and "historic" concerns at the "very end".

THE ANNUAL ASSEMBLY
THE NOVA ACTA LEOPOLDINA Number 414 will be soon online - so check 14 high calibre lectures. I can only respond to and understand to some detail only some of them.
See my notes below and parts of the abstracts to "whet your appetite"...

Some notes:

The "New Gold Rush" .... More >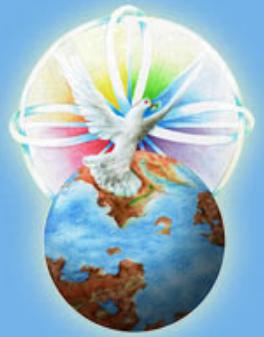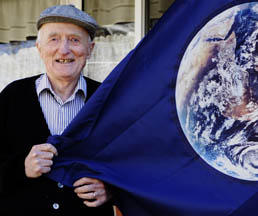 21 Sep 2016 @ 21:32
September 21st, many millions of people around the world will acknowledge and celebrate the International Day of Peace, also known as Peace Day. The United Nations theme for 2016 is "The Sustainable Development Goals: Building Blocks for Peace." [link]

You are invited to share with many people what you are doing on Peace Day at internationaldayofpeace.org. The following reflects how others are participating in the International Day of Peace and co-creating a Culture of Peace.

"What you leave behind is not what is engraved in stone monuments, but what is woven into the lives of others." ~ Pericles

[link]


"Mum" Dame Julia was awarded the Peace Prize today and many old and new players show up at this memorable day. FACEBOOK: https://www.facebook.com/permalink.php?story_fbid=10154369981972626&id=824487625


Equinox and Earthday - Robert Muller and Peace Bells - Club of Budapest - John MacConnell and and .. a lots of pieces flash up in my mind and it needs some collection of bits and pieces ... I recomnend enties inthis blog: [link]

and this event docu at the UN in Geneva 5 years ago: [link]

and the documentaions with John in Geneva, Berlin, Vienna, BUdapest, New York,....
PLEASE COME BACK !! and check: https://en.wikipedia.org/wiki/Earth_Day

SDGs = Building Blocks for Peace is a big topic for me, but maybe check how the blocks might fit into a bigger picture, I can only add here: SDG at GLOBAL COMMONS last year: [link] also at MOTHER PELICAN: [link]

I need to focus more on EARTHDAY - EQUINOX, Robert Muller, and and more - but maybe tomorrow is a good day for this with the DGVN in Berlin: CONTROVERSIAL SUSTAINABILITY: [link]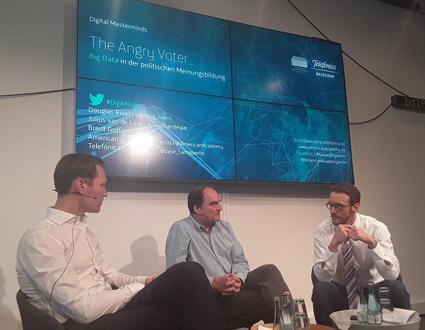 20 Sep 2016 @ 17:21
​Between elections this event "THE ANGRY VOTER" in the BASECAMP today was valuable and revealing. The presenters and questions where open, clear and full of insights and concern. It is obvious that out "voting" and the whole election process is new terrain ! Can implies Ought" always comes to mind ! but check out the links and maybe we resume somewhere !

#digiminds

concerns were: Are Data evil? - Who is "filtering" - Anger is associated with age... - Same biases like in Brexit

I recalled our concerns about "magnetic portals" 20 years ago and I stay puzzeled and concerend...
check: @juliusvandelaar @brentgoffv @AmericanAcademy @base_campberlin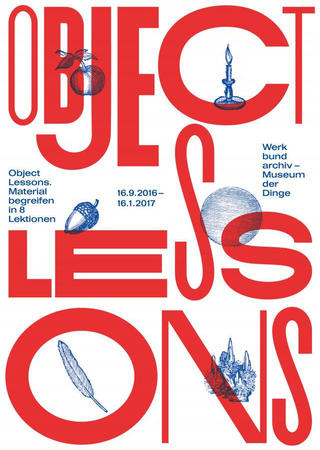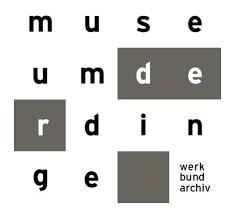 16 Sep 2016 @ 21:30
Last night was the vernissage on a VERY IMPORTANT topic in a unique and one of my favorate LOCATION: the MUSEUM OF THINGS: [link]
check this opening event last night: [link]

I think we have to be in touch with things, bodies and life ! and we have to look beyond the maze of the "digital" !
We should explore the possibilities of the "can" - but in view of the "ought".
Check Oezbekan here: [link] Often less, style, form and class is more beautiful, harmonious and useful ! and definitely less harmful.... Such issues are deep and central for me, so please come back !

Kücklehaus and senses and inteligences you find in many of my articles-so check for "spaces" and "senses".... and return.... maybe this on "senses, sensing and making Sennse is helpful: With Otto Schärli: [link]

I am struggling and rushing -but visit the website and the exhibition !

Object Lessons [link]
The Story of Material Education in 8 Chapters

If you know how to fabricate a candle from fat or a pen from fishbone, you can survive in prison. If you know how blood reacts to lemon juice, you can remove stains. If you know why polylactide is more sustainable than polyethylene, you can change the world. Today, knowledge about materials, their origins and processing is valued and desired more than ever before. At the same time, such knowledge is specialized, concealed and expert-owned. How can it become available to everyone?

The exhibition recounts the story of learning with, about, and through materials in eight chapters: in science, at school, in commerce, craft, and at home, in novels and movies, in the archive and on the Internet. From tree books, slag gravel and shell silk to hares' scuts, cork stoppers and cloud leather and from historical DIY books to a digital material archive, the exhibition shows that material literacy has always been relevant, why it was forgotten, and what it may look like in the future.

The focal point of the presentation is a book and a small box that contains over a hundred materials and objects, including minerals and shells, plaster, gold leaf, sugar and rice. The book describes exemplary dialogues, which encourage children to explore the materials in the box through looking, touching, smelling, and tasting them.

The exhibition takes the principle of Object Lessons as point of departure to tell the story of material education in 8 different chapters. Exhibits from public, private, digital, and physical collections offer an overview of the selected areas and contrast historical with contemporary approaches to material education.

Curated by Ann-Sophie Lehmann (University of Groningen) and Imke
 Volkers (Werkbundarchiv – Museum der Dinge). The show is accompanied by lectures, educational activities, and an academic conference. In April 2017, it will travel to the Gewerbemuseum Winterthur [link], Switzerland.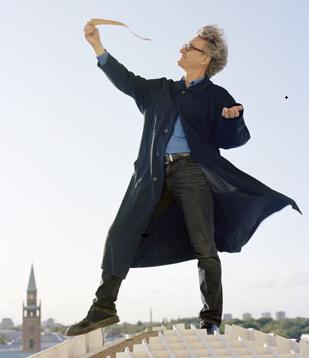 15 Sep 2016 @ 10:43
I could not resits yesterday's 2 film presentations with Wim Wenders and Angaangaq Angakkorsuaq [link] in the DW film: GREED - A Fatal Desire: [link] GIER:
[link] and: [link]

________

Wim Wenders [link] is one of my raw models and examples how to to be helpful, attentive and deep ! Only two film-makers come close to him in my mind: Robert Redford [link] and Yann Arthus-Bertrand [link] in engagement and reaching people, but for me his intellectual, theoretical and cultural dimension is unique.
I like very much many of Wims films, books, exhibitions, and and - and in particular his approaches to Space, Cultures, Media, ... and even more towards libraries ! Just check:
So going yesterday to the State Library in Berlin where he received the Max-Herrmann-Preis was a must: [link] or check: https://www.berlinonline.de/tiergarten/nachrichten/4555550-4015964-freunde-der-staatsbibliothek-ehren-wim-w.html

To get an idea how rich the works of Wim are you can just start by checking the Library catalogue: [link]

my favourite is: CATHEDRALS OF CULTURES https://www.digitalconcerthall.com/en/film/227 - [link] -



I share not only my love of libraries and architecture with him, but today also shared with him the name of a "boss" and later "fatherly friend" of mine: ALFRED SCHINZ [link] - who was "the right hand" of SCHAROUN those days ... - I gave Wim the name and context on my "visiting card" today and lead him to this blog entry... maybe we can cross the boundaries or spaces and cultures, together...


__________
NEW FILM launch: GREED - A Fatal Desire

Check also "uncles" Angaangaq part KOLLAPS: [link] (as pasted from the announcement:
.... Some call it a useful dowry of evolution, others a fault in the human genetic make-up: The old mortal sin Greed seems to be more ubiquitous than ever. Why cannot people ever get enough, where is this self-indulgence leading and are there any ways out of this vicious circle of gratification? "People like to have a lot of stuff because it makes them the feeling of living forever," says American social psychologist Sheldon Solomon, who believes today's materialism and consumerism are will have disastrous consequences. Anyone who fails to satisfy his or her desires in this age of the Ego is deemed a loser. But with more than 7 billion people on the Earth, the ramifications of this excessive consumption of resources are already clear. Isn't the deplorable state of our planet proof enough that "The Greed Program," which has made us crave possessions, status and power, is coming to an end? Or is the frenzied search for more and more still an indispensable part of our nature? .... What is the essence of greed? ...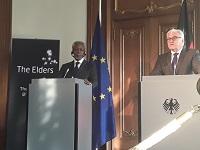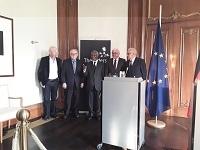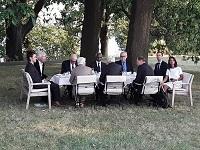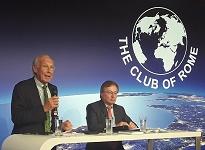 13 Sep 2016 @ 21:27
Autumn started with some strong stikes ! - towards peace !?
We met "The Elders" in VILLA BORSIG, Kofi Annan, Frank-Walter Steinmeier, Richard Branson, ... [link]

Today, THE CLUB OF ROME a new report »Reinventing Prosperity. Managing Economic Growth to Reduce Unemployment, Inequality, and Climate Change« ]http://www.clubofrome.org/report/reinventing-prosperity/
besides in the same venue (Kalkscheune) Anders Wijkman (also co-president of the Club of Rome) [link] was unfortunately only on SKYPE ... a the INDUSTRIAL EFFICIENCY 2016 www.eceee.org/industry

and later a triple book lauch at the MERCATOR Foundation, the event I found most rewarding....

The Great Mindshift - How a New Economic Paradigm and Sustainability Transformations go Hand in Hand, Maja Goepel, Maja, [link]

The Art of Leading Collectively - Co-Creating a Sustainable, Socially Just Future, Petra Kuenkel, [link]

Change for the Audacious - a doers guide, Steve Weddell, [link]


WORK IN PROGRESS ....
beside the report today
there were 4 book releases today --- food of thought -- lots .. COME BACK !!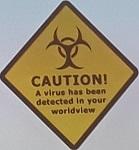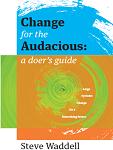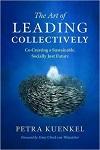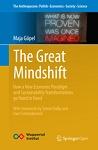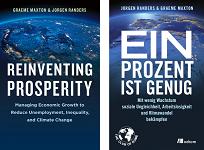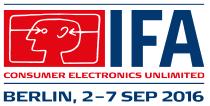 7 Sep 2016 @ 18:10
Again this week I was immersed by the IFA: [link]

IFA Congress for trendsetters and visionaries. The IFA+ Summit brings together decision makers who will shape our future. [link]

as we know: "Digital technologies and applications are transforming all walks of societal life, be it on the professional, personal, social or global level." but I could not resist to check back what was there 40 years ago, how much and how little we did any progress !

There was a great evening in the Marschall House, but have the movers heards about "Can implies Ought"? Are we really making "progress"? Where is the "New Level" ? and where are we going?

I just uploaded a draft on "GLOCAL": and maybe we need to revisit some "origins" of TELEMATICS and INFOGRAPHICS - maybe check this ECSA 1-pager Maybe we should look back and forward and wide and deep instead of following trends without base. (see roots and wings)....

This week also the Parliamentary Week started, so after the regional election last Sunday, the nerves are black regrding the elctions for Berlin next week and the national federal elections next year !!

As I also had our Conversation Experiments today, **** you can imagine how busy - after calm summer times - the week started.

Stay tuned - I will add links and insights and oulooks a.s.a.p.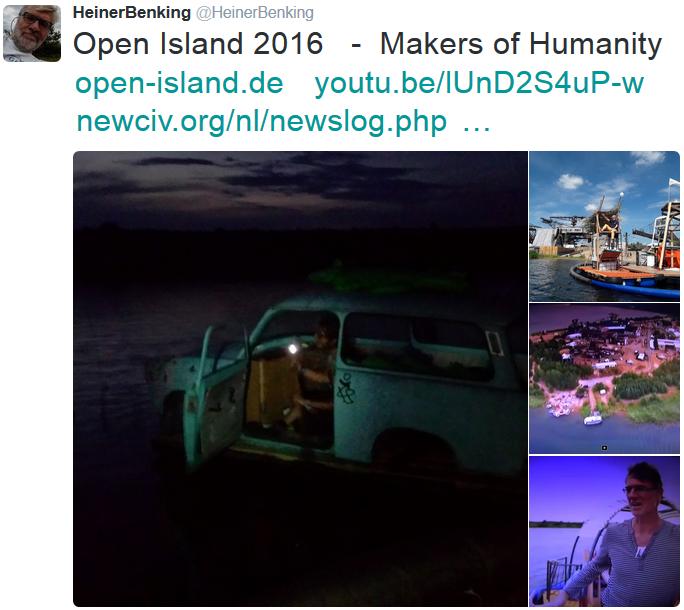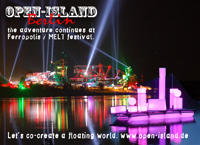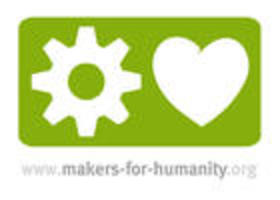 16 Jul 2016 @ 10:51
Open Island 2016 - Makers of Humanity

very busy - having work fun
check:
ASPECTE ON TOUR official ZDF television coverage:.


check also: [link] to make things happen - matters that matter - an have fund and build community. ASAP ISLAND (English). - JOY ART.

....


work in progress, see earlier youtubes from Open Island 2015








Page: 1 2 3 4 5 ... 45 Older entries >>
This is Heiner Benking's News Log, a private-public diary presenting events, symposia and happenings in Berlin and elsewhere - my farings, foci, issues and concerns.

PLEASE CONSIDER THIS PERSONAL BLOG an ARTISTIC and PERFORMATIVE MEDIA INTERVENTION !

The Log links to my work and interests and presents issues and special concern of maybe a very small group of "concerned, engaged generalist" - a Global Interest Group (GIG). This needs to be seen in contrast to the ubiquitous Specialized Interest Groups (SIGs), the "scientific" approach to organize subject areas and specialization and standardization and harmonization! of means, nomenclatures, and modes of thinking. One of my favorite stories is "Longing for Unified Knowledge" where such a "specialist" runs into the founding session of the early general systems associations, mumbling "this is not my field" (as reported by Ivan M. Havel in our ISSS Wholeness Seminar).
As a starter I also recommend to check my MINDPRINT site, where we add the need for HANDPRINTS and MINDPRINTS, as FOOTPRINTS are good to visualize and communicate numbers, densities or consumption per area, but are not sufficient to negotiate and "harmonize" across domains and communicate gains in different cultures, technologies, times,... in short: incompatible but relevant information and our work on dialog, peace, policy-making, and multi-modal, faceted issues and consequences.
What am I? This is a "well-packed" question for which I have not the or a single answer. Some called me an in-betweener, go-getter, facilitator, hub, marvel-hero, trim-tab, bricoleur, bricoleers??? - career designeer, .... Some even "hank" which I disliked or Story which I liked very much !!
I have no single answer as I feel we need to walk the talk and sing and dance Life ! in spectra and fields in multiple embodied spaces.
To nebulous an answer? I am sorry but I do not go for overclaims and oversimplifications, under-complex and over-simplistic approaches with clan-think mindsets about real issues in clear contexts!
Previous entries
2016-07-16
2016-07-12
2016-07-06
2016-07-04
2016-06-29
2016-06-24
2016-06-21
More ..

| Mon | Tue | Wed | Thu | Fri | Sat | Sun |
| --- | --- | --- | --- | --- | --- | --- |
| | | | | | 1 | 2 |
| 3 | 4 | 5 | 6 | 7 | 8 | 9 |
| 10 | 11 | 12 | 13 | 14 | 15 | 16 |
| 17 | 18 | 19 | 20 | 21 | 22 | 23 |
| 24 | 25 | 26 | 27 | 28 | 29 | 30 |