9 Jan 2008 @ 08:33, by koravya. Education
About the Day.
The first day back to school, after two weeks away. More >



30 Nov 2007 @ 19:54, by jerryvest. Education
Nicotene Addiction - Let's Prevent it!!!


All we need to bring to meditation is ourselves, for our bodies and minds are the foundations of meditation. Breath, which is like a coordinator of body and mind, is the essence of being that integrates them.
(Openness Mind, Tarthang Tulku)

If you don't get cancer from smoking, you may acquire chronic obstructive pulmonary disease that affects you in a serious way. As most of us know, when we don't breathe well, we don't relate effectively. Our breath is an integral part of our "Relations Instinct"(Ichazo) and answers the instinctual questions: "Who am I with? Am I safe and secure with who I am with, inside and out? These questions will not be successfully answered when we acquire cardiovascular diseases--most related to smoking cigarettes.

Obvious to many of us, when we can't relate, life feels like it is not worth living. We get depressed and develop feelings of isolation and loneliness. If you doubt that this happens to persons with respiratory illnesses, visit any of your local nursing homes. You will see our elders hooked up to oxygen tanks and most confined to wheel chairs. These residents are unable to express themselves and interact fully with family, friends and others with these attachments, so they can be very uncomfortable and miserable as they live out their lives.

Our health teams introduce our 15-Minute StressOut Program, a nourishing touch partner experience, with the residents and this offers some relief and comfort. We know that physical interaction or touch is not commonly offered in these settings; however, it is a fact of life--humans need to touch and to be touched to meet their basic human need requirements. The consequences for the absence of touch are well documented in the literature. Visit the Touch Research Institute for further evidence of the power of touch.

The Touch Research Institute is dedicated to studying the effects of touch therapy. The TRIs have researched the effects of massage therapy at all stages of ...
[link]

**********************************************

Visit the "Six Killers Article" that introduces Ms. Rommes experiences and of others suffering from this devastating disease: [link]


Ms. Rommes has chronic obstructive pulmonary disease, or C.O.P.D., a progressive illness that permanently damages the lungs and is usually caused by smoking. Once thought of as an old man's disease, this disorder has become a major killer in women as well, the consequence of a smoking boom in the 1950s, '60s and '70s. The death rate in women nearly tripled from 1980 to 2000, and since 2000, more women than men have died or been hospitalized every year because of the disease.


Smoking is a real killer and my wife and I have personal experiences about the danger of smoking. Even when you quit, cancer lesions may appear years later, so just don't start. Give your kids much love, affection, nourishing touch, and appreciation for not smoking. Give them a $1,000.00 if that will prevent them from starting. Let them take an Oath and make a commitment stating that they will never endanger their life by smoking a drug that is harder to withdraw from than Heroin.

Please pass this article on to your friends and colleagues. Believe me, if you or your loved one has to have their lung removed, have brain surgery, Gamma Knife treatment, and go through all of the cancer treatments known by medicine, you won't ever pick up a cigarette and inhale.

The picture that I am sharing with you is of our young family before we knew the real dangers of smoking. If my partner had not asked that a brain scan be given to her, following lung surgery, by her oncologist, this cancer would likely have moved deeper into her brain and I would no longer have my wife, best friend, mother of our two children, grandmother, and love of my life with me today. We are very fortunate and don't want others to have to go through such a devastating and life threatening experience related to smoking. Just don't start!!!

Six Killers: Lung Disease: From Smoking Boom, a Major Killer of Women [link]

Nicotine and what it does to our Body-Mind-Spirit

I hope that this article and your comments and experiences that you share will serve to help prevent our next generations from using tobacco. Often, teenagers and college students think that they are very cool by smoking and will often emulate their heroes, parents, friends and others who they admire. Young people also may smoke to challenge adults and to break from authority figures, especially their parents. However, the chemicals, especially Nicotine that is included in tobacco are a 3rd. Degree Drug and is as extremely addictive as heroin and cocaine,

The Following article describes the scientific evidence related to this drug:

Nicotine Addiction


What causes nicotine addiction?,/b>

Nicotine is an addictive drug. It causes changes in the brain that make people want to use it more and more. In addition, addictive drugs cause unpleasant withdrawal symptoms. The good feelings that result when an addictive drug is present — and the bad feelings when it's absent — make breaking any addiction very difficult. Nicotine addiction has historically been one of the hardest addictions to break.

The 1988 Surgeon General's Report, "Nicotine Addiction," concluded that Cigarettes and other forms of tobacco are addicting.

Nicotine is the drug that causes addiction.

Pharmacologic and behavioral characteristics that determine tobacco addiction are similar to those that determine addiction to drugs such as heroin and cocaine.

What else does nicotine do to the body?

When a person smokes a cigarette, the body responds immediately to the chemical nicotine in the smoke. Nicotine causes a short-term increase in blood pressure, heart rate and the flow of blood from the heart. It also causes the arteries to narrow. The smoke includes carbon monoxide, which reduces the amount of oxygen the blood can carry. This, combined with the nicotine effects, creates an imbalance between the demand for oxygen by the cells and the amount of oxygen the blood can supply.

How does nicotine in cigarettes increase the risk of heart attack?

Cigarette smoking may increase the risk of developing hardening of the arteries and heart attacks in several ways. First, carbon monoxide may damage the inner walls of the arteries, encouraging fatty buildups in them. Over time, this causes the vessels to narrow and harden. Nicotine may also contribute to this process. Smoking also causes several changes in the blood that make clots — and heart attack — more likely.

What are the symptoms of nicotine withdrawal?
irritability
impatience
hostility
anxiety
depressed mood
difficulty concentrating
restlessness
decreased heart rate
increased appetite or weight gain

How long does nicotine stay in the body?

From 85–90 percent of nicotine in the blood is metabolized by the liver and excreted from the kidney rapidly. The estimated half-life for nicotine in the blood is two hours. However, smoking represents a multiple dosing situation with considerable accumulation during smoking. Therefore, it can be expected that blood nicotine would persist at significant levels for six to eight hours after smoking stopped.

Related AHA publications:
The Effects of Smoking brochure (also in Spanish)
For Your Children: Our guide to help you safeguard your children from heart disease and stroke brochure (also in Spanish)
Quit Smoking for Good brochure
Smoking and Your Risk of Stroke brochure
"How To Avoid Weight Gain When Quitting Smoking", "How Can I Handle the Stress of Not Smoking?" and "How Can I Quit Smoking?" printable sheets from Answers By Heart kit.

Note: Please share your personal experiences with the dangers of smoking to help others from repeating these dangerous addictions to these drugs. And, if this does not deter others from smoking, take them with you for a visit to your local nursing home and do introduce our nourishing touch program.


More >



31 Aug 2007 @ 14:56, by jerryvest. Education
"Surrendering to the teaching is the giving up of self-images, fears, thoughts and desires into the hands of deeper self-knowledge." (Tarthang Tulku, Hidden Mind of Freedom)

We can transform our image egos -

As I look back on my personal and professional development as an adult human being, I can see that my image of myself was the culprit that made life, health and relationships unfulfilling. It appears to me that we develop these images to identify, protect and secure the fixed ideas we create about ourselves. Perhaps this is why we are so fragile, insecure and reactive. We are so fearful about losing, shattering or changing this image that our true sense of being becomes fearful, embarrassed, insecure, indignant, protective and isolated; we are often feeling left alone in the world like a pearl in an oyster.

As a social worker by profession, I learned early on that our most effective approach and method for engaging others is to be present, in the moment, with complete openness, respect and acceptance. Knowing that everyone has an image ego that is delicate and protective is even more reason for us to learn to be non-judgmental and tolerant, allowing us to discover and experience these images for ourselves. Oscar Ichazo, one of my teachers, would describe this experience as making an arc of love with another—or being the equal.

However, because these self-images are so fixed, fearful, rigid and controlling, they don't usually change without some skillful interventions, personal practice and genuine commitment to change. Alternative and integrative health practices have helped me and many of my students transform this image and become whole, with attributes of compassion, innocence and love that we remember as children. I often think: 'Oh to be a child again!' Subsequently, my grandchildren arrive in my landscape to help me relax, enjoy and refresh my essential being so that I can play and enjoy life to its fullest. I appreciate what Dr. Ashley Montagu describes in Growing Young and what it can mean to "grow up" as a child and into the skin of an adult:


To grow young means to grow in our youthful traits, not to grow out of or to abandon them.

Success for the child becomes emulation of his elders. The rare individuals who somehow manage to avoid falling into this trap and retain their childlike qualities are considered either eccentric, odd, nonconformist, or otherwise otiose (futile). We do not appreciate non-conformists in America. Our colleges and universities, not to mention our schools, avoid or reject them.(p. 198)


I have attempted to describe my journey of transformation while introducing various methods that I have employed to free this image ego and return to my true youthful nature. While writing this log, I recall many of the questions that we, my friends and colleagues, raised in our group work and/or challenged our egos with such questions during our process of change and regeneration. See for example: "Being an Effective Professional."

Integrative Health Practices -

While learning and participating in Gestalt Therapy groups during the early 1970's, I learned early on that behind every question is the answer. How else would we know if it is true or false? I had the good fortune to participate in some fascinating groups with four of our country's greatest group workers—Oscar Ichazo, Joseph (Jack) Downing, Tarthang Tulku and Claudio Naranjo. Through these experiences, it became evident to me that our confusion, doubts and fears manifested in our image ego can be transformed into clarity, awareness and confidence.

How do Questions help us?

What is there to know? What would you like to know? For example, in therapy it is important for us to raise questions about ourselves? Who are you? How are you? Where are you? Why are you here? What do you want to do with your life? What makes you happy? What are your plans, goals or aspirations? How do you relate with others? What do you enjoy about your life? How do you feel about your partner, family, friends and colleagues? In other words, how meaningful is your life, health and relationships?

We might also inquire: when was the last time you did a self-assessment? Have you examined your self and your relationships with all that is-physically/sexually, mentally, socially, emotionally, spiritually? How can you improve the quality of your work, your life, your health and your relationships?

Other great questions that I recall we were asked to respond to during group sessions:

1. What is there to fear?

2. What stops or prevents you from being your best possible human being?

3. What are your patterns of conditioning that prevent you from fulfilling your whole being?

4. Do you want to change? Are you fully committed to change? What is there to change?

5. Can others count on you? Are you honest and trustworthy?

6. How do you relate or interact with others?

7. Are you mindful? Do you listen to yourself? Do you hear your voice? How you respond or react? Do you say what you mean? Are you conscious of your internal and external breath?

8. Are you curious, interested and enthusiastic?

9. How do you express your joy?

10.Do you have an open and flexible mind?

11.Are you kind, sensitive and compassionate?

12.Do you sincerely care about others and your natural and social environments?

13.How do you get along with others?

14.How do you compensate or adapt when your instincts and image ego is out of balance and you are stressed, anxious and depressed?

15.How do you act or behave when you don't get "your way?" "My way or the highway!"

Social Work Practice courses can introduce these questions by organizing experiential work groups in the classroom to help our developing professionals learn to be skillful, aware and effective therapists. I suggest that you introduce a new question each session and encourage the students to share a personal experience related to it. This exercise may assist them in developing an open mind.

There are many ideas about our egos. This is a very good overview that may be helpful to understand how our ego develops and becomes ill-- From Beyond the Frontier of the Mind by Osho . I also have worked for the past 30+ years with the Arica Programs to assist me in this transformation process. Perhaps the best resources that I have found during my search for meaning, purpose and truth are part of Tarthang Tulku's collection.

Do visit my other articles in my log that include various approaches, techniques and methods to advance our professional knowledge, skills and values.

Note: Picture is of my mom when she was a little person. In those days the "playpen" was very popular. However, not much room for play! My grandfather, Bapa, took the picture. More >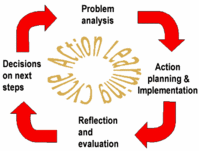 5 Jun 2007 @ 00:13, by ming. Education
In a presentations about Boosting Collective Intelligence, George Pór and Martin Ludwigsen had a short segment where one would divide up into small groups and ask each other questions, in order to deepen one's understanding of a given question. Which was an excellent exercise. My group picked the question "How can I silence my ego to experience collective intelligence more often?" out of the three choices. So, instead of trying to answer it, one asks more questions. Like, we questioned whether one really needs to silence one's ego, or anything at all, in order for collective intelligence to happen. Which was a useful thing to look at, I think. And quite a productive thing to do for 5 minutes, compared with many other types of inquiry one could do.

They called it a simplified version of Action Learning, and since I couldn't remember what that is, I had to go and look it up. See Wikipedia, or look in Google, and you'll see that a lot has been said about Action Learning and Action Research. See here for a more clear introduction.

Now, on one hand I think it is great that people have studied learning that is based on action, rather than on just theory, and on the other hand it seems a little bit ridiculous in a the-emperor-has-no-clothes kind of way that people have spent their life developing a model, and writing dozens and dozens of books about something that basically ads up to:

- Go out and do something
- Have a meeting and evaluate how well it went, and what you have learned, and what you can do better
- Go out and do it some more, but hopefully better

Don't get me wrong, that's a great approach. Particularly when one compares with traditional education which goes something like:

- Listen for years to people who know better than you giving you a lot of theory
- Spend the rest of your life doing what they told you to do, if you remember it

The Action Learning idea is that there are alternating cycles of action and reflection. You do it, you reflect on it, and learn from it, and you go back to action. So, like this:

action --> reflection --> action

Or, you can make it sound more business-like and say it is:

action --> review --> planning --> action

One could say that this is very obvious, of course, but unless one makes something explicit, it might not happen. Companies and individuals and governments will happily keep doing the same thing forever, even if it isn't working, just because they never have a phase where they ask themselves whether it is working or not, and why and why not, and how one possibly could do it differently. A phase where one actually can reflect and inquire, and even question the basis of the whole thing. The feedback cycle is often missing, or real feedback is not allowed. Let alone real inquiry.

It is kind of tragic that it is news that there is a type of learning that is directed towards being able to take action in the most effective way possible. I mean, that all learning isn't based on being able to do something. And kind of bizarre that people need to invent a whole new subject and write loads of books about it, in order to make the case for such an idea. But aside from that, I'm all for it.

I'm sure there's much more to action learning, and any proper expert will be horrified by my casual treatment of the subject. I do believe in keeping simple things simple, and complex things too. And then again, maybe I'm jealous that it wasn't me who came up with a simple, obvious two-step process that I could write books about and lecture about for years.

Oh, a few more meta observations... There's a lot of power in simply naming stuff, and in the way one frames it. So, simply saying that there are two phases of doing stuff, action and reflection - that automatically re-arranges the world, and sets up a quite different framework than if one hadn't mentioned it. Likewise, the simple hint that it is a series of cycles - that changes everything too. More >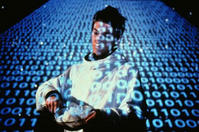 4 Jun 2007 @ 13:46, by ming. Education
Learning is an interesting subject. How do we know we're learning something? How do we know what to learn? How do know when we've learned it? But, maybe more basic, how do we even manage to pay attention to what is there to learn? How do we notice what we're presented with?

Say you're reading a book, or you're listening to a presentation, or you have a conversation. How good are you at actually remembering even a small fraction of what was said? I know I'm pretty bad at it. Even if I've read a book and enjoyed it, can I say more than a handful of sentences about what it said?
"I took a speed-reading course and read War and Peace in twenty minutes. It involves Russia." --Woody Allen
Even if you took 3 weeks to read "War and Peace", how much more can you really say?

Part of the problem is that books and talks are just a lot of words. They're strung together into sentences, and we might think we understand them, but what are we taking with us?

I've been listening to various memory improvement courses recently. I didn't really mean to, but I just happened to run into them, as I was downloading some other stuff. And another subject I'm interested in is metaphor - how meaning sometimes is transferred much more effectively with a story or a metaphor than with a lot of words that try to teach or persuade.

As to memory, one good piece of advice is that to remember stuff we need to have a framework to put it in. The more you already have a grid of things you know, the better you can put new things into it. An average student in history class might just hear a bunch of seemingly random dates and names and places. But a historian would have a grid in their mind that already connects a lot of dates and names and places together in a coherent framework, and the new information would be many times more meaningful, and he'd be much more likely to remember it, because he has hooks to attach it to. Learning is a lot less likely if there's nothing to relate it to.

As to stories and metaphors, they're very compact ways of storing information. We have an instinctive way of understanding and remembering things that fit together as a story. We know how stories roughly are supposed to work. Like a fairy tale. There might be a protagonist who has some kind of objective, and he runs into various obstacles, and he overcomes them, just barely. We understand that deeply and non-verbally. If we watch a movie, we somehow know if it is satisfying, if the story evolves right, or if something is missing. And we'd be able to re-tell that story without too much trouble, if it is coherent. And even if we didn't remember it all right away, we could piece it together.

That "a picture is worth a thousand words" is a related phenomenon. If we can see how something fits together, we can store it in a much more compact and transportable form in our minds than if we had to remember lists of otherwise disjointed words and sentences.

We have a lot of different kinds of perceptions. We see, we hear, we feel stuff. The very best types of learning connect several or all of these together. We've heard something, and we can talk about it, but we also see it, and we can show it. We've experienced it, and we feel it, and we can make somebody else experience it. And the words are really only a small portion of this, and possibly the least coherent. And yet we often mistakenly assume that if the words have been transferred, the speech delivered, the book read, that this constitutes communication and learning.

So, if you don't control the mode of presentation, what can you at least do to better receive and organize what you were presented with?

- you can take notes
- you can draw a mind map
- you can try to summarize it
- you can discuss the subject
- you can go over it several times
- you can experience it in several different formats, if available: text, audio, video, slides, etc.

An old piece of advice for speakers is: "First you tell them what you're going to tell them, then you tell it to them, and then you tell them what you just told them". Another angle on that is that a really good presentation will tell you the same thing in various formats, and various chunk sizes. There will be a summary, a conclusion, an exploration of the details. There will be visual aids. There will be the presenter's non-verbal queues, like tone of voice and body language. There will maybe be some kind of personal experience, like an exercise. And if it works out really well, all of those are saying the same thing, and supporting each other. They form a self-consistent whole. That's coherence, or congruence. Most presenters don't succeed perfectly in all of that. But even if they don't, you might be able to fill in some of the missing pieces yourself.

- before reading a book, you could look through the table of contents, and page through it, getting an idea of what it is about.
- while reading it, you can make your own notes or drawings of what you're picking up.
- you can find your own examples or counter-examples
- you can find analogies or metaphors. "That is just like ..."
- you can translate it into another medium.
- you can try if you can summarize what the point is.

Any kind of presentation or text will have some kind of structure to it. It might or might not be a good structure, and it might or might not be helpful, but normally there's something there. And there will always be different types of elements. Are we presented with facts, beliefs, opinions, examples, intentions, attempts to persuade, filler material, etc., and which is which? It might be easy to miss if one doesn't somehow evaluate and organize the materials along the way. There might have been just 3 crucial points that the speaker or writer wanted to convey, but if you didn't notice which they were in between all the other stuff, somebody might be wasting their time a little bit.

I'm certainly no master in this. Rather, I notice that way too many things I potentially am very interested in are passing right through my head without sticking to anything, and that's a bit of a waste. More >



17 Aug 2006 @ 02:25, by paretokid. Education
Now I understand why there is more talk about computers for every child than action -- it takes time and many steps whether you are getting computers for use here in US or overseas.

We are blessed with some bulldogs though, so we are moving forward. 400 plus Macs are in Guatemala. Funds are being sought for to build 15 small computer outbuildings at each school.

Will Blessing in Massachusetts is still helping by getting an updated wish/need list up on MacInTouch. This is one of the dozens of difficulties you run into. Eighty-five of the Macs need USB keyboards and mice or converters and we are in need of Dram batteries, as well as OS 9 education related software in Spanish, if possible.

Will it all come together? Yes! I'll probably be able to share photographs and messages from the kids, teachers and families in 6 months or so.

Until then, wish us the best and don't hesitate to help if you find a similar opportunity.

Which reminds me. A lot of folks think that projects like MIT's of inventing a laptop for under $100 for every kid in the world sounds really great... until...

Who's going to put up say $90 for one billion laptops, the software to go on it, people to train kids on how to use them, and the cost for access to the internet?

It's a nice idea but why invent a wind up, solar computer, except to get - sorry for the cynicism - press for MIT?

Only a small fraction of computers that could be recycled and donated for use here in the US, ever get recycled and donated. An even smaller fraction of just US computers ever make it overseas for donation.

The probable truth? There are enough computers tossed out and not recycled every year in the "first" world to provide a computer to every needful student in the second and third world section of the first world, as well as make a huge dent in the second and third world's needs for computers. Will it happen? It could but it's unlikely... unless people such as you decide to personally do something to at least see that one, two or three computers are recycled to needful students.

How about this for a really nutty idea? If you are getting ready to get new computers, find someone who can use the ones you now have. Then deliver it yourself, set it up, and volunteer to do a little start up training. How's that for being really radical? After all, who can you really count on to deliver the goods except yourself. What do you think?

I am not bragging but I have recycled four Macs that way - right here in river city - Cincinnati. Why don't you join up in taking action yourself? More >



20 Jul 2006 @ 15:01, by mre. Education
Global Democracy & Sustainability literacy learning:
Why they must go hand-in-hand by Eric Schneider

Eric, this is a wonderful article, chock full of enthusiasm and sensible ideas. I applaud your ideas and sentiments, and am impressed by the !Positive News and Youth Views! Ezine at http://www.pnyv.org where you are a member of the Founding and Creative Board. I must add your latest at http://pnyv.org/literacies and how to trigger a new conference culture! Yes! More >



5 May 2006 @ 06:30, by judih. Education
In which life moves from remembering death to celebrating life - to the concept of 'i am' to the realization of 'i am not'.

There's a glorious irony that Israeli Remembrance Day, when we remember fallen soldiers - all friends, relatives, students, colleagues, gives rise to Israeli Independence Day - the 58th year of statehood and the reason for our greatest joy.

That strange second when one ceremony ends and other begins is always a snap of the fingers. Our kibbutz ceremony went from remembering our roots to gazing into the sky, as we enjoyed a 6 minute display of fireworks shot into the dark sky from the roof of our beautiful communal dining room. Sometime during the switch from ground to sky, I caught the flu.

So, with a dubious song in my heart, I excused myself from joining the communal singing in the pub - even though my son was to play guitar after the 'singers' grew hoarse and/or quiet enough to listen. I went home, drank tea and went to sleep. School the next day - had to rest.

The next morning, I gathered my forces to teach, to create magic juice in the hearts of my students to help them digest the particular english structure of 'I am..' In this special, special ed class, the 'I am...' unit has been going on for some length.

We've investigated it from the point of view of name, age, nationality and present moment states such as hunger, boredom and tiredness. We have used the southpark caricature site to build our own self-portraits. We have computered, written and spoke.

And yesterday, the day in question, I brought along Counting Crowes singing 'Colorblind' with the wonderful line, 'I am ready, I am ready, I am ready, I am...fine' More >


22 Jan 2006 @ 18:44, by paretokid. Education
Keyword Speak, Think is an affliction that not only affects the two Bush Presidents and their thinking, speaking styles, it has infected millions of Americans. As a result many Americans can no longer think is complete thoughts, let alone write of read in complete thoughts or sentences. It's the result of 20-30 years of teaching to the test and rank as a means to get funding, certified, etc. It is perhaps the greatest unintended consequence to rather lame attempts to reform, improve American education. Just get this picture in your head and you will understand. You give students a reading check list. They have not read what was assigned but look at item number one and then look back in the text to find key words, or phrases that relate to the question. Once they find them they write their answer in key words and phrses from the section of the story to which the question directed them. No context, no reading for understanding or enjoyment, just to fill in the check sheet. The unintended result - many students educated in this manner can no longer read in complete, speak in complete or think in complete sentences or thoughts. Read on or not - if you can. More >


30 Dec 2005 @ 16:33, by paretokid. Education
The following story and text describes how a Peace Corps member -- Margaret Molinari -- friend of mine, with a little help from me, Got 300 plus Macintosh computers to a rural area of Guatemala (homeland of the Maya). After that bit of history, there is a letter and funding proposal to make the project even better and give many Mayan students access to computers and the internet to further their education. More >




<< Newer entries Page: 1 2 3 4 Older entries >>