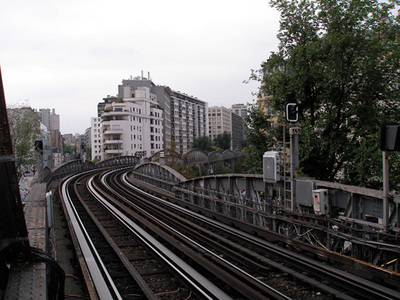 9 Jan 2008 @ 08:33, by John Ashbaugh

About the Day.
The first day back to school, after two weeks away.

About the Day.
The first day back to school, after two weeks away.
Today I had some stuff for my group dynamics class,
Back and forth across the room agreeeing or dis-agreeing
About concepts of leadership. What it means? How it works?
Who is the leader? Who does the listening and who is listened to?
Not always the one who talks the longest.
Where is your balance between speaking and listening?
Then there is this afternoon closing out Group Dynamics
And formulating a class for World Cultures and Globalization.
Amazing course. What is Globalization doing to the cultures
of this very multi-cultural planet?
Do not answer this question. There are many answers.
What is the corporate mentality and how much longer
Shall it reap its profits from the slave mentality?
Super-complex, highly technological things are being created
To cement the slave population into a permanent formation.
The task is progressing, with various perturbations
From the multitudes along the way,
But nothing we couldn't direct into another war or two or three.
Maintaining a permanent state of war around the planet can be a tricky business.
There is an actual war going on beneath all of the surface skirmishes
That are written up in the history books.
This is that old cooperation or control mantra.
Where do you want to go? Cooperation or Control?
I don't care why.
The difference between freedom of expression,
Understanding and compassion on the one hand
And the things those are not on the other.
All in a day's conversation
through two classrooms and several walks down the hallways,
one long, one short, and one in between.






Category: Education

---
8 comments

9 Jan 2008 @ 13:11 by swanny : Guidance
Hi Koravya I was thinking about leadership lately too
and thought in its truest form it is a most thankless job
and should be avoided or minimized.
In deference I thought well then what?
and I thought the term guidance to be better as it contains
the premise of succession while leadership doesnt always act or
consider things in that holistic manner ...
and it often assumes that the leader is always right, knows everything
and has nothing to learn but what about delegating and taking turns etc.
and being mutually responsible...

so I would say avoid or minimize leading but instead guide, steward, and mentor.

just my opinion

ed


---
10 Jan 2008 @ 07:58 by : Situational
Hi ed,
Some of my courses I learn as I teach them.
Situational Leadership recognizes three Leadership Styles:
Authoritative, Democratic, and Laissez-faire.
An astute leader knows how to recognize which group situations
require which kind of Style.
You are talking about cooperation.
We also teach here that qualities of leadership are within everyone
and those come out of each of us when the area of our expertise or talent
is called upon. It is wise to be sensitive to one's own capabilities.
You never know when you might be called upon, not necessarily by someone else, but by something that you have heard.
Effective Leadership also require good listening skills.
Thanks,
JA
"Events not to be controlled have prevented me from making, at any time, any serious effort in what, under happier curcumstances, would have been not a purpose, but a passion; and the passions should be held in reverence; they must not - they cannot at will be excited, with an eye to the paltry compensations, or the more paltry commendations of mankind." Edgar Allen Poe


---
10 Jul 2015 @ 13:29 by @180.251.165.14 : Its such
Its such as you scan my mind! You appear to grasp such a lot regarding this, such as you wrote the book in it or one thing. i believe that you just may do with some pics to drive the message home to a small degree, however apart from that, this is often nice journal. an excellent scan.


---
10 Jul 2015 @ 13:33 by @95.211.174.70 : Hello
Hello, i'm glad to scan the entire content of this journal and am terribly excited and happy to mention that the webmaster has done a really sensible job here to place all the knowledge content and knowledge at one place.


---
24 Dec 2015 @ 17:32 by @202.62.16.75 : Bandar Poker Indonesia

Pokernet88.net adalah Bandar Poker indonesia | Agen Poker 2016| Situs Taruhan Poker | Poker Online resmi| Agen Casino indonesia|| Bandar Poker terpercaya | Agen Poker terbaik| Situs Poker indonesia| Poker Online terpercaya


Bandar judi poker
Agen poker 2016
Bandar poker
Bandar poker 2016
agen poker indonesia
situs poker terpercaya

Main Poker dari Jakarta ,Main Poker dari surabaya, main poker bandung

Bandar poker resmi
agen poker indonesia
Bandar poker resmi
Bandar poker indonesia
situs poker 2016
agen poker 2016
agen poker
agen poker terpercaya
cara menang poker
cara menang poker


---
29 Apr 2016 @ 06:05 by @103.12.162.4 : brilliant! I would like to share this ar
Togel Online Singapore
Togel Online Hongkong
Bandar Togel Singapore
Bandar Togel
Togel Online Terpercaya
Bandar Togel Online Terpercaya
Togel Online
Agen Togel Online Terpercaya
Agen Togel Online


---
28 Sep 2016 @ 09:38 by Black Magic Specialist @115.252.123.86 : Black Magic Specialist
mast post


---
29 Nov 2016 @ 17:09 by sasa @202.58.97.174 : www.bursatogel.com
For Lovers Togel Online, We Present Stock Togel Accompany you, the Promo and Bonus Interest Lainya, and the game is fun and complete as:
-Togel
Bonus Promo:
* Togel
-Bonus 10K deposit for the first time 50rb deposit.
-Bonus Dikson 29% s / d 66%
-Bonus Refferal 2% for the rest of life
Come, let us play in BURSA toggle the tercaya and secure, best friend and JP Win! you, please contact us at
judi togel online yang aman dan terpercaya


---
Other entries in Education
28 Apr 2016 @ 17:25: cosmology-vedas-interlinks-and-knowledge-expansion-cosmological Index
29 Jun 2010 @ 02:35: LARGE CLASS, MAD DISCOURSE: SAME ROOTS
9 Jun 2010 @ 18:31: Spilling The Beans..
22 Dec 2008 @ 05:55: Third Week
22 Nov 2008 @ 23:39: The L Word – part two and a half (baked)
28 Aug 2008 @ 05:12: Catherine
22 Aug 2008 @ 05:21: Final Exams
4 Apr 2008 @ 13:12: EDUCATION IS DEFICIENT FOR GIFTED MINDS
3 Apr 2008 @ 20:25: Welcome to the ratrace.
13 Feb 2008 @ 08:36: Horizon




---