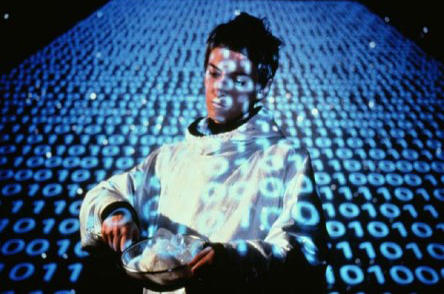 4 Jun 2007 @ 13:46, by Flemming Funch

Learning is an interesting subject. How do we know we're learning something? How do we know what to learn? How do know when we've learned it? But, maybe more basic, how do we even manage to pay attention to what is there to learn? How do we notice what we're presented with?

Say you're reading a book, or you're listening to a presentation, or you have a conversation. How good are you at actually remembering even a small fraction of what was said? I know I'm pretty bad at it. Even if I've read a book and enjoyed it, can I say more than a handful of sentences about what it said?
"I took a speed-reading course and read War and Peace in twenty minutes. It involves Russia." --Woody Allen
Even if you took 3 weeks to read "War and Peace", how much more can you really say?

Part of the problem is that books and talks are just a lot of words. They're strung together into sentences, and we might think we understand them, but what are we taking with us?

I've been listening to various memory improvement courses recently. I didn't really mean to, but I just happened to run into them, as I was downloading some other stuff. And another subject I'm interested in is metaphor - how meaning sometimes is transferred much more effectively with a story or a metaphor than with a lot of words that try to teach or persuade.

As to memory, one good piece of advice is that to remember stuff we need to have a framework to put it in. The more you already have a grid of things you know, the better you can put new things into it. An average student in history class might just hear a bunch of seemingly random dates and names and places. But a historian would have a grid in their mind that already connects a lot of dates and names and places together in a coherent framework, and the new information would be many times more meaningful, and he'd be much more likely to remember it, because he has hooks to attach it to. Learning is a lot less likely if there's nothing to relate it to.

As to stories and metaphors, they're very compact ways of storing information. We have an instinctive way of understanding and remembering things that fit together as a story. We know how stories roughly are supposed to work. Like a fairy tale. There might be a protagonist who has some kind of objective, and he runs into various obstacles, and he overcomes them, just barely. We understand that deeply and non-verbally. If we watch a movie, we somehow know if it is satisfying, if the story evolves right, or if something is missing. And we'd be able to re-tell that story without too much trouble, if it is coherent. And even if we didn't remember it all right away, we could piece it together.

That "a picture is worth a thousand words" is a related phenomenon. If we can see how something fits together, we can store it in a much more compact and transportable form in our minds than if we had to remember lists of otherwise disjointed words and sentences.

We have a lot of different kinds of perceptions. We see, we hear, we feel stuff. The very best types of learning connect several or all of these together. We've heard something, and we can talk about it, but we also see it, and we can show it. We've experienced it, and we feel it, and we can make somebody else experience it. And the words are really only a small portion of this, and possibly the least coherent. And yet we often mistakenly assume that if the words have been transferred, the speech delivered, the book read, that this constitutes communication and learning.

So, if you don't control the mode of presentation, what can you at least do to better receive and organize what you were presented with?

- you can take notes
- you can draw a mind map
- you can try to summarize it
- you can discuss the subject
- you can go over it several times
- you can experience it in several different formats, if available: text, audio, video, slides, etc.

An old piece of advice for speakers is: "First you tell them what you're going to tell them, then you tell it to them, and then you tell them what you just told them". Another angle on that is that a really good presentation will tell you the same thing in various formats, and various chunk sizes. There will be a summary, a conclusion, an exploration of the details. There will be visual aids. There will be the presenter's non-verbal queues, like tone of voice and body language. There will maybe be some kind of personal experience, like an exercise. And if it works out really well, all of those are saying the same thing, and supporting each other. They form a self-consistent whole. That's coherence, or congruence. Most presenters don't succeed perfectly in all of that. But even if they don't, you might be able to fill in some of the missing pieces yourself.

- before reading a book, you could look through the table of contents, and page through it, getting an idea of what it is about.
- while reading it, you can make your own notes or drawings of what you're picking up.
- you can find your own examples or counter-examples
- you can find analogies or metaphors. "That is just like ..."
- you can translate it into another medium.
- you can try if you can summarize what the point is.

Any kind of presentation or text will have some kind of structure to it. It might or might not be a good structure, and it might or might not be helpful, but normally there's something there. And there will always be different types of elements. Are we presented with facts, beliefs, opinions, examples, intentions, attempts to persuade, filler material, etc., and which is which? It might be easy to miss if one doesn't somehow evaluate and organize the materials along the way. There might have been just 3 crucial points that the speaker or writer wanted to convey, but if you didn't notice which they were in between all the other stuff, somebody might be wasting their time a little bit.

I'm certainly no master in this. Rather, I notice that way too many things I potentially am very interested in are passing right through my head without sticking to anything, and that's a bit of a waste.





Category: Education

---
8 comments

5 Jun 2007 @ 14:37 by quirkeboy @209.92.185.200 : Rambling man..
Ive found that one of the reasons its difficult for me to reference huge amounts of information from a book is because there IS very LITTLE information in most text books, philosophy books, reference books etc.
Alot of times I find myself thinking..
"Thanks for the 5 examples, the similes, metaphors, history, applications, etc etc.... but I could have summed it up in about a paragraph."
One of the most annoying practices is repetition of an idea with differnt wording:
"Repetition is redundant"
"Repitition does not always need repeating"
"It is often redundant to repeat oneself"
"Repetition is discouraged as it can become redundant"
This seems really obvious here ... but a person skilled in this could fluff out one or two original ideas into a 400 page book. If you would several more examples or perhaps some applications of this idea.... let me know!!


---
5 Jun 2007 @ 18:28 by : Inflation in words
I suppose part of it comes from the fact that one can't easily publish and sell a book unless it has several hundred pages. And maybe all one has is an idea that could have been fully and adequately described in 10 or 20 pages.

And part of it maybe comes from that people don't really know what they're saying, so they get much too wordy before they feel they probably have said it.

It pisses me off if I'm forced to read hundreds of pages in order to find out what they're actually saying, and finding out that it could be said in a few sentences.

The wordiness isn't limited to proper books either. For example, I've several times had to implement a program interface to a credit card payment processing system. Invariably the payment processor will give you documentation of hundreds and hundreds of pages, and you won't be able to figure out what to do before you've studied it all and taken it apart, and figured out what it actually says. And invariably you end up with about 10 lines of code that does the trick. If they had just provided those up front, I could have saved weeks of work.


---
15 Nov 2015 @ 14:41 by @45.33.54.19 : good watches
However, aviators became the www.rpwatchjust.co.uk realmaplestory mesosfans and promoters of this acclimatized brand. Namely they were the age-old to appraise an aberrant believability and adapted Breitling style.


---
29 Apr 2016 @ 07:02 by @103.12.162.4 : brilliant! I would like to share this ar
Togel Online Singapore
Togel Online Hongkong
Bandar Togel Singapore
Bandar Togel
Togel Online Terpercaya
Bandar Togel Online Terpercaya
Togel Online
Agen Togel Online Terpercaya
Agen Togel Online


---
6 Jul 2016 @ 09:31 by brizb1 @184.83.3.202 : 20160706zhenhong
burberry outlet store
kate spade uk
rolex watches outlet
rolex outlet
tiffany and co jewelry
celine outlet online
michael kors online
nba jerseys
longchamp pas cher
christian louboutin uk
true religion jeans outlet
fitflop sale
jordan shoes
louis vuitton handbags
coach outlet online
true religion jeans
prada shoes
coach outlet store
longchamp solde
ray-ban sunglasses
lacoste polo shirts
michael kors outlet
timberland shoes
michael kors outlet
replica watches
coach outlet
fitflops uk
tiffany and co
tiffany jewellery
michael kors handbags wholesale
michael kors outlet
ralph lauren outlet
michael kors outlet
ralph lauren uk
louis vuitton handbags
hollister sale
michael kors outlet
adidas uk store
nike air huarache
jordan shoes 2015
bottega veneta outlet
cheap jordan shoes
polo ralph lauren outlet
fitflops sale
jordan shoes
burberry outlet sale
ferragamo shoes
versace sunglasses on sale
gucci outlet online
jordan pas cher
ray ban sunglasses
toms outlet
adidas outlet store
rolex orologi
beats headphones
ray ban sunglasses
true religion jeans
tiffany outlet
true religion jeans
fitflops outlet
reebok outlet store
lebron shoes
coach outlet online
toms shoes
cheap snapbacks
futbol baratas
michael kors wallet sale
cartier uk
tiffany outlet
ray ban sunglasses sale
michael kors outlet
swarovski outlet
rolex watches,rolex watches,swiss watches,watches for men,watches for women,omega watches,replica watches,rolex watches for sale,rolex replica,rolex watch,cartier watches,rolex submariner,fake rolex,rolex replica watches,replica rolex
ray ban sunglasses
replica watches
cheap jordans
tory burch outlet
oakley sunglasses sale
cheap jordans
mont blanc outlet
true religion outlet
michael kors outlet
chrome hearts
gucci sunglasses
nfl jersey wholesale
ralph lauren
ralph lauren polo
rolex watches for sale
swarovski outlet
tiffany and co
soccer jerseys wholesale
fitflops sale clearance
michael kors handbags outlet
michael kors outlet uk
gucci outlet
longchamp handbags
polo ralph lauren
polo outlet
longchamp solde
celine outlet
michael kors outlet
longchamp handbags
true religion outlet
hermes outlet store
ralph lauren polo
prada sunglasses
ralph lauren outlet
true religion jeans
ray ban sunglasses
swarovski crystal
louis vuitton handbags
louis vuitton sunglasses for women
tiffany outlet
michael kors outlet
mbt shoes outlet
coach outlet store
beats by dre
cartier watches for sale
michael kors outlet clearance
adidas shoes
mont blanc pens
adidas outlet
michael kors outlet
ralph lauren pas cher
michael kors handbags clearance
pandora jewelry
michael kors bags
ralph lauren pas cher
michael kors handbags
ralph lauren outlet
nike air huarache
michael kors online outlet
swarovski crystal
beats by dr dre
christian louboutin shoes
pandora outlet
polo ralph lauren
longchamp outlet
camisetas futbol baratas
cheap football shirts
mlb jerseys
michael kors outlet online
louboutin pas cher
longchamp outlet
toms outlet
babyliss flat iron
longchamp pliage
cheap soccer jerseys
links of london
louis vuitton handbags outlet
air max 90
cheap replica watches
cheap jordan shoes
polo ralph lauren
lacoste shirts
ray-ban sunglasses
longchamp outlet
tory burch outlet
air max 90
ralph lauren outlet
tiffany jewellery
swarovski jewelry
ferragamo outlet
nike uk store
true religion uk outlet
swarovski outlet
air max 90
beats by dre
mulberry outlet
cheap nhl jerseys
tory burch outlet
louis vuitton handbags
tiffany outlet
air jordan shoes for sale
ralph lauren,polo ralph lauren,ralph lauren outlet,ralph lauren italia,ralph lauren sito ufficiale
michael kors outlet
oakley sunglasses wholesale
hollister
michael kors factory store
longchamp handbags
soccer jerseys
reebok shoes
coach outlet online
rolex watches
nike air max 90
michael kors outlet clearance
links of london jewellery
ferragamo outlet
mulberry uk
beats by dr dre
michael kors handbags
rolex watches
adidas uk
cheap nba jerseys
oakley sunglasses wholesale
cheap nfl jerseys
mulberry sale
dior sunglasses
toms outlet
adidas wings
toms shoes
ray-ban sunglasses
cheap michael kors handbags
nhl jerseys
ray ban sunglasses
fitflops uk
hermes belt for sale
prada outlet online
hollister clothing store
basketball shoes,basketball sneakers,lebron james shoes,sports shoes,kobe bryant shoes,kobe sneakers,nike basketball shoes,running shoes,mens sport shoes,nike shoes
polo ralph lauren
cartier outlet
coach outlet store
ferragamo shoes sale
polo ralph lauren
polo ralph lauren
fitflops sale
beats headphones
hermes bags
true religion jeans
juicy couture outlet
michael kors outlet
ralph lauren shirts
oakley sunglasses
christian louboutin uk
mulberry outlet,mulberry handbags outlet
louis vuitton outlet
kate spade uk outlet
snapbacks wholesale
mulberry handbags
oakley sunglasses
ray-ban sunglasses
michael kors outlet online
ralph lauren outlet
nike roshe run
hollister shirts
montblanc pens
coach outlet
michael kors outlet store
nike tn pas cher
tiffany jewelry
michael kors uk
swarovski crystal
cheap mlb jerseys
nike free 5.0
chrome hearts outlet
nike air max 90
chrome hearts eyewear
timberland boots
hermes outlet
coach outlet
fitflops sale clearance
swarovski crystal
tory burch outlet online
jordan pas cher
hermes birkin bag
christian louboutin outlet
oakley sunglasses uk
ray-ban sunglasses
burberry sunglasses on sale
ralph lauren outlet
longchamp outlet
true religion jeans
coach outlet store
true religion jeans
rolex watches
michael kors canada
nike blazer pas cher
ferragamo outlet
michael kors wholesale
ralph lauren polo
oakley sunglasses
longchamp pliage
tory burch shoes
michael kors clearance
tory burch outlet online
lebron james shoes
coach outlet online
cartier watches
ray-ban sunglasses
mlb jerseys
tiffany and co
adidas wings shoes
pandora jewelry
swarovski jewelry
ralph lauren femme
ray ban sunglasses
oakley sunglasses wholesale
christian louboutin shoes
herve leger outlet
hollister shirts
louis vuitton bags cheap
thomas sabo outlet
michael kors handbags
christian louboutin outlet
louis vuitton pas cher
christian louboutin online
cheap oakley sunglasses
ralph lauren outlet
louis vuitton handbags outlet
asics
nike huarache
toms shoes
polo ralph lauren
louis vuitton pas cher
hollister
ghd hair straighteners
cheap ray ban sunglasses
bottega veneta outlet online
coach outlet online
michael kors outlet online
longchamp outlet
true religion outlet
burberry outlet
christian louboutin outlet
michael kors canada
coach factory outlet
rolex watches
michael kors outlet
oakley sunglasses
hermes outlet
true religion jeans
reebok trainers
oakley sunglasses
mulberry handbags sale
nike free run
ray-ban sunglasses
tiffany jewellery
nike air max 90
michael kors outlet
michael kors handbags
mulberry outlet
lebron shoes
coach outlet
tiffany and co
cheap nba jerseys
tiffany jewelry
cheap ray ban sunglasses
tiffany and co
fitflops shoes
nike air max 90
mulberry bags
true religion outlet
true religion jeans sale
rolex watches
oakley sunglasses
rolex watches for sale
nike air force 1
lululemon outlet
ray ban sunglasses
michael kors handbags
burberry sunglasses
michael kors uk
polo shirts
ray ban sunglasses
cheap nfl jerseys
true religion jeans
coach outlet
michael kors outlet
ray-ban sunglasses
ghd uk
fitflops clearance
rolex watches
cheap nfl jersey
oakley sunglasses
mulberry handbags
lululemon outlet
prada sneakers
nike roshe
longchamp outlet online
louis vuitton outlet online
longchamp
tory burch outlet
coach outlet online
louis vuitton bags
iphone case uk
thomas sabo uk
cazal outlet
mulberry handbags
true religion uk
kobe bryants shoes
tory burch outlet online
iphone case
nfl jerseys wholesale
lululemon uk
coach outlet online
lululemon outlet online
kate spade uk
michael kors factory outlet
swarovski crystal
chaussure louboutin
ralph lauren outlet
michael kors handbags outlet
true religion jeans
police sunglasses for men
mulberry outlet
ralph lauren uk
longchamp pliage
prada sunglasses for women
louis vuitton outlet
cartier watches
louis vuitton neverfull sale
nike tn pas cher
longchamp pliage
mbt shoes
prada outlet
coach handbags outlet
cheap oakley sunglasses
ralph lauren uk
true religion outlet uk
rolex watches for sale
babyliss pro
kobe bryant shoes
ray ban sunglasses sale
ferragamo shoes
true religion outlet
coach outlet
coach handbags
cheap oakley sunglasses
nike air max
tory burch sandals
ferragamo shoes
michael kors outlet online
chrome hearts sunglasses
ralph lauren polo
reebok shoes
cheap jordans
hermes belt
ralph lauren pas cher
prada outlet
tory burch shoes
true religion jeans
cheap oakley sunglasses
ralph lauren uk
ferragamo outlet
louis vuitton outlet
kobe shoes
mulberry bags
coach outlet
michael kors wallet
versace sunglasses
louis vuitton handbags
michael kors uk
nike air force 1
cartier outlet store
louis vuitton outlet
fitflops clearance
michael kors handbags
fitflops sale clearance
ferragamo shoes
burberry outlet
nike store uk
sac louis vuitton pas cher
fitflops sale
hollister uk
mulberry handbags sale
coach outlet store
longchamp pas cher
burberry outlet online
michael kors outlet
calvin klein outlet
christian louboutin shoes
cartier sunglasses
true religion jeans
burberry outlet store
michael kors outlet
louis vuitton outlet stores
burberry outlet online
rolex uk
air max 90
kobe shoes
oakley sunglasses
football shirts
ralph lauren uk
basketball shoes
nike huarache
true religion outlet
fitflops sale
burberry outlet
ray ban sunglasses
coach outlet store
calvin klein underwear
christian louboutin outlet
air max 2015
michael kors uk
coach outlet
coach outlet canada
toms outlet store
asics,asics israel,asics shoes,asics running shoes,asics israel,asics gel,asics running,asics gel nimbus,asics gel kayano
hollister uk
prada handbags
mulberry handbags
hollister clothing
mcm outlet
mcm backpack
true religion sale
tory burch outlet
ray ban sunglasses
louis vuitton pas cher
omega watches
herve leger dresses
polo ralph lauren
ferragamo outlet
chaussure louboutin
ferragamo shoes
true religion outlet
pandora outlet
soccer jerseys
louis vuitton outlet store
mont blanc pens
ray ban sunglasses
police sunglasses
mulberry handbags
beats by dre
juicy couture tracksuit
hermes birkin
tiffany and co
hollister clothing
dior outlet
michael kors outlet
ray ban sunglasses
michael kors uk outlet
oakley sunglasses wholesale
fitflop clearance
adidas trainers
nfl jerseys
michael kors handbags
michael kors outlet
gucci sunglasses uk
michael kors factory outlet
kate spade handbags
louis vuitton neverfull
nba jerseys
swarovski crystal
oakley sunglasses
louis vuitton bags
cheap mlb jerseys
true religion canada
nike air max 2015
tiffany outlet
michael kors outlet
air max 90
air force 1 shoes
louis vuitton bags
air jordan shoes
longchamp handbags
cartier sunglasses for men
beats headphones
fitflops outlet sale
tory burch outlet online
lebron james shoes
fitflops shoes
ralph lauren polo shirts
ferragamo shoes
tory burch outlet
michael kors handbags clearance
fitflops clearance
rolex watches
michael kors outlet online
michael kors outlet clearance
toms outlet
michael kors outlet
louboutin pas cher
coach outlet
omega outlet
swarovski outlet
louis vuitton sunglasses
nike blazer pas cher
nike air force 1
longchamp handbags
tiffany jewelry
lululemon outlet
mulberry handbags
cazal sunglasses
michael kors uk outlet
lululemon pants

20160706zhenhong


---
18 Aug 2016 @ 10:41 by @182.186.141.16 : Malik
The tragedy in Pakistan continues to worsen as relief supplies and aid fall far short of what is required. More aid is anxiously needed as the potential for millions of fatalities begins to loom.


---
5 Sep 2016 @ 09:43 by @117.207.102.53 : xc
xender for pc app


---
30 Sep 2016 @ 17:38 by jack sparr @43.224.128.93 : nice
Download Zapya for PC to share files and folders easily from PC to Mobile


---
Other entries in Education
28 Apr 2016 @ 17:25: cosmology-vedas-interlinks-and-knowledge-expansion-cosmological Index
29 Jun 2010 @ 02:35: LARGE CLASS, MAD DISCOURSE: SAME ROOTS
9 Jun 2010 @ 18:31: Spilling The Beans..
22 Dec 2008 @ 05:55: Third Week
22 Nov 2008 @ 23:39: The L Word – part two and a half (baked)
28 Aug 2008 @ 05:12: Catherine
22 Aug 2008 @ 05:21: Final Exams
4 Apr 2008 @ 13:12: EDUCATION IS DEFICIENT FOR GIFTED MINDS
3 Apr 2008 @ 20:25: Welcome to the ratrace.
13 Feb 2008 @ 08:36: Horizon




---