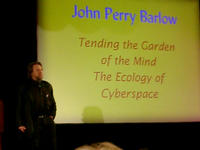 5 Dec 2002 @ 19:55, by Flemming Funch

I'm at the Prophet's Conference in Palm Springs for a couple of days. A great group of speakers, and old friends to meet. Sofar, a great talk by John Perry Barlow on "Tending the Garden of Mind". He is just fabulous at weaving things together. This is not really his typical crowd, so it also became a bit of an education for the audience. In short, there are strong forces out there who would like to own the content of your mind, so get educated enough to do something about it. Nobody can own ideas, and it is all the same mind stuff that flows through all of us anyway.

After that there was a panel, with John, and Barbara Marx Hubbard, Gregg Braden, Nicky Scully, and some young people representing the conscious dance culture. Very stimulating fusion of energy there. Talk of more merging of rhythm and art into these more cerebral ideas. Talk of how we're all Natives of the Now, the new indiginous people.





Category: Futurism

---
3 comments

5 Dec 2002 @ 22:50 by ashanti : Envy!
Oh, god, I am *green* with envy. This looks so, so stunning. Hank Wesselman is my absolute hero, among others.


---
6 Dec 2002 @ 00:53 by shawa : You go to Switzerland...
...and I go to California! I can only second Yashmir´s comment...I´m absolutely greeeen with envy.


---
6 Dec 2002 @ 02:56 by : All is relative
Heheh, yeah, I kind of need a break from all these great conferences I don't even have time to go to.


---
Other entries in Futurism
11 Dec 2008 @ 06:58: ECONOMY THAT HEALS: CHALLENGE OF THE NEW EPOCH
22 Sep 2008 @ 11:33: CAPITALISM'S FUTURE CYBORG PEOPLE/WE ARE THE LAST HUMANS
12 Apr 2008 @ 10:04: MATRIX & TERMINATOR FILMS: TECHNOTRONIC TYRANNY PROPHESIED
24 Mar 2008 @ 09:34: PHILIPPINES FROM A COSMIC VANTAGE VIEWPOINT: STARGATE, MAHARLOKA, PLANETERY CHI
7 Feb 2005 @ 12:25: Time For A Consciousness Upgrade.
6 Feb 2005 @ 23:12: We are the New Civilization
30 Apr 2004 @ 18:19: The Diamond Age
9 Apr 2004 @ 17:27: Imagining the year 3000
31 Mar 2004 @ 03:05: The Singularity and the Fifth Dimension
5 Mar 2004 @ 13:02: We Need a Dream




---