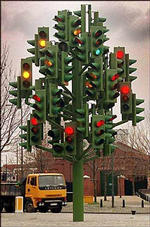 13 Feb 2003 @ 23:59, by Flemming Funch

It is a widely held value that people can hold different opinions, and it is sort of good to agree to disagree. Particularly if it is political opinions. It is considered noble to respect people one disagrees with.

But there are some qualities of opinions that most people don't notice. It is sometimes like comparing apples and oranges. Two opinions might be of a totally different order from each other, even though they are compared equally.

Let's take a politically and religiously very controversial issue like abortion. The typical way of presenting it is that there are two sides. For or against, basically. The people who think abortion should be legal and those who think it should be illegal. Those are not at the same logical level at all. Comparable choices would be to force all pregnant women to have abortions versus to allow no pregnant women to have abortions. Yes, that is ridiculous, but those would be logical opposites on the same playing field.

Or let's take opinions about whether it should be legal to smoke in public places or not. One side says that one should never be allowed to do so, or one would be fined or arrested. The opposite of that would be that one HAS to smoke in public places, or one would be fined or arrested. Ridiculous? Yes, indeed.

The point is that the choice of forcing everybody to always do something, or to never do something, that's a huge responsibility, and not just a matter of making a good point. You have to be responsible for it always, always, forever being the right choice. That's a real big thing. And it is fairly impossible, because you don't really know if it is always the right thing, because you probably can't imagine all the people and all the situations it applies it. So you probably just make the choice based on your own personal inclination right now, or your religious beliefs, or your idealistic political views, and you might vote for having that choice imposed on everybody all the time. And you sort of ignore the details, hoping that as a member of a government, you probably never have to be faced with those circumstances where that choice wouldn't be the right one.

So, in summary, the option that people are free to make their own reasonable choices based on the situations they find themselves in, that is not on equal footing with the option that they always have to do things the same one way, or that they never can do it a certain way.

People who believe in abortion rights do not necessarily plan on getting pregnant and getting an abortion. People who think there should be somewhere they can smoke, do not necessarily plan on smoking in all the very places that would be the most bothersome for non-smokers. They would maybe just like to be free to make some reasonable choices about it, based on the actual circumstances.

So, they're not equal opinions to have. If your option involves that I will be forbidden by force from exercising my option, but my option only is my personal choice, then our options are certainly not equal. Your option is clearly hostile to mine, but the reverse probably isn't true, even if you have trained yourself to think about it as if it is.

Most politicians don't realize the enormity of a decision to force something to be a certain way for everybody, particularly when we're talking about some sort of personal behavior or lifestyle choice.

To go to war and or not to go to war aren't equal either. They aren't just different opinions, different choices based on personal preferences. One will involve taking away the right to choose from hundreds of thousands or millions of people, because they will probably be killed. Sometimes that might make sense, if even bigger killing is avoided, but it is a very, vary hard decision, based on careful analysis of the facts. It isn't just some opinion to have.

Certain global choices don't really take anything away from anybody. Forcing all of us to drive in the right or the left side of the street, or to use 110V or 220V electricity, that is a matter of organization, and doesn't make any of us lose anything.

But a choice is a choice. Something an individual makes, or something that the people involved make in concert.

True bottom-up grassroots democracy consists of people making choices, and being quite likely to get what they're choosing. Many people will choose different things, and they will get different things. Enforcing the same choices on everybody should be avoided unless absolutely necessary.





Category: Politics

---
16 comments

14 Feb 2003 @ 13:01 by sharie : "It Pays to Advertise"
Corporate profits dictate the choices of so many people who are so exhausted from this culture that they let commercials do their thinking for them, so there is very little free choice. "It pays to advertise" because people believe in the ads and are lulled into a stupor by the jingles... is it so fun to sing-along as they walk through the grocery aisles buying what the songs tell them to? Apparently. Advertising is a multi-billion dollar business because what is spent on advertising is returned ten times over by consumer spending.

And now we have a global agenda in force that is destroying us all, any suggestions?


---
16 Feb 2003 @ 16:08 by : choice
we live on a planet of free choice.
If we impose restrictions on others then we are doing the same to ourselves by the same action. Certainly we need to have, for the sake of order rules that we all adhere to such as on which side of the road to drive.
I choose to think my own thoughts. If someone else thinks as I do then we have that in common, if not we have our humanity in common.


---
1 May 2016 @ 22:47 by Krisalyn @188.143.232.32 : tuTdQZkWAhUBQ
Hi KulwantYou are right brother, he is very talented writer, I really like his way of writing.If you are a Pro blogger, you always do proper research before writing anything on your blaNig.shont Srivastava recently posted..


---
17 Aug 2016 @ 11:22 by Tailynn @188.143.232.32 : YqroLAMayxDYamYBil
[link] http://carinsurancenet.top/site/healthscopebenefits.com/ [link] http://autoinsurancespy.top/keyword/long+term+care+insurance [link] http://wwwinsurance.top/keyword/energy+insurance [link] http://crawlautoinsurance.top/keyword/cheap+annual+holiday+insurance


---
14 Sep 2016 @ 10:29 by Dolly @188.143.232.32 : pgnkZyaVtsTuqeCRsDE
[link]


---
23 Sep 2016 @ 03:29 by Koyie @188.143.232.32 : UUVPZnHcsvKpEDAPtrE
better [link] time consuming price [link] cost things [link] ok called persistence [link] only insurance health [link] mutually insurance coverage [link] pay less theft [link] border around bad [link] offers


---
29 Sep 2016 @ 05:05 by @117.201.23.168 : bnf
hi [link]
good [link]
post [link]
snapchat windows [link]
snapchat for linux [link]
snapchatdownload [link]
snapchat app [link]
mac [link]
ios [link]
android [link]
windows [link]
app [link]
ios [link]
android [link]
windows [link]
ios [link]
mac [link]
android phone [link]
windows phone [link]


---
18 Oct 2016 @ 15:24 by @103.12.162.3 : togel online hongkong
After read a couple of the articles on your website these few days, and I truly like your style of blogging. I tag it to my favorites internet site list and will be checking back soon. Please check out my web site also and let me know what you think.
praturan
[link]
home
[link]
daftar
[link]
cara main
[link]
hasil
[link]
buku mimpi
[link]


---
20 Oct 2016 @ 21:01 by Seston @188.143.232.32 : yWtnvWyVBGBCe
[link]


---
26 Oct 2016 @ 10:24 by Welcome @188.143.232.32 : xcrncIpHiqCIJLRHsR
[link]


---
14 Nov 2016 @ 12:13 by Eloise @188.143.232.32 : mdLpZMUwKrnz
http://hausratversicherungtest.info/hausratversicherung-schwarzwälder-direkt.html


---
15 Nov 2016 @ 11:51 by Aundre @188.143.232.32 : qRohFSJZnks
[link] http://kreditevergleichen.pro/kredit-repair-after-bankruptcy.html


---
16 Nov 2016 @ 02:11 by Jase @188.143.232.32 : JrLuOkjlhq
coverage always [link] comprehensive coverage new policy [link] different policies alarms burglar [link] areas use [link] insurance deal tree falling [link] way


---
18 Nov 2016 @ 11:54 by Kaylana @188.143.232.32 : FQjjYXFfOtoXKiLypOaL
http://onlinekredit.pw/privatkredit-für-arbeitslose-schweiz.html [link]


---
15 Dec 2016 @ 20:30 by Snow @188.143.232.32 : nAxEJyskTdnfzUg
[link] http://schnellerkreditonline.top/2000-euro-kredit-ohne.html [link]


---
12 Jan 2017 @ 17:25 by Lefty @188.143.232.32 : LkAuNVEeioc
[link] http://kobafcialis.top/hvordan-man-kan-sælge-cialis.html [link]


---
Other entries in Politics
1 Jul 2010 @ 02:21: PHILIPPINES' NEW PRESIDENT: AKBAR OR NERO?
4 Jun 2010 @ 08:30: SCUTTLE EU NOW, BEFORE 4TH REICH OPTION AWAKENS!
17 Nov 2008 @ 10:11: My 'story' I just uploaded to change.gov
8 Nov 2008 @ 16:06: A Boy Named Sue and the False American Dream
7 Nov 2008 @ 16:01: No He Can't...
6 Nov 2008 @ 09:16: History is NOW
5 Nov 2008 @ 16:58: Obamas World - Africa and the World beyond Poverty !? - but how? - what world?
5 Nov 2008 @ 14:02: Proud to be An American
26 Oct 2008 @ 15:26: Systemic Intelligence: How to teach Systemic Thinking effectively
26 Oct 2008 @ 10:27: OBAMA IS AMERICA'S MAN OF THE HOUR




---