| | |
| --- | --- |
| War Profiteer's Card Deck | |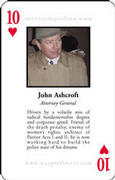 30 May 2003 @ 00:09, by Flemming Funch

Better than a card deck of wanted Iraqi officials, here's now the War Profiteer Card Deck. It exposes some of the real war criminals in George W's war on terror. Spades: oil, gas, energy. Hearts: US government officials. Clubs: military/defense contractors. Diamonds: heads of industry, media, policy, and hype. Via Karen Marcelo at BoingBoing.





Category: Politics

---
13 comments

30 May 2003 @ 18:50 by : Awesome link
Hey Flemming, keep up the good work. This is essential reading for anyone concerned with the creation of a new civilization. For truly the "light" of understanding and knowing is essential to revealing these criminals for what they are. Self interested, self serving and PIG ignorant. Ignorance is the true evil, for it is only the ignoring of the relationship that WE ARE which allows these activities to continue.


---
30 May 2003 @ 21:36 by : Thanks Flemming!
Flemming, You are so on top of it! Max and I were viewing the deck this afternoon together after reading your log. How brilliant! Appears that groups are coming together more creatively now to do the work necessary and yet in such creative ways. So kewl!! A most creative way to confront the darkness and to put these people out there as the criminals they are. Well done!!


---
30 May 2003 @ 23:16 by : The truth must come from within
It would be interesting to learn where the card decks come from. Do they come from within, or from outside of the USA? (perhaps a rhetorical question)
If they come from outside of the USA, then they might just have the opposite effect of that was intended. Instead of awakening Americans to the truth, they might simply galvanize people in the USA into an us-vs-them attitude. The USA has historically been quite isolationist - and it is easy to see this happening already.

Also, opposition is a tricky thing. Like good food, it is best when it is natural, and home-grown.
~~~~~~~~~~~~~~~~~~~~~~~~~~~~~~~~
6/1/03 Update: I am informed (though have not personally verified) that the group which sources the card deck is located within the USA.
Still, my point remains that criticisms of the legitimacy of Bush's "reign" are best made from within the nation.


---
31 May 2003 @ 06:27 by b.d.g. @141.152.168.233 : don't cheapen the language
You're entitled to your opinion, but cheapening a term like war criminal—using it merely to demonize people with whom you happen to disagree—does not exactly serve the cause of humankind. Whatever their human failings, thank God we have leaders at this moment in history like our President and the UK PM, who have the backbone and foresight to confront evil and who are trying to bring about a more peaceful world. They deserve our thanks, not ignorant ridicule.


---
31 May 2003 @ 11:49 by sharie : Webster's Dictionary at face value
This is for b.d.g. (Been Darn Gullible?)

Bush is NOT our president. He was NOT elected by the people. There is information available on what is going on. Have you seen the video "Unprecedented?" Have you read the information on the playing cards in the link Ming offers? Have you seen "Bowling for Columbine?"
Or do you have no interest in being informed of what's going on?

Bush - the war criminals' puppet - has overthrown our Constitution (have you read the Patriot Act?) creating a dictatorship, allowing Cheney's gang of billionaires to funnel public tax dollars into their personal bank accounts while offering NO benefit to the american taxpayers.

Please do your homework and STOP listening to TV and newspaper propaganda.

If you come onto NCN, and put Bush on a pedestal, you'll be asked to think for yourself, do some research - it doesn't take a lot - and learn the truth.

Over six trillion dollars in American taxpayer funds is now missing and unaccounted for. Do you think it just *disappeared*? Vanished?

Dick Cheney's wife is on the Board of Directors of the world's largest weapon's manufacturer. She and Dick profit from the wars he creates. That's okay with you?

Dick Cheney's company received over $600 million in government contracts where no other company was allowed to bid.

George Bush Sr. works for the Carlyle Group which is also profitting from government policy and contracts. Since W will - in all likelihood - inherit some of these millions of dollars, don't you think there's a conflict of interest?

If you have children, and the Chinese government identified George W Bush as a dictator, and then bomb your children to oblivion, would that be alright with you?

If not, then can you in clear conscience give the nod of approval for our soldiers and their bombs to dismember and de-capitate the defenseless children of another nation? ... on accusations of weapons of mass destruction... for which there is no evidence?

American war criminals have seized control of oil wells that belong to the people of Iraq. You don't have to be a genius to understand what's going on. W's IQ is about 82 and he knows exactly what to do.

*WAR CRIMINAL* is correct in the context used.

*CRIMES AGAINST HUMANITY* is another correct term.

*TREASON* against the american people would also be accurate.


---
1 Jun 2003 @ 07:04 by : A diversity of opinion
I think that it is good to have a diversity of opinion on NCN. One's personal political views (however strongly held) are not a criterion for participation here. I am personally encouraged to see comments here not opposed to Bush, if only to provide a counterpoint.

I think that we need to avoid identifying NCN and the new civilization with a particular point of political view. The new civilization is a process, not a politic.


---
1 Jun 2003 @ 07:44 by jmarc : a little dale carnegie would go a long
way here. What is the purpose of this deck other than to push people's buttons? Surely isn't going to change my mind. Oh, and you all have access to a voting booth. Use it. I also do not stipulate w's iq to be 82. If your using the internet to find facts like that, your paying too much for your connection.Try the fiction section at your local bookstore.At least there is usually a sign over those books that say's fiction. Ther is another deck of cards floating around out there with people like surandon and penn on them, wearing information minister berets. i find them equally as useless, even though i found penn's actions dispicable. It's no way to win friends and influence people. It's just more polarization.


---
2 Jun 2003 @ 14:59 by sharie : Voting Booths, the purpose of the decks
Who owns the computer programs that count the election votes? They're privately owned, did you know? The corporate executives who program the computers... could they have a vested interest in who wins the election or they're just decent business men with great computer programs? In some cases, these are owned by oil companies. Please do your research. This information is available online AND books have been published on this topic since the 1970's.

FLORIDA - under Jeb Bush's governorship - switched to touch-screen voting. Because there's no paper trail, the results cannot be disputed or confirmed. The computer programs reveal the winner.

But who programs the computers?

What good does it do to vote when the computer program elects the candidate?

***

The purpose of the decks is to inform the public of who is profitting from the wars (the profiteers are Bush Jr., Bush Sr., Dick Cheney, Lynn Cheney, etc., etc.). The cards also inform the public of who is profitting from government contracts when no one else is allowed to bid (Dick Cheney, the "Vice President" - outrageous!), and who is profitting from government policies (the approval of aspartame by the FDA when studies revealed it produces symptoms of wood alcohol poisoning. Info on this is available online. After approving aspartame, the head of the FDA was offered a lucrative position with Monsanto, the maker of aspartame.) Information the public *should* know, telling who is getting your tax dollars, and who is being murdered by it, that's what the cards tell you. Yep, it'll probably push your buttons.

They're counting on your innocence, your good-spirited nature, and your trust. I found out the hard way what's really going on in the boardrooms... I found out the very hard way.

The estimate of Bush's IQ comes from my professional training, and I'm being generous with the estimate. I've tested people with similar intellectual skills and they were below 80.

Why do people come online to make friends when they live in towns or cities, surrounded by thousands of people? I have plenty of friends in my town and across the country. Should I apologize for feeling angry when $6 trillion dollars has disappeared and children are being murdered, and nobody seems to care?

Thank you Craig for allowing me to share some political facts here at ncn.

It's interesting how nobody comments on the *facts*. People are just concerned with their personal feelings. Does no one care that defenseless children were slaughtered so that rich american men could take control of the natural resources belonging to people in another country?

Diversity of *opinion* is pointless unless *facts* form the basis. To have an *opinion* without facts is...
ignorant.


---
4 Jun 2003 @ 12:44 by George Dafermos @213.249.18.67 : so hilarous and true at the same time
Brilliant post. thanks for the link. Unfortunately, opinions are still polarised in the States in favour of attacking all kinds of behaviours that deviate from what the rotten and criminal US government defines as terrorism. The War of shame is deeply rooted in their heads....


---
4 Jun 2003 @ 16:00 by sharie : "how to win friends..."
First, we decide what qualities makes up a friend. There's over six billion people to choose from, so how can I choose? Should I choose friends who don't care enough to find out the truth? Friends who do care that children have been murdered and mutilated? No. I choose friends who are intelligent, well-informed, loving, kind, and with a great sense of humor. To *win* these friends, I choose to develop my intellect, to research the relevant facts, to be kind to them, to be helpful and encouraging and supportive, and to add my sense of humor, and contribute my talents and skills where they can be helpful.

Most people don't seem to care about what is true, they don't care about the facts or the evidence, they don't care if they lie, or if their opinions have no foundation in what's actually true... these would not be my *friends*. I have not much in common with them.

Thanks for your help.


---
5 Jun 2003 @ 05:57 by b.d.g. @141.152.168.233 : diversity
I'm very glad there's room here for diverse views. People with whom we disagree are not necessarily uninformed or unintelligent—although I confess I sometimes have to remind myself of that. (Right, Sharie?)

I certainly would echo Sharie's call for everyone to inform themselves as fully as possible about the issues she raises. Yes, the ban against reading newspapers and the advice to glean knowledge from playing cards may at first seem a bit challenging and even strange. Just stick with it and let Sharie be your inspiration.

Of course, that presupposes a certain level of prior understanding. For example, the difference between a revised estimate and cash being "missing and unaccounted for". Or the size of the federal budget, so you can evaluate claims that involve "trillions" of dollars.

I second Sharie's endorsement of "Bowling for Columbine", if you think you can endure a couple of hours watching the 500-pound Mr. Moore waddle and slobber across the silver screen. You may wonder what the point of the film may be other than to harrass a sick old man (which may startle you, since leftists are so darn compassionate). And you may find it as bereft of facts as the average playing card. But if so, you flunk Sharie's IQ test—remember, she's (or he's) a professional.

Finally, on Cheney — Broadly speaking, the government/industry revolving door is a legitimate issue and concern. But this guy is an extraordinarily talented individual who has devoted almost his entire career to public service—when he could have been making tons more money elsewhere. Go ahead and disagree with his politics. Deny his obvious intelligence. But for the left to constantly impugn Cheney's integrity with incredibly cheap, false and outrageous slander—for no better reason than the fact he spent a few years in the private sector—is simply unjust. And it sure doesn't persuade anybody.


---
29 Aug 2003 @ 13:13 by PRINCESS @64.26.98.90 : YOUR WAR VIEW
I WANT YOU TO KNOW THAT TO LOOK AT THE CURRENT EVENTS HORIZENTALLY, NOT VERTICALLY. HISTORY DOESN'T WORK THAT WAY. EVERYTHING HAD HAPPENED & IS HAPPENENING ARE ALL CONNECTED. WHY DO YOU THINK ALL THE CORPORATE CROOKS WERE NOT EXPOSED TILL AFTER BUSH JR. CAME ON BOARD? WHY DO YOU THINK THE WMD HASN'T BEEN FOUND IN IRAQ? TELL YOU A SECRET, BECAUSE "IT" WAS ALL IN "US" READY TO USE TO KILL US ALL. GO BACK HISTORY LOOK FROM 1982 200 MARINES DEAD IN LEBANON BOMBING, HOW CLINTON ROSE TO POWER WHEN US WAS IN THE ECONOMIC LOW POINT & AMERICAN PEOPLE BELIEVED THE ECONOMIC BOOM CREATED DURING HIS REGIME? DOESN'T IT REMIND YOU OF HOW HITLER ROSE TO POWER IN GERMANY & HOW GERMANS WERE CONVINCED HE WAS THIER SAVIOR & HOW THEY'RE STILL PAYING FOR THEIR SELLING THEIR SOULS TO HITLER? HISTORY ALWAYS REPEAT ITSELF. AMERICAN ALSO SOLD THIER SOULS TO THE DEVIL. LOOK AT THE PAST THEN YOU'LL SEE THE FUTURE.BOTH CLINTONS & BUSH JR. ARE ALL TRAITORS & PART OF THE DEVILS GROUP. WHOM ARE YOU GOING TO BLAME WHEN PEOPLE PUT MONEY ABOVE ALL?


---
1 Jun 2004 @ 00:26 by alarmed @203.134.81.122 : war crimes
dont forget john w howard australian prime minister and war criminal


---
Other entries in Politics
1 Jul 2010 @ 02:21: PHILIPPINES' NEW PRESIDENT: AKBAR OR NERO?
4 Jun 2010 @ 08:30: SCUTTLE EU NOW, BEFORE 4TH REICH OPTION AWAKENS!
17 Nov 2008 @ 10:11: My 'story' I just uploaded to change.gov
8 Nov 2008 @ 16:06: A Boy Named Sue and the False American Dream
7 Nov 2008 @ 16:01: No He Can't...
6 Nov 2008 @ 09:16: History is NOW
5 Nov 2008 @ 16:58: Obamas World - Africa and the World beyond Poverty !? - but how? - what world?
5 Nov 2008 @ 14:02: Proud to be An American
26 Oct 2008 @ 15:26: Systemic Intelligence: How to teach Systemic Thinking effectively
26 Oct 2008 @ 10:27: OBAMA IS AMERICA'S MAN OF THE HOUR




---