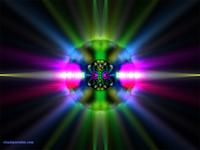 19 Apr 2004 @ 12:25, by Flemming Funch

Via Local Thoughts, a little creative exercise:
1. Grab the nearest book
2. Open the book on page 23.
3. Find the fifth sentence.
4. Post the text of the sentence in your journal along with these instructions.

The nearest book I grabbed blindly from the shelf was the Webster's College Dictionary. Now, I'm not sure if in this case I should pick literally the 5th sentence or the 5th word defined. But, magically, they're talking about the same thing. 5th sentence is part of the definition of "affluence":
a flowing to or toward some point; afflux.
And the 5th word defined is "afflux", which means:
1. something that flows to or toward a point, e.g. "an afflux of blood to the head". 2. the act of flowing to or toward some point.
So, afflux or affluence is when something flows towards a point. If you want an affluence of something, you need to make it flow towards a point. That's sort of simple and basic, but a very useful thing to pay attention to. If I want an affluence of money, money needs to be flowing towards a point, such as my bank account.





Category: Ideas, Creativity

---
12 comments

19 Apr 2004 @ 15:16 by @209.52.173.70 : Thoughts.
"Bet you it won't". This is from page 23, sentence 5 of "Daniel Martin" by John Fowles. I hope it's not true for either of us.


---
19 Apr 2004 @ 16:18 by : My 5th is related
"Capital must not be allowed to stagnate in ware-houses or surplus personnel; it must be ready for quick investment in technological innovation or in constantly switching targets in the financial markets."

From "The Hacker Ethic, and the Spirit of the Information Age" by Pekka Kimanen pg 23, fifth sentence.


---
19 Apr 2004 @ 21:11 by Edward Knight @151.198.138.168 : 5th sentence; 5th word..
5th sentence is, "Act agressively." 5th word is "aggressor" From Websters New Collegiate dictionary, Page 23


---
20 Apr 2004 @ 07:59 by @131.191.34.60 : PAGE 23:05
From "The New Dictionary of Thoughts" (1954)
ANGELS - Millions of spiritual creatures walk the earth unseen, both when we sleep and when we wake.-Milton


---
20 Apr 2004 @ 15:10 by @212.160.234.67 : Oops!
I think I made it a little unclear in my post: the creative exercise from book by Krzyz is the one about "finding regular functions in C\0 whose absolute value is...". The exercise about grabbing the nearest book came from a site that I link to in the post's title. Sorry.


---
20 Apr 2004 @ 16:00 by : Book Grabbing
Haha, yeah, I didn't really know what it had to do with "Complex Variable Theory". Doesn't matter too much where it comes from, but I've better correct that. ... Ah, I see, just me mis-reading your post. You're saying it clearly enough.


---
20 Apr 2004 @ 16:41 by @209.204.154.175 : From "Blowback," by Chalmers Johnson:
"In the largest mass demonstration in postwar Japanese history, protestors surrounded the parliament building and demanded that lawmakers not ratify a renewal of the Japanese-American Security Treaty."


---
20 Apr 2004 @ 22:44 by Koravya @67.0.219.167 : Just for fun
The Nearest booK:
The Grammar Book: An ESL/EFL Teacher's Course by Marianne Celce-Murcia and Diane Larsen-Freeman. Newbury House Publishers, Inc. Rowley, MA. 1983
page 23, 5th sentence:
"Four different optional auxiliary verbs may be present: a modal auxiliary (e.g. will, can, must, shall, may), a periphrastic modal (e.g. be going to, have to, be able to), the perfective aspect (HAVE plus the past participle), and the progressive aspect (BE plus the present participle)."
aside: I haven't really opened this book in Quite some time, but there it is, the nearest one.........................................


---
22 Apr 2004 @ 06:09 by K8 @142.161.94.173 : 5th sentence, 5th word?
Nearest book?: The NIV Study Bible

Page 23? Content?: Chapter 11 of Genesis - Discusses the building of the tower of Babel.
(NOTE: The typical Mesopotamian temple-tower, known as a ziggurat, was square at the base and had sloping, stepped sides that led upward to a small shrine at the top, v4 'reaches to the heavens'. A similar ziggurat may be described in 28:12. Other Mesopotamian ziggurats were given names demonstrating that they, too, were meant to serve as staircases from earth to heaven: 'The House of the Link between Heaven and Earth' (at Larsa), 'The House of the Seven Guides of Heaven and Earth' (at Borsippa), 'The House of the Foundation-Platform of Heaven and Earth' (at Babylon), 'The House of the Mountain of the Universe' (at Asshur).)

5th word of 5th sentence?: 'heaven'

Neat activity. Thanks, Guys! (+ Gals ;-)


---
2 Jan 2016 @ 14:20 by @105.158.102.110 : juegos online
Diviértete con los mejores juegos de Disney Channel, Disney XD, películas Disney y mucho más!


---
19 Aug 2016 @ 04:40 by @39.36.81.64 : Malik
The particular tragedy inside Pakistan continues to worsen since relief products and support fall far in short supply of what is necessary. More support is anxiously needed because the potential for countless fatalities commences to loom.


---
5 Oct 2016 @ 11:52 by @117.207.103.144 : xender
xender for pc


---
Other entries in Ideas, Creativity
23 Sep 2010 @ 18:13: fbi hacks my NEWCIV Site.
22 Sep 2010 @ 02:15: Who Wins?
21 Sep 2010 @ 23:48: Our StressOut Program for Suicide Prevention with Mindfulness
20 Sep 2010 @ 21:24: Quote for today...
16 Sep 2010 @ 19:00: From "Max Sandor's Tales to his grandson"
11 Jul 2010 @ 14:31: Germany, Uruquay, and Applied Quantum Theory
9 Jul 2010 @ 11:07: The Purpose
7 Jul 2010 @ 01:06: The Bicycle Paradigm
21 Jun 2010 @ 23:38: Summer Solstice 2010 - Sunset
4 Jun 2010 @ 21:06: Time to Shine. . .




---