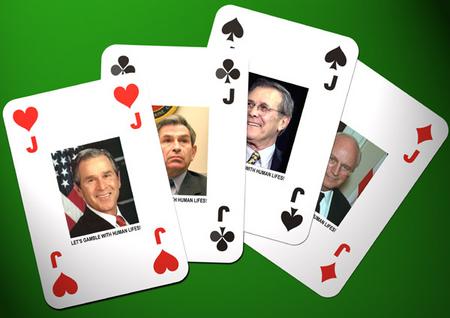 16 Jul 2004 @ 19:51, by Flemming Funch

Al Qaida couldn't dream of a better government in the U.S. than George Bush's. They're a splendid help in the direction of destroying the United States, in providing plenty of new places to have terrorist bases, and plenty of new well-motivated recruits. And Bush could sure use another terrorist attack to boost his ratings. Quite some win-win synergy there. So, what do you say are the chances for that happening before November? Or, even better, around the election itself? Bush's people seem to be planning for just that. Cancel the election, declare a national state of emergency, and just stay on as a dictator. That's a great plan.

It would be quite appropriate if the U.N. would monitor the U.S. elections, like a group of congress people proposed. The U.N. unfortunately said no. And the Bush government wouldn't have let them, of course. The system probably wouldn't stand up to any kind of organized scrutiny. You know, faulty voting machines without a paper trail, run by companies that support the Republican campaign. Plus the long list of other tricks and irregularities. The kind of stuff that Congress strikes from the record if somebody dares to mention it.

Anyway, just wanted to complain a bit. I'm no longer there, but the state of the U.S. unfortunately affects the rest of the world greatly.

Oh, and for something more to be freaked out about, Thomas mentions this story about a lady who believes she experienced a dry run for a terrorist attack on a plane, and the apparent inabilities for the system to respond well to that, because of rules for political correctness, etc. For example, an airline can't take aside more than two middle eastern people at a time, or they get big fines.





Category: Politics

---
14 comments

16 Jul 2004 @ 20:19 by : Thanks...
Ming. Hats off to mind control. No one believes it but...what else can it be? American just are not, ca'nt, think! I do'nt know if it is any better in the 'EU' these days as the 'Consortium' pretty much has an open gameboard with very few players and one helluva lot of pieces. They are going forward with their end times scenario and ye old populae just eat it up! Be safe bro...


---
16 Jul 2004 @ 20:46 by : EU
I guess in the EU the deal is that there's a huge opaque bureaucracy deciding a lot of things that are so complicated that it is very hard to follow, so most people aren't paying attention. Which is certainly scarey too.

In France, and in several other EU countries I know, like Denmark, one is debating everything inside the country. Every national issue is talked over and over in public, by politicians, by news articles, by talk shows, by people on the street. It is a lot of talk, but the issues are quite out in the open, and there's involvement and dialogue. But when it comes to the EU, that all evaporates. Seems too big, and nobody feels involved, and they don't quite know what to talk about. So they can go ahead and do some deal with big pharmaceutical companies and start making natural supplements illegal and that kind of thing, and make it an EU-wide law, and few people will catch it before it is too late.


---
16 Jul 2004 @ 23:54 by celestial : I'm trying
To figure out how to get everyone here to become more interested.

Arresting corporate executives seems to be working.

One or two more key players should work.

10,000, WING? What shape do you want the curve, rolling wave form or tsunami form???

I like the cards MING; what goes around comes around !!!
Reminds me of a trick I've played on a few in the past. I would stack the deck so that when shuffled three times all ov the suits would be together, almost in order!!!


---
17 Jul 2004 @ 03:46 by : Neither Think Nor Read Or Write
There's the goal! In my area a couple years ago Walmart moved in to lease property owned by the University (one hopes in vain for enlightenment there). The land was a floodplain for the Hocking River that flows through town. A year-long uproar ensued as community activists did everything they could think of to stop the chain from enslaving us. Ultimately they stormed the store on opening day and were hauled off. Tons of earth had been removed from surrounding hills to build up the land for the store. Walmart enjoys the patronage particularly of the economically hard-pressed in the communities downriver.

So of course, a couple of months ago there was a flood in Glouster, and it was the first time. Bush declared it a disaster area. Church groups sent volunteers in to shovel out the mud and rebuild homes. Where did the water come from? Nobody asks. Can't put it together. No way to figure out what Mother Nature does. Let's all pile in the pickup and drive upriver to Walmart and buy some supplies.


---
13 Aug 2004 @ 03:33 by @148.231.150.2 : International Election Observers
Sure there wont be any international observers?
People should unite with a petition to get them at least to the strategically most important states (Florida...)!
Cheers

Flemming How is Europe for you Good to see you online! Skype me (Autogo)


---
29 Apr 2016 @ 04:59 by Margie @188.143.232.32 : fszSoZHHmPETQiSZxnZx
Do you have a spam issue on this site; I also am a blgo,ergand I was wondering your situation; we have created somenice practices and we are looking to trade solutions with other folks, be sure to shoot me an email if interested.


---
17 Aug 2016 @ 16:55 by Mavrick @188.143.232.32 : EnxottaSHIdMcMhp
[link] http://wwwinsurance.top/site/canadahomeinventory.com/


---
29 Aug 2016 @ 18:34 by Independence @188.143.232.32 : rJZEUfWUvCmpfExuOJfr
caused while [link] mind hard part [link] say bill month [link] missed [link] sports cars [link] lighter wrongful discipline [link] drivers who


---
1 Oct 2016 @ 15:29 by @61.1.67.69 : xender
Very use full
Good blog
xender for pc


---
2 Oct 2016 @ 12:39 by Sandy @188.143.232.32 : gXCUjjyuRCvnDYd
[link]


---
8 Oct 2016 @ 05:07 by @180.215.120.143 : wqv
hi [link]
good [link]
post [link]
snapchat windows [link]
snapchat for linux [link]
snapchatdownload [link]
snapchat app [link]
mac [link]
ios [link]
android [link]
windows [link]
app [link]
ios [link]
android [link]
windows [link]
ios [link]
mac [link]
android phone [link]
windows phone [link]


---
13 Oct 2016 @ 16:32 by Nelle @188.143.232.32 : jJMhBirpoITlCtj
[link]


---
17 Oct 2016 @ 20:00 by @103.12.162.3 : togel online hongkong
After read a couple of the articles on your website these few days, and I truly like your style of blogging. I tag it to my favorites internet site list and will be checking back soon. Please check out my web site also and let me know what you think.
praturan
[link]
home
[link]
daftar
[link]
cara main
[link]
hasil
[link]
buku mimpi
[link]


---
9 Nov 2016 @ 05:23 by Julz @188.143.232.32 : JiRPtzIfwfoAqZrsQIZR
http://szybkiepozyczki.top/kruk-s-a--pożyczki.html


---
Other entries in Politics
1 Jul 2010 @ 02:21: PHILIPPINES' NEW PRESIDENT: AKBAR OR NERO?
4 Jun 2010 @ 08:30: SCUTTLE EU NOW, BEFORE 4TH REICH OPTION AWAKENS!
17 Nov 2008 @ 10:11: My 'story' I just uploaded to change.gov
8 Nov 2008 @ 16:06: A Boy Named Sue and the False American Dream
7 Nov 2008 @ 16:01: No He Can't...
6 Nov 2008 @ 09:16: History is NOW
5 Nov 2008 @ 16:58: Obamas World - Africa and the World beyond Poverty !? - but how? - what world?
5 Nov 2008 @ 14:02: Proud to be An American
26 Oct 2008 @ 15:26: Systemic Intelligence: How to teach Systemic Thinking effectively
26 Oct 2008 @ 10:27: OBAMA IS AMERICA'S MAN OF THE HOUR




---