| | |
| --- | --- |
| If The President Comes To Your Town | |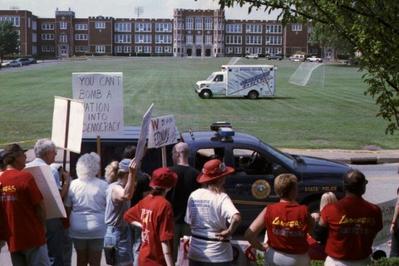 6 Sep 2004 @ 11:03, by Richard Carlson

My photo shows Parkersburg High School and us demonstrators at the distance we were kept by police lines, complete with police dogs, Secret Service and SWAT teams. You can see the lights of the football stadium, which obviously is further away still. The other sides of the school and stadium were lined with a fleet of schoolbuses parked bumper to bumper.

Fall River's many white apes
hurry like flying snow
haul their children over the branches
lap at the moon in the water

---Li-Po

Make the universe your companion, always bearing in mind the true nature of all creation---mountains and rivers, trees and grasses, and humanity---and enjoy the falling blossoms and scattering leaves.

---Basho

As naturally as the oak bears an acorn, and the vine a gourd, a man bears a poem, either spoken or done.

---Henry David Thoreau

Parkersburg, West Virginia, is a sleepy town on the Ohio River an hour or so north of Charleston, the state's capitol. The Wood County Seat, for many years it's had a shopping mall that attracts consumers from miles around...including our town which is an hour west. There also are a number of curious federal centers in Parkersburg, chiefly the Bureau of Public Debt---here at a location conveniently out of sight of Washington policymakers. The Parkersburg High School has a football stadium attached which can hold about 9000 people, a graduate told me. What happens to a town like this if the President of the United States decides to stop by on the campaign trail?

The first thing that happens these days is the Secret Service takes over law enforcement. That means local police and fire department, that means state police. There are increasing accounts of people detained and even arrested for getting inside a Republican rally with a pro-Kerry or anti-Bush sign or T-shirt. Apparently the procedure is to remove the sign and request taking off the garment. If one refuses, you may face not only ejection from the site but arrest too. Some people have been thrown out anyway. Police consistently tell reporters these are Secret Service orders. There are no such reports at Kerry rallies.

I don't know whether there are different procedures for the Secret Service protecting the President and those on duty with John Kerry, nor do I know if those workers get a choice in their assignments. I wouldn't be surprised if there is a difference and if you get a choice. Most federal workers can apply for and select their duties, and I imagine the people being protected can make specific requests. However, as our new friend Moses Klein said yesterday, "The function of the Secret Service is to protect the President from violence, not stifle dissent."

Local law enforcement must also be prepared for the addition of stronger SWAT units, complete with riot control and military-type weapons. These people will not be in sight (that is, actually outside their combat vehicles) unless there is a threat, but you'll know they're there. For one thing, those vehicles drive 40 or 50 miles an hour wherever they go...and that includes across the front lawn of a high school. There will be bomb units and scanning devices everywhere. No people will get into the vicinity of the President without emptying out their purses, camera cases, and pockets. Your body will be scanned before you hear a political speech. You may have to sign a loyalty oath and agree to allow that any photographs taken of you---and there will be some!---can be used in political ads...or in any other way deemed fit by the Administration. Not all of this happens to you at a Kerry rally either.

Local police will be instructed to corral all citizens identifying themselves as protestors, dissenters or bystanders behind yellow tape well away from the event itself. No such person can "loiter" on a public sidewalk and you risk trespassing to stand on someone's lawn, so there are specific and designated areas where you're supposed to be. Some people think nevertheless the candidate will see them and their sign where the police will put them, but this is illusion. Local police will stand in a line between such people and the political site, and the state police will provide backup. Paddy wagons are parked prominently. Behind them are the SWAT teams. This is democratic discussion in 2004.

The second thing that will happen is preparation of the site for the candidate's visit. If you are the Mayor of Parkersburg and the President is coming to the High School, you will be instructed to barricade it with yellow crime scene tape. Any view of the playing field itself, where the President will speak, will be blocked by a wall. If there is an opening, school buses will be employed as walls. The district's school buses were parked front-to-front and back-to-back to prevent any access from outside. Secret Service and FBI will be on the roofs of buildings. Police from surrounding communities will be brought in for more duty inside and outside the stadium. Anyone visiting or hearing about such a rally in this republic will know first and foremost about security. Inside you will feel secure. Outside you will know there is no way in.

So, having been to a Kerry/Edwards rally, Dana, Ilona and I decided to go see Bush and find out what that was like. We didn't have the essential tickets, and probably couldn't have gotten any. We took Moses, a teacher of mathematics currently working at Ohio University, with us. We parked at the home of the Democratic chairperson in Parkersburg, whose daughter had driven another car over from Athens. By the time we got to the High School, there was an hour remaining before the scheduled speech. The sun beat down on us at about 90 degrees. There was plenty of water and spirits were high, despite being penned up and the presence of all those cops and military types. A helicopter circled us overhead. Occasionally vehicles with darkened windows cruised slowly by. We didn't see anybody going into the stadium. Probably they already were in there, as all the scanning and security take a long time. Reporters later said Republicans began arriving at 9:30 that morning. Maybe people were going in another entrance.

I decided to take a walk. Alone and looking as innocent as I could, I headed down one side of the tape-enclosed high school. The front lawn itself must take up a couple acres, and then I walked past the width of the school. The stadium is directly behind the building and there a high fence began. Inside, along the whole length of the fence, Wood County school buses were parked. At one point I could get a glimpse of a section of the stands, and it was full of people. They must have been melting under that sun. I kept going and did find another entrance, but no one was around except people selling souvenirs. A couple of vehicles with dark windows were parked. Inside the entrance I could see police and Secret Service manning the stalls you have to pass through to be scanned. I kept walking.

Behind the stadium is a huge cemetery. It must be the major lot for Parkersburg. A gate was open and I went in. I turned left and began walking down a lane behind the stadium. My intent was to walk to the other side and see if there were any way to look inside over there. Quickly, men saw me from the roof and yelled. They gestured I should go back. It must have been clear I wasn't there to mourn a loved one...and even if I had been, I guess I needed to do it another time. They gestured to get out. I walked back, but instead of turning right and going out, I turned left again and went further down into the cemetery. I walked past a couple more lanes...and then tried turning left again. I thought maybe those guys just worried I was too close. I walked along...but soon was spotted---and now they really were pissed. They shouted loud and with warning. I turned around and walked all the way back.

I got to my corral and told family I was going to try the other side. Off I went. That side was completely barricaded by buses, and so I had to proceed half a block beyond, where there was a narrow but open alley. I walked along the other side, past where the lawn was, past where the width of the school was, and I began to hear the cheers of the people because Bush was there and he even was on time. There was a street crossing the alley at that point, and from the sound I thought sure I would find an open view. I turned the corner and immediately ran into a SWAT team, dressed in black gear, weapons in hand. There was them and there was me. I had on shorts, a gold Special Olympics T-shirt, a Kerry button, a straw hat, and my camera in hand. I offered the information I just wanted to take a picture. One guy shook his head under his helmet: "Impossible." I didn't wait to be told to get out of there. I left our President behind and headed down that street. I could hear him though thanking everyone for coming...and expressing his hope to carry West Virginia. The people inside were delirious with joy.

When I got back, the demonstrators and my family had gotten out of their pens and were standing at the other side of the school chanting "No more years" and the like. There had been about a thousand of us and maybe a couple hundred had left already. Estimates were given of 12,000 inside the stadium---which is beyond capacity but many people were standing in the field itself. I told Dana no one inside possibly could hear them. We couldn't even hear George from that distance, and he had the whole sports PA system working for him. I suggested we leave. But at that point a great roar went up inside...and people began to come out. Amazingly they all headed our way. Could it be that, with all this security, they now were going to release the entire crowd right into our demonstration? That's what happened, and for the next half hour---never mind the news reports about this---there was a tense confrontation of political views, face to face. The cops scrambled, police dogs emerged on leash, and the SWAT vehicles tooled around to get into position. Bush exited by limo to the airport, but the rest of us were left to consider duking it out here and now. So far as I know, not a blow was struck...and generally good humor prevailed. But there were moments of guys toe-to-toe, ready to let loose. Many of those Republicans had to walk a gauntlet down the street with us on either side. It was an incredible time there, in the heat, that probably nobody anticipated at all.

Two months left of this. I'm hoping both candidates begin to campaign in the great tradition of free election. I've heard all I need to about the Viet Nam era, and would appreciate some sensible debate about the tremendous issues facing the United States. Guys challenging each other's manhood only can lead to fighting in the streets. We came close to it yesterday. My daughter saw something I hope she never has to see again. I hadn't felt it since Civil Rights days, but fortunately I shared some of my training for those protests with Ilona, as we walked to the High School in the beginning of the afternoon. There are some lovely areas in Parkersburg, and I've always liked the town. As we drank water back at the home of our new friends over there, we reviewed the day and reminisced about other campaigns. This time, may the better man win.

The Charleston Gazette has extensive coverage of the speech here [link] . Parkersburg's TV station has streaming video of everything on the inside here [link] . (12/19---These 2 features now are archived or no longer available.)





Category: Politics

---
16 comments

6 Sep 2004 @ 14:35 by : Rare Coverage Of A Protest
This kind of article doesn't happen usually in this country. Walt Auvil is the gentleman referred to in my essay above. From the Parkersburg (WV) News And Sentinel in the morning edition~~~

Monday, September 06, 2004 — Time: 3:38:56 AM EST
Demonstrators out in full force for event
By CONNIE DALE

PARKERSBURG - While the chant inside Stadium Field was "four more years," outside on Dudley Avenue it was "four more months" from a thousand-strong anti-Bush demonstrators.

"This is democracy in action," said Walt Auvil, chairman of the Wood County Democrat Party, one of two groups which received assembly permits during the presidential visit. The other was the AFL-CIO, said Police Chief Robert Newell.
Roving police officers were dispatched to in front of Parkersburg High School to maintain the peace.

They were asked to find someone in a leadership position, like Auvil, who could talk to the demonstrators and calm them down.

"This is a larger crowd of people (demonstrators) than we anticipated," Auvil said. "There are people here from all walks of life, disabled, elderly, college and high school students. It's great to see people being able to protest peacefully."

Newell said police had not anticipated people leaving the rally early, which caused a swell of Bush supporters to meet the demonstrators. At 2:45 p.m., the anti-Bush citizens standing at 23rd Street and Dudley Avenue began advancing toward the Parkersburg High campus, causing officers to fear a confrontation with the pro-Bush crowd as it left the stadium.

The result was a meeting of the two groups in the middle of Dudley Avenue, Newell said.

"The officers did well in face of everything," Newell said. "We were very glad to get help from Chief Gary Deem's forces in Vienna."

While there were no arrests or injuries, the crowd got rowdy, although it was a peaceful protest, he said.

The first to set up camp early at 23rd and Dudley was Vikki Jo Kennedy with her dog, Dufus. Kennedy, from Kodiak Island, Alaska, has spent nearly three years demonstrating against the placement of missile silos on Kodiak Island. The fishing fleet she works for is in jeopardy of losing jobs along with others because of limitations being placed at the island.

Kennedy told the secret service roaming the area she was a peaceful demonstrator who would not be a problem for the police. She said she has been arrested twice and was ready to be arrested again Sunday if necessary.

Labor unions from around the state had a strong presence on Dudley Avenue. Parkersburg residents Jason Hayes, an iron worker, and Matt Wilson, a plumbers and steamfitters member, helped lead the charge onto the school grounds.

"We are Kerry supporters because we are tired of not having any work around here," Hayes said. "Bush talks about the low unemployment rate in West Virginia, but its only because everyone's unemployment has run out."

Wilson said its not just union workers, but plant workers having problems finding employment.

"We're out here today with our fellow members to make ourselves feel better," Wilson said. "The people who are here supporting Bush are some of our neighbors who know we are having a hard time under this administration and I just don't understand that, so we have to let them know it's worse than everyone's being led to believe."

A shouting match erupted between pro-Bush and anti-Bush groups at 20th and Dudley. Police kept an eye on the crowded corner where it became difficult to get the shuttle buses through.

Bush supporters were waving signs and yelling about the positive events of the last four years while anti-Bush demonstrators used a megaphone and supported Democrat nominee Kerry.

David Daniels, 23, and president of the Democrat committee at WVU-P, was on the megaphone exciting the crowd with chants of "Na, Na, Hey, Hey, Goodbye."

Many residents were not happy to see the demonstrators.

Judy Stewart drove from Charleston. People have the right to express their opinions, but she believed they were wasting it on the wrong people.

"The people who came here to sit in this heat are people who are not going to change their opinion and will vote for Bush," she said.

Parkersburg resident and Bush supporter Walt Barbour said it's amazing how different people's views can be, but it is great to live in a country where those views can be freely expressed.

"If they had done that in Iraq when Hussein was in power, those people would have been beheaded.When we were walking out, I told one of the protesters 'isn't it great to live in a democracy where you can say what you want,' and she put her sign down and said 'yes, it is.'"

The president's motorcade bypassed Dudley Avenue and went by hundreds of supporters and not the demonstrators. The motorcade took the same route to return to the airport.

Newell said his officers had a debriefing after everything was over and believe they learned a great deal from the presidential visit.

"We learn each time our force handles such an event," he said. "It is difficult when the Secret Service, the White House and the Republican Party officials are in charge and the department has updates every 15 minutes for two days."

Newell said constant changes make things difficult, but the department handled it well. Newell believes he will ask for a change in the city ordinance demanding assembled groups to get permits.

Those supporters along the motorcade route don't have to have permits, so it would be more fair not to ask others to get permits, he said.

One demonstrator wearing a Bush mask was asked by police to remove it, citing a city ordinance allowing masks to be worn only during holidays. Newell said the law was designed for those trying to conceal their identity, but it has to be enforced at all times.

The demonstrator said it sounded like a violation of a larger ordinance, the constitution.

Copyright © 2004 — The Parkersburg News and The Parkersburg Sentinel
http://www.newsandsentinel.com/news/story/096202004_new03_protesters.asp


---
20 Sep 2004 @ 08:44 by jstarrs : Great essay from...
...where it's happening, right now.
This should be syndicated.
The police state is unfurling it's scaly limbs, it seems.


---
20 Sep 2004 @ 15:28 by : Thanks Jeff
for the encouraging words. The Democratic vice presidential candidate was in our town last week...and the whole scene was as different from the Republican setup as night and day. I understand Bush is coming to Athens, Ohio, twice before the election, and there has been advance notice John Kerry will be stopping by too. I had planned to write articles on these happenings as well, but not sure what the interest is in all this at New Civ currently.


---
20 Sep 2004 @ 15:51 by jstarrs : Well,
...I am VERY interested in the form, the outcome. It'll affect me.
Having 'a guy on the street' write essays like that gives me one of the few alternatives I have access to...even liberal/left websites are affected by the propaganda hysteria, so, thanks, Jazz.


---
20 Sep 2004 @ 16:27 by Quinty @68.226.90.181 : I'd be interested too
in what's going on. Yes, the Bushies are holding rallies "by invitation only." Edwards seems to enjoy lashing back at "Four more years" chanters. And turns it into an opportunity. What's it like Richard to be there? None of the candidates are interested in Rhode Island, which is expected to go to Kerry by about %70.


---
20 Sep 2004 @ 20:25 by : A Major Difference
was that Bush supporters with huge signs and painted sheets were on all sides of the Edwards rally...though nowhere near matching our numbers. Edwards' bus pulled right up in front of them, so they had access to him and could display their opinions. They were not interested in dialogue though, at least with me. They made a lot of noise during the speech, but Edwards answered them and led us in cheers which drowned them out. The point was that while their attitude really didn't make them welcome, no one minded them being there. The Secret Service protecting Edwards was diligent, but friendly with us and even joking. There was no military presence or SWAT teams. There was a bomb squad unfortunately, because the High School had been shut down by a bomb threat that morning. I was in the third row. He shook my hand and it felt good!


---
20 Sep 2004 @ 23:35 by Quinty @68.226.90.181 : Edwards is an interesting guy

Well now I can say I roomed with the guy who shook John Edwards hand. I rather like Edwards, and that he made a few million suing some corporations doesn't bother me. That may be one of the few recourses we still have to populism. At least it gets the dander up with the Republican right; who, let's not forget, have always believed that the public should be no better armed than with the slogan, if they can remember it, of "caveat emptor." And that, I bet, is what we'll get if Bush is reelected. I'm really nervous about this election. How about you?


---
21 Sep 2004 @ 07:54 by : Nervous About Politics?
You bet! The chairman of our science department and I were confessing it to each other just yesterday afternoon. We agreed we'd probably be among the first in Athens to be rounded up for re-education at the concentration camps.

Southeast Ohio is a savage area of Appalachia. There is such a rift here between the University "girly-men" and the indigenous "rednecks." My concern about the Appalachian poor is that I hear over and over that their economic interests would be better served by John Kerry, but they HAVE to vote for George Bush because of their religion. Of course, that means abortion, gay marriage, and stem cell research for the women especially---and bombing the crap out of our enemies for the men, who worship a god of triumph, guns, and oil.

Incidentally, I forgot to mention yesterday there were no metal-detector checkpoints at the Edwards rally...nor Secret Service at the entrances. Everything was open, despite the bomb scare. When we saw Kerry/Edwards right after the Democratic Convention, we had to go through detectors and mucho cops...which was a real pain in the ass. Maybe the Democrats decided to drop that junk, I don't know. I know Homeland Security was in place for Bush because I saw it, and those supporters started through it 5 hours before he showed up (and wait in 90 degree heat: the Secret Service had to bring them water). There's an unacknowledged difference between SECRECY and SECURITY in these Bush people...and in through there are the roots of Nazism. We'll see if the Bush military is present when he comes here.


---
21 Sep 2004 @ 12:43 by spiritseek : Bush was here...
in Battle Creek Michigan two weeks ago. But you know what I cared so little about him that I didn't even think about it. The paper really only commented that they left the stadium nice and clean. My son did go during his break and said it looked as though he and Bush saw into each others eyes. MY son said Bush looked scared. My granddaughters got to see the several buses and alot of the police escorting him out of town near our home. The youngest even thought she knew which bus he was on because the way the men were sitting up straight(her words). Not much else to report cause you know I'm democrat not republican. I just wish Kerry wouldn't make Bush look so good,can he at least stand up for himself.


---
21 Sep 2004 @ 16:33 by Quinty @68.226.90.181 : Four more years

I think that the debacle of Iraq might just prevent Bush from invading other countries. This is the one good thing I see in this horrendous fiasco. That it may have quashed their attempts at imposing a military Pax Americana in the Middle East. (Only out of our good old selfless desire to spread democracy, right? Tell that to the dicators who are our allies in this noble attempt. Especially the "president" of Uzbekistan. The one who boils his political opponents in water.)

But Bush is going to wreck this country. Huge inflation, a dismantling of Medicare, a new tax structure which favors the rich, destruction of the environment (have you heard Robert Kennedy Jr. on that subject?) as well as puttiing the Bill of Rights in peril, and much more....

Why Bush should go if for no other reason than this war! For lying us into war! The audacity of the insanity of this war is like the snake's eyes which paralyze the intended victim. And with Bush's insanity the rest of us have gone mad too.

Spiritseek: you said your son said Bush's eyes looked scared. Yes! You can see that even on TV. There is something seriously wrong with this guy. And, yes, Kerry should be twenty points ahead by now!


---
23 Sep 2004 @ 08:36 by shawa : I´m interested!
Am interested in your personal views, so close to the events.


---
23 Sep 2004 @ 11:39 by swan : I have often seen fear in Bush's eyes
when I have seen him on television. And as Quinty says, there is something seriously wrong with this guy. I wish he had an opponent that was strong and stood for the things that I believe in. Though I feel that Kerry is a better choice, anyone would be a better choice, he is still not what we need to turn this country around and repair the damage created by Bush. It is imparative that the current president is not re-elected as far as I am concerned.

Thanks for sharing your story Richard, with the description you give of how you were dressed, I can see why the SWAT people felt you were a hardened criminal! LOL! I bet it was the straw hat.


---
23 Sep 2004 @ 15:25 by : Most Alarming
is the general nasty attitude of Bush supporters...around here anyway (and possibly you may have noticed that aura around the postings for the President at NCN too.) I've been working phonebanks throughout Southeast Ohio, calling folks who are registered to vote but not committed to any party. We're trying to find people who are leaning toward Kerry in order to engage them in dialogue. When we run into a Bush supporter, we thank them for their time and say good-bye. So far, Bush people overwhelming yell their choice into the phone...and often hang up on us right away. We haven't identified ourselves as the Kerry camp; it's just the angry response that population seems to have to everything. Few things worry me more about the SuperPower's outlook on the rest of the world than the impatience and rage of Bush and his group. Dissent infuriates them. Let's all look forward to the televised debates beginning soon!


---
23 Sep 2004 @ 16:05 by Quinty @68.226.90.181 : Dissent enruriates them -

and so does thought, and so do campus "girley men," and god help you if you listen to Bach or Beethoven.Or write poetry. And all this sounds terribly familiar to me. I can remember the hard hats who rampaged on the streets of NY attacking anti Vietnam war protestors. Or the fury that can erupt at a hint of not being in the right's camp.

Are there enough such people in the United States to sway the election? We are called "Bush haters," those of us who are appalled by his bloody antics. That he lied us into war should be sufficient cause to vote for just about anybody else. Is the country polarized? It certainly is, all because we have an administration which is profoundly radical: one which plays politics with the lives of the young men and women in military service who depend upon the wisdom of our nation's leaders. The violence seems to have spread.


---
23 Sep 2004 @ 16:09 by : Painters
House painters are scraping and banging just outside my window. Please forgive "enfuriate," if you are infuriated by such errors. Quinty

$$$$$$

And so the working man gets the blame again. :-)

---a jazzolog who hates to paint houses


---
3 Oct 2004 @ 09:00 by : Is Bush The Antichrist?
Frank Rich reviews the latest grenade tossed in the Culture War~~~

--------------------------------------------------------------------------------
The New York Times
October 3, 2004

FRANK RICH
Now on DVD: The Passion of the Bush

You can run but you can't hide: Oct. 5 will bring the perfect storm in this year's culture wars. It's on that strategically chosen date, four Tuesdays before the election, that the DVD of "Fahrenheit 9/11" will be released along with not one but two new Michael Moore books. It's also the release date of the equally self-effacing Ann Coulter's latest rant, of a new DVD documentary, "Horns and Halos," that revisits the Bush mystery year of 1972, and of an R.E.M. album, "Around the Sun," that gets in its own political licks at the state of the nation.

When Dick Cheney and John Edwards debate in Cleveland that night, Bruce Springsteen will be barnstorming in another swing state, as the Vote for Change tour hits St. Paul. All that's needed to make the day complete is a smackdown between Kinky Friedman and Teresa Heinz Kerry on "Imus in the Morning."

Of the many cultural grenades being tossed that day, though, the one must-see is "George W. Bush: Faith in the White House," a DVD that is being specifically marketed in "head to head" partisan opposition to "Fahrenheit 9/11." This documentary first surfaced at the Republican convention in New York, where it was previewed in tandem with an invitation-only, no-press-allowed "Family, Faith and Freedom Rally," a Ralph Reed-Sam Brownback jamboree thrown by the Bush campaign for Christian conservatives. Though you can buy the DVD for $14.95, its makers told the right-wing news service WorldNetDaily.com that they plan to distribute 300,000 copies to America's churches. And no wonder. This movie aspires to be "The Passion of the Bush," and it succeeds.

More than any other campaign artifact, it clarifies the hard-knuckles rationale of the president's vote-for-me-or-face-Armageddon re-election message. It transforms the president that the Democrats deride as a "fortunate son" of privilege into a prodigal son with the "moral clarity of an old-fashioned biblical prophet." Its Bush is not merely a sincere man of faith but God's essential and irreplaceable warrior on Earth. The stations of his cross are burnished into cinematic fable: the misspent youth, the hard drinking (a thirst that came from "a throat full of Texas dust"), the fateful 40th-birthday hangover in Colorado Springs, the walk on the beach with Billy Graham. A towheaded child actor bathed in the golden light of an off-camera halo re-enacts the young George comforting his mom after the death of his sister; it's a parable anticipating the future president's miraculous ability to comfort us all after 9/11. An older Bush impersonator is seen rebuffing a sexual come-on from a fellow Bush-Quayle campaign worker hovering by a Xerox machine in 1988; it's an effort to imbue our born-again savior with retroactive chastity. As for the actual president, he is shown with a flag for a backdrop in a split-screen tableau with Jesus. The message isn't subtle: they were separated at birth.

"Faith in the White House" purports to be the product of "independent research," uncoordinated with the Bush-Cheney campaign. But many of its talking heads are official or unofficial administration associates or sycophants. They include the evangelical leader and presidential confidant Ted Haggard (who is also one of Mel Gibson's most fervent P.R. men) and Deal Hudson, an adviser to the Bush-Cheney campaign until August, when he resigned following The National Catholic Reporter's investigation of accusations that he sexually harassed an 18-year-old Fordham student in the 1990's. As for the documentary's "research," a film positioning itself as a scrupulously factual "alternative" to "Fahrenheit 9/11" should not inflate Mr. Bush's early business "success" with Arbusto Energy (an outright bust for most of its investors) or the number of children he's had vaccinated in Iraq ("more than 22 million," the movie claims, in a country whose total population is 25 million).

"Will George W. Bush be allowed to finish the battle against the forces of evil that threaten our very existence?" Such is the portentous question posed at the film's conclusion by its narrator, the religious broadcaster Janet Parshall, beloved by some for her ecumenical generosity in inviting Jews for Jesus onto her radio show during the High Holidays. Anyone who stands in the way of Mr. Bush completing his godly battle, of course, is a heretic. Facts on the ground in Iraq don't matter. Rational arguments mustered in presidential debates don't matter. Logic of any kind is a nonstarter. The president - who after 9/11 called the war on terrorism a "crusade," until protests forced the White House to backpedal - is divine. He may not hear "voices" instructing him on policy, testifies Stephen Mansfield, the author of one of the movie's source texts, "The Faith of George W. Bush," but he does act on "promptings" from God. "I think we went into Iraq not so much because there were weapons of mass destruction," Mr. Mansfield has explained elsewhere, "but because Bush had concluded that Saddam Hussein was an evildoer" in the battle "between good and evil." So why didn't we go into those other countries in the axis of evil, North Korea or Iran? Never mind. To ask such questions is to be against God and "with the terrorists."

The propagandists of "Faith in the White House" argue, as others have, that the president's invocation of religion in the public sphere, from his citation of Jesus as his favorite "political philosopher" to his incessant invocation of the Almighty in talking about how everything is coming up roses in Iraq, is consistent with the civic spirituality practiced by his antecedents, from the founding fathers to Bill Clinton. It's not. Past presidents have rarely, if ever, claimed such godlike infallibility. Mr. Bush never admits to making a mistake; even his premature "Mission Accomplished" victory lap wasn't in error, as he recently told Bill O'Reilly. After all, if you believe "God wants me to be president" - a quote attributed to Mr. Bush by the Rev. Richard Land of the Southern Baptist Convention - it's a given that you are incapable of making mistakes. Those who say you have are by definition committing blasphemy. A God-appointed leader even has the power to rewrite His texts. Jim Wallis, the liberal evangelical author, has pointed out Mr. Bush's habit of rejiggering specific scriptural citations so that, say, the light shining into the darkness is no longer God's light but America's and, by inference, the president's own.

It's not just Mr. Bush's self-deification that separates him from the likes of Lincoln, however; it's his chosen fashion of Christianity. The president didn't revive the word "crusade" idly in the fall of 2001. His view of faith as a Manichaean scheme of blacks and whites to be acted out in a perpetual war against evil is synergistic with the violent poetics of the best-selling "Left Behind" novels by Tim LaHaye and Jerry Jenkins and Mel Gibson's cinematic bloodfest. The majority of Christian Americans may not agree with this apocalyptic worldview, but there's a big market for it. A Newsweek poll shows that 17 percent of Americans expect the world to end in their lifetime. To Karl Rove and company, that 17 percent is otherwise known as "the base."

The pandering to that base has become familiar in countless administration policies, starting with its antipathy to stem-cell research, abortion, condoms for H.I.V. prevention and gay civil rights. But ever since Mr. Bush's genuflection to Bob Jones University threatened to shoo away moderates in 2000, the Rove ruse is to try to keep the most militant and sectarian tactics of the Bush religious program under the radar. (Mr. Rove even tried to deny that the wooden lectern at the Republican convention was a pulpit embedded with a cross, as if a nation of eyewitnesses could all be mistaken.) The re-election juggernaut has not only rounded up the membership rosters of churches en masse but quietly mounted official Web sites like kerrywrongforcatholics.com as well. (Evangelicals and Mormons have their own Web variants on this same theme, but not the Jews, who are apparently getting in Kerry just what they deserve.) Even the contraband C-word is being revived out of sight of most of the press: Marc Racicot, the Bush-Cheney campaign chairman, lobbed a direct-mail fund-raising letter in March describing Mr. Bush as "leading a global crusade against terrorism."

In this spring's classic "South Park" parody, "The Passion of the Jew," in which Mr. Gibson's movie tosses the community into a religious war, one of the kids concludes: "If you want to be Christian, that's cool, but you should focus on what Jesus taught instead of how he got killed. Focusing on how he got killed is what people did in the Dark Ages, and it ends up with really bad results." He has a point. It's far from clear that Mr. Bush's eschatology and his religious vanity are leading to good results now. The all-seeing president who could pronounce Vladimir Putin saintly by looking into his "soul" is now refusing to acknowledge that the reverse may be true. The general in charge of tracking down Osama bin Laden, William G. Boykin, has earned cheers in some quarters for giving speeches at churches proclaiming that Mr. Bush is "in the White House because God put him there" to lead the "army of God" against "a guy named Satan." But all that preaching didn't get his day job done; he hasn't snared the guy named Osama he was supposed to bring back "dead or alive."

"George W. Bush: Faith in the White House" must be seen because it shows how someone like General Boykin can stay in his job even in failure and why Mr. Bush feels divinely entitled to keep his job even as we stand on the cusp of an abyss in Iraq. In this pious but not humble worldview, faith, or at least a certain brand of it, counts more than competence, and a biblical mission, or at least a simplistic, blunderbuss facsimile of one, counts more than the secular goal of waging an effective, focused battle against an enemy as elusive and cunning as terrorists. That no one in this documentary, including its hero, acknowledges any constitutional boundaries between church and state is hardly a surprise. To them, America is a "Christian nation," period, with no need even for the fig-leaf prefix of "Judeo-."

Far more startling is the inability of a president or his acolytes to acknowledge any boundary that might separate Mr. Bush's flawed actions battling "against the forces of evil" from the righteous dictates of God. What that level of hubris might bring in a second term is left to the imagination, and "Faith in the White House" gives the imagination room to run riot about what a 21st-century crusade might look like in the flesh. A documentary conceived as a rebuke to "Fahrenheit 9/11" is nothing if not its unintentional and considerably more nightmarish sequel.

Copyright 2004 The New York Times Company
http://www.nytimes.com/2004/10/03/arts/03rich.html?th=&oref=login&pagewanted=all&position=


---
Other entries in Politics
1 Jul 2010 @ 02:21: PHILIPPINES' NEW PRESIDENT: AKBAR OR NERO?
4 Jun 2010 @ 08:30: SCUTTLE EU NOW, BEFORE 4TH REICH OPTION AWAKENS!
17 Nov 2008 @ 10:11: My 'story' I just uploaded to change.gov
8 Nov 2008 @ 16:06: A Boy Named Sue and the False American Dream
7 Nov 2008 @ 16:01: No He Can't...
6 Nov 2008 @ 09:16: History is NOW
5 Nov 2008 @ 16:58: Obamas World - Africa and the World beyond Poverty !? - but how? - what world?
5 Nov 2008 @ 14:02: Proud to be An American
26 Oct 2008 @ 15:26: Systemic Intelligence: How to teach Systemic Thinking effectively
26 Oct 2008 @ 10:27: OBAMA IS AMERICA'S MAN OF THE HOUR




---