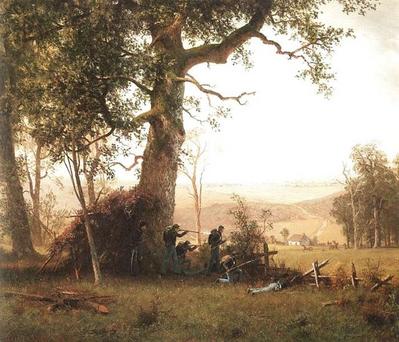 31 Oct 2004 @ 12:23, by Richard Carlson

Lives based on having are less free than lives based on either doing or on being.

---William James

The River moves, moon travels rock,
Streams unreal, clouds there among the flowers.
Sails go: They can't know where.

---Tu Fu

Let each one turn his gaze inward and regard himself with awe and wonder, with mystery and reverence; let each one work his own influence, his own havoc, his own miracles.

---Henry Miller

Guerrilla Warfare (Picket Duty in Virginia), 1862
Bierstadt, Albert

A very dear, caring and empathetic Internet friend in Scotland advised me yesterday to remember: all this is not "your very own responsibility". She was referring to the flurry of activity in my life now, particularly as the Election approaches. I'm sure many of us in America are feeling the intensity, even if we're not particularly busy volunteering. Harvest may be done, but there's cleanup and lots of preparation for winter in the northern areas. There always are assignments at school and duties at church or synagogue this time of year. Caroline particularly of course was referring to my recent surgery and continuing health concerns.

Since we spent most of the day with politics yesterday, and have similar plans today, just what is this responsibility thing I'm feeling? I'm not alone in sensing it. Democratic headquarters in Athens, Ohio, was packed with workers yesterday---so many of us that at times we were waiting for the next tasks to come out of the computers or to arrive from elsewhere. Among us, as has been the case for the past few weeks, were four women from California. I believe I heard they are retired psychologists or psychiatrists or something. They met for the first time at one of those MoveOn houseparties, became friends (as many of us have done in this election season), and decided they wanted to do and experience something more than they felt was available in their home areas. They travelled here and moved into an empty house that used to shelter a miner's family. There are a lot of those around, since the mining companies exhausted the land and went away. Dana remarked yesterday those women have been in the office so often, they're nearly running the place. [link]

I let drop to a friend in New York that we have extra room in our house. Immediately she wanted to know if it would be OK to advertise that to volunteers in her area. Hundreds of people are looking for ways to get to Ohio, or other swing states. Ten thousand attorneys are volunteering availability by telephone on election day. Ira Glass announced on his show, This American Life, as did both Jesse Jackson and Michael Moore in separate but joint appearances here, there is a toll-free phone number to call if you have or are given any trouble voting: 866 OUR VOTE. [link] In addition, Michael Moore is sponsoring nearly a hundred film-makers from all over to come to Ohio and record anything that looks like "funny business." People are taking time off work, including my wife and several colleagues. International observers are on the way or here already. The grassroots effort has been colossal on all sides, beyond anyone's expectations or memory.

We feel personal responsibility. We had the privilege to attend a private reception for Michael Moore, and he told a story that I think he's telling everywhere during his Slacker's Voting Tour. It had special poignancy in the intimacy of that room however. He said a soldier came up to him recently, and told him his ship had been off the coast of Iraq the night Moore gave that speech at the Oscars. Moore had said something about the war in Iraq being phoney. The soldier said he was so angry at that remark that he booed him. He said the whole shipped booed him. But since then, he's been in Iraq for a year and seen that war close up. Now he wanted to apologize to Michael for that booing. Michael said he stopped him right there. He was the one to do the apologizing because he pays taxes and he elects congresspeople and he was part of sending our troops into harm's way in this action. He told us Johns Hopkins is reporting that 100,000 Iraqis have been killed thus far. A hundred thousand people, most of them women and children. There are those of us who feel personally responsible and insist on another way to be in this world.

And there's more. I was running around the Internet...and finally around town on foot last week, trying to clear up confusion about provisional voting at Ohio University, a situation that may involve thousands of votes. I still don't know how that's going to play out, but it's full speed ahead with that process. I felt personal urgency about that. I turned to my friend Alyssa Bernstein, who was concerned and with me too, and said something about feeling like a detective on a case. It seemed to me then, and it still does, that if the race really is close...and it all comes down to Ohio, that it may very well all come down to those provisional votes at OU here in Athens. It might all come down to ME, and whether I can get clear and satisfied this provisional voting isn't some kind of wrongheadedness that's going to land us in the Supreme Court.

My psychiatrist might tell me, "Richard, now that IS grandiose!" But you know what? I've never felt this way before about civic responsibility...and I know lots of others haven't either. And we were taught in school that we ought to feel this way. And we've wanted to! And hasn't it been frustrating there haven't appeared to be vital avenues for doing so before? And haven't we felt guilty for not going out to build them ourselves? Many of us Americans know we haven't been apathetic. But we have been frustrated.

There are other Yanks who were busy volunteering for parties yesterday, but another kind. The Halloween Party in Athens, Ohio, is known around the world. Representatives of party-school parties and political parties met in the streets here yesterday. By late afternoon a few thousand people gathered to cheer or heckle Jackson and Moore, half in costume and half with political signs and T-shirts. It was tense, and Michael Moore certainly sensed it. It was the most amazing experience and representation of this country at this very moment! I won't put too much symbolism into the fact that directly in front of me were 2 nearly-naked boys, painted demonic red, with horns and devil's pitchforks in hand, chanting Four More Years. No matter how you vote, let's hope we know something in Four More Days.

P.S. For those of you in other countries who may have had difficulty seeing Michael Moore's film Fahrenheit 9/11---or here too I guess, although it now is available on DVD---a blogger currently is streaming it for free. I just tried out the link and WindowsMedia comes right up and begins to buffer. [link] For more orthodox Internet viewing, there is word it will be available at Cinema Now [link] at 0100 GMT on Monday. The cost is $9.95 Yankee dollar.





Category: Politics

---
6 comments

31 Oct 2004 @ 13:14 by dempstress : OK then.......
you've convinced me. No more nagging!

x

*************************************

Were La Dempstress a nag in actual mutual living space, t'would be a Shakespearian experience...and therefore worth it---almost.

o


---
31 Oct 2004 @ 15:28 by martha : Richard i applaud you (with two hands)
for your efforts. We all need to take responsibility...each moment...with each thought and action....go Kerry go....


---
31 Oct 2004 @ 18:00 by shawa : I really like it
I can feel your passion, I really like it! :-)


---
1 Nov 2004 @ 08:30 by : Knock & Drag
That's the name of a volunteer opportunity tomorrow. At 4:00 teams will go out to every polling place in the County. We'll check the rolls to see who on our list of registered Democrats HASN'T voted yet. Then we phone 'em, and get them to a voting machine. If no answer to that phonecall, we go to the house. We knock, and when they answer we...uh---ahem. :-)
Here's more~~~

--------------------------------------------------------------------------------
The New York Times
November 1, 2004
OHIO
To Get Ohio Voters to the Polls, Volunteers Knock, Talk and Cajole
By JAMES DAO

TOLEDO, Ohio, Oct. 31 - A light rain fell as two dozen volunteers for President Bush huddled behind a white van in a Wal-Mart parking lot here this weekend. It was game day, the start of their long-awaited, repeatedly rehearsed final push to get Republican voters to the polls on Election Day.

Blue Bush-Cheney hats were distributed with neatly packed brown envelopes containing maps, voter lists and plastic ponchos. The team captain reviewed dos and don'ts. (Be polite; avoid lawns.) And then, though it was hard to believe anything had been forgotten, a volunteer muttered one more piece of advice.

"Show some passion," she said. "People need to see our passion."

So it goes here, throughout Ohio and, indeed, all across nearly a dozen swing states where the election is breathtakingly close. Never in the history of American presidential campaigns will so many people be called, visited, handed literature and cajoled to vote than in the final hours of this race. And the side with the better turnout game is almost certain to win the race, strategists say. "In all my years in politics, I've never seen anything like this from either party," said James Ruvolo, chairman of Senator John Kerry's campaign in Ohio. "Win, lose or draw, neither side will be able to say it didn't put enough resources into Ohio."

The race's extraordinary closeness was starkly underlined by a Columbus Dispatch poll on Sunday that showed Mr. Bush and Mr. Kerry both receiving just under 50 percent of the vote in this state. Out of 2,880 responses, Mr. Kerry received eight more votes than Mr. Bush, the smallest margin in the history of the respected survey.

On the ground, Ohio was typical, only more so, of the nearly deafening hum of campaign activity across the nation. Democrats claimed the party had 170,000 volunteers working across the state, a figure that was impossible to confirm. Republicans said they had 85,000 field workers, while independent groups mustered tens of thousands more.

Together, the two sides said they planned to call or visit more than one million homes before the polls close. For that reason, some analysts are predicting turnout in Ohio this year could surpass the 77 percent of registered voters who cast ballots in 1992, the highest in recent decades.

In a clear sign that the state's 20 electoral votes remain in the balance, all four members of the two major tickets campaigned in the state on Sunday, using raucous rallies and quiet prayer to energize their bases. Mr. Bush was at Great American Ballpark in Cincinnati, Vice President Dick Cheney at the airport in Toledo, Mr. Kerry at a Dayton church and Senator John Edwards in Columbus. Mr. Kerry plans to visit Cleveland and Toledo to close his campaign on Monday.

But it was the buzzing activity below the big media events where the campaign duel was most ferocious. And it was not just the two parties: thousands of volunteers with independent groups, from the National Rifle Association to labor unions to evangelical churches to liberal groups like the Association of Community Organizations for Reform Now, or Acorn, were also feverishly at work on college campuses and in housing projects, gun clubs and suburban malls across the state.

The activity was so intense in Toledo this weekend that union canvassers reported finding three or four pieces of campaign literature already stuck on many doors. And volunteers at a Democratic phone bank in south Toledo said on Sunday that many people were getting angry at the repeated calls they were receiving.

"I just tell them the Republicans are making the same calls, and if we don't keep up, we'll lose," said one volunteer, Jonathan Warner, 49, of Holland, Ohio. "That cheers them up."

Democratic strategists argued that the flood of calls could only help their case. "You cannot remind people too often," said Mr. Ruvolo, the Kerry state chairman. "I hope people start saying 'Stop,' because that will mean we've done our job." A major wildcard in this year's Ohio campaign is a proposed state constitutional amendment that would ban same-sex marriages and restrict civil unions. John Green, a political scientist at Akron University, predicts the measure will increase turnout among evangelical Christians, a group that tends to vote Republican, by three to four percent over 2000.

The organization that has promoted the amendment, the Ohio Campaign to Protect Marriage, has tried to increase that turnout by mailing two million Sunday bulletin inserts to 17,000 churches. It has also hired a firm to call nearly one million homes before Election Day with a recorded message from Ohio's secretary of state, J. Kenneth Blackwell, endorsing the amendment.

Phil Burress, chairman of the campaign, said that thousands of Muslim and Amish people have registered to vote for the first time so they can support the amendment. "On Nov. 2, I can tell you, the church will turn out," Mr. Burress said.

Voter turnout is important in every presidential election, but more so this year not only because the race is so close, but also because of record numbers of newly registered voters in many swing states, including Ohio, Pennsylvania and Florida. Motivating such new voters to actually go to the polls is always a challenge, experts said.

In Ohio and other states, the Republicans have created programs modeled on the get-out-the-vote operations Democratic-leaning labor unions have used for decades. The Republican strategy - known as the 72 Hour Campaign, referring to a tightly scripted hour-by-hour plan for the final three days - was tested in Congressional and local races in 2002, then expanded this year with statewide recruiting and voter registration drives.

That effort is culminating now, with huge volunteer drives in Republican strongholds like Cincinnati, the suburbs around Columbus and Dayton, and the rural western border with Indiana.

But the Republicans are also hoping to carve into Democratic strongholds like Lucas County, which includes Toledo. On Saturday night at Bush-Cheney headquarters in a suburban Toledo office park, the parking lot was packed with 60 cars, while scores of volunteers inside called voters. Pizza boxes were stacked on long tables where workers prepared packets for canvassers. On the wall, a computer printout said: "One volunteer = 200 calls."

Mr. Bush, who won only 38 percent of Lucas County in 2000, does not need to win here to defeat Mr. Kerry, Republicans contend. "If Bush is in the low to mid-40's'' in Lucas County, predicted Tom Noe, co-chairman of the Bush campaign in northwest Ohio, "he will win the state.''

Susan Aldersley, 47, from Alexandria, Va., and Mark Sass, 44, from Maumee, Ohio, are two of the party's 3,000 volunteers in Lucas County. Novice campaigners both, they knocked on more than 100 doors in the heavily Republican Toledo suburb of Sylvania on Saturday, politely asking residents to vote.

They praised Halloween decorations, cooed over children and petted dogs, even as they gently importuned people to vote. "Beautiful flowers," Mr. Sass told one voter. "They're fake," she replied. But she pledged to vote for Mr. Bush.

Thousands of volunteers for both parties have poured into Ohio from other states as well. Dianne Delisi, a state representative from Temple, Tex., was one of nearly 100 from a group called the Mighty Texas Strike Force that knocked on doors for the Bush campaign around Cincinnati on Sunday.

"What these people tell us is they would crawl if necessary to get to the polls because they know how important it is to win Ohio," Ms. Delisi said.

While Democrats acknowledge the new Republican efforts, they say they have greatly expanded their own turnout machinery with high and low-tech devices. New computer programs have improved their ability to identify Democratic voters, they say. Trick-or-treating families in Toledo distributed literature on Halloween night. And retirees in Columbus wrote personal letters to voters.

But the biggest change for the Democratic side is the explosion of independent groups pushing for Mr. Bush's defeat. For months, MoveOn.org, Acorn and America Coming Together have blanketed low-income, working-class and minority neighborhoods across Ohio with literature blasting the Bush administration's policies on jobs, health care and Iraq. America Coming Together says it will have 12,000 volunteers working on Election Day.

"We have more power to decide this election than voters in any other state," Maya Pinto, a 23-year-old volunteer with America Coming Together, told a woman at a Toledo housing project on Sunday.

Albert Salvato contributed reporting for this article from Cincinnati.

Copyright 2004 The New York Times Company
http://www.nytimes.com/2004/11/01/politics/campaign/01ohio.html?th=&pagewanted=all&position=


---
1 Nov 2004 @ 17:19 by astrid : Right on, Richard!...
....RESPONSE-Ability is what it's all about! To become aware of one's own ability to respond to Life in ways one sees as most valuable/ethical and life-promoting and supporting for ALL. LIFE is not exclusive,like uknowwho.... It is time to let those with ANY justifications/ideas/reasons for EXCLUDING any of God's Creation to exclude themselves into the oblivion they have prepeared for us who love Life (which of course includes ALL of Nature(; Animal and Plant- kingdom) They can go and find their serfes among their Own Kin on their own -original- Planet!.... or go to hell....which ever is their choise of response(- ability)!


---
2 Nov 2004 @ 13:31 by swan : Thank You Richard,
for this passionate work.


---
Other entries in Politics
1 Jul 2010 @ 02:21: PHILIPPINES' NEW PRESIDENT: AKBAR OR NERO?
4 Jun 2010 @ 08:30: SCUTTLE EU NOW, BEFORE 4TH REICH OPTION AWAKENS!
17 Nov 2008 @ 10:11: My 'story' I just uploaded to change.gov
8 Nov 2008 @ 16:06: A Boy Named Sue and the False American Dream
7 Nov 2008 @ 16:01: No He Can't...
6 Nov 2008 @ 09:16: History is NOW
5 Nov 2008 @ 16:58: Obamas World - Africa and the World beyond Poverty !? - but how? - what world?
5 Nov 2008 @ 14:02: Proud to be An American
26 Oct 2008 @ 15:26: Systemic Intelligence: How to teach Systemic Thinking effectively
26 Oct 2008 @ 10:27: OBAMA IS AMERICA'S MAN OF THE HOUR




---