| | |
| --- | --- |
| "This Presidential Election Is Over" | |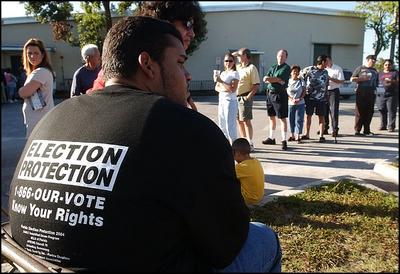 29 Dec 2004 @ 10:50, by Richard Carlson

He who sees what is now has seen all things,
whatsoever comes to pass from everlasting and
whatsoever shall be unto everlasting time.

---Marcus Aurelius

What is this true meditation? It is to make everything: coughing, swallowing, waving the arms, motion, stillness, words, actions, the evil and the good, prosperity and shame, gain and loss into one single koan...with the principle of pure, undiluted, undistracted meditation before your eyes, attain a state of mind in which, even though surrounded by crowds of people, it is as if you were alone in a field extending tens of thousands of miles...if at this time you struggle forward without losing any ground, it will be as though a sheet of ice has cracked, as though a tower of jade has fallen, and you will experience a great feeling of joy.

---Hakuin

Quietness and emptiness are enough to pass through life without error.

---Nobutada

The comment in the subject line was made via email by John Kerry's attorney in Ohio on Monday evening. He was speaking for both Kerry and Edwards in answer to questions Keith Olbermann was posting as to how involved is the Democratic Party with charges of fraud and illegitimacy. The attorney goes on, "There are many conspiracy theorists opining these days. There are many allegations of fraud. But this presidential election is over. The Bush-Cheney ticket has won. The Kerry-Edwards campaign has found no conspiracy and no fraud in Ohio, though there have been many irregularities that cry out to be fixed for future elections. Senator Kerry and we in Ohio intend to fix them. When all of the problems in Ohio are added together, however bad they are, they do not add up to a victory for Kerry-Edwards. Senator Kerry's fully-informed and extremely careful assessment the day after the election and before he conceded remains accurate today, notwithstanding all the details we have since learned." [link]

You may wish to read both of Olbermann's entries from Monday. Scrolling through the earlier one, written around noon, past the wonderings about Kerry, you'll find he addresses the Clint Curtis situation. You remember he's the guy who developed software for changing tabulations in electronic voting machines without detection. Four hours later Brad Friedman answered him at The Brad Blog. [link] All of this debate is interesting, but it does not appear anything is going to happen with Curtis to change the actual election result...and that is my only concern at the moment.

The Ohio Recount is complete, and the major papers are carrying the story. What you'll find in most places is an Associated Press piece, but The New York Times goes further this morning with a bylined article that is more complete. [link] "CINCINNATI, Dec. 28 - A recount of the presidential election in Ohio that was finished on Tuesday showed that President Bush won the election here by about 300 fewer votes than initially recorded. The recount of Ohio's 88 counties showed that Senator John Kerry gained 734 votes, with Mr. Bush picking up 449 after elections officials allowed more than 1,100 previously disqualified ballots to be counted in the second tally."

The article concludes with quotations from the Green, Libertarian, and Democratic parties, which seem to indicate they are content with the process and results, and the matter is complete. "Representatives in Ohio for the Green presidential candidate, David Cobb, and the Libertarian candidate, Michael Badnarik, said on Tuesday that the recount achieved one of their goals, to scrutinize Ohio's election process. While they said they never expected to change the results of the presidential vote in Ohio, they said they wanted an overhaul of Ohio's election system."

Again, future election reform is an old and long story in this country, but the matter at hand is Bush for another 4 years (at least as the Constitution still states the length of term this morning)...and so, with the recount done in this key state and with Kerry emphasizing again he has no interest in contesting anything, is there any hope left? As of yesterday David Cobb's site still was feisty as heck [link] and Internet message boards are filled with calls to protest demonstrations in the streets for the next month. But is there anything we can do besides hit the bricks?

Well, there's that lawsuit in the Ohio Supreme Court brought by 37 voters challenging the election. On Monday Ohio Secretary of State J. Kenneth Blackwell was invited, I guess, to deliver his deposition. He said No thanks, that he's a high-ranking official who can't be bothered with "frivolous" lawsuits. The Associated Press story is carried online at ABC News [link] and concludes, "Attorney General Jim Petro, representing Blackwell, said the voters 'are not trying to actually contest the presidential election but are merely using this litigation to cast public doubt on the voting system of the State of Ohio without a shred of evidence.' On Dec. 21, officials learned lawyers for the voters planned to issue subpoenas to several high-ranking officials, including Blackwell, Bush and the president's political adviser, Karl Rove, according to Petro. The state Supreme Court 'should halt their ability to subpoena any person until such time as they make a good faith showing for the reason to take any deposition,' Petro said in the court filing." The Bush Administration was scheduled for deposition yesterday, but an attorney for Bush said the subpoena wasn't filed correctly and nobody showed up then either. I guess one way to find out whether or not you are "high-ranking" is to ignore a subpoena from a Supreme Court somewhere and see if anything is done about it.

What about Congressman John Conyers, ranking Democrat on the House Judiciary Committee who conducted a couple of forums, one of them in Columbus, on voting irregularities, particularly in Ohio? Republicans dominate the Committee, and not one attended the forums. That fact probably explains his cautious tiptoeing around topics of fraud and conspiracy. As this accessible story explains [link] , Salon did an interview with him last week. It's here [link] but if you don't have a subscription you need to watch a few pages of ads to get to it. It doesn't take long, even with dial-up, but essentially what he says is a conspiracy requires some person somewhere to issue orders to obstruct or corrupt a process like an election. Does Bush have anyone around who would do such a thing? Conyers wants to go nowhere near naming Republican names.

"Do you believe that there was an orchestrated attempt to steal the election?

"Well, you know, orchestrated attempts don't always require a conspiracy. People get the drift from other elections and the way [campaign leaders] talk about how they're going to win the election. When you have the exit-polling information discrepancies that occurred in 2004, where the odds of all the swing states coming in so much stronger for Bush than the exit polls indicated -- they say that that is, statistically, almost an improbability.

"[People] are saying, 'No, no, no, that doesn't mean much.' But it means a lot. It feeds this growing, [but] not provable feeling among millions of Americans that this was another unfair election.

"Do you have that feeling?

"Sure, I have a feeling that whenever we can come across ways to make elections fairer or work better or improve the process or simplify the regulations or make voting more available to people who have language problems or disabilities, we have a responsibility to do it. We're trying to improve the system. I'm not trying to attack the outcome. What we need is a system where there are only a few of the kinds of the tens of thousands of complaints that we already have."

Here's what I think: an "orchestrated attempt" needs an orchestra and a conductor. Yes, some orchestras operate without a conductor, and maybe---just maybe that happened here. But would any of you please tell me something? In these nearly 2 months since the United States election, have you heard or read any complaints at all from Republicans in prominently GOP precincts that they had to wait in lines for hours to vote? That there weren't enough machines in their polling places? I haven't, but maybe I'm not looking in the right place. If Republicans had no problems like this, why not? Is it random, is it coincidence? Is it possible someone somewhere made a decision as to which precincts got enough machines, based on statistical prediction, and which didn't? Did Boards of Election get phone calls through Election Day with requests from precinct officials for more machines from an emergency stockpile states like Ohio had available? If so, is there a record of those calls...and how they were answered and served?

What worries me more than anything is if Americans don't care. It's all too complicated to bother with, and besides what can any of us do about it? The press will not investigate with vigor. Self-proclaimed high-ranking officials ignore subpoenas. Police enforce according to who's making the call. The military is called out to protect corporate ventures. Is citizenship in the United States finally beyond the average Joe, by his own admission?

Milton Mayer, an American journalist of German/Jewish descent, wrote an account in 1955 of the slow takeover of his country during the early 1930s by the Nationalsocialist Party. The book is called They Thought They Were Free, and includes many interviews with citizens who watched it happen and describe it step by step. One of the most oft-quoted sections is a chapter entitled "But Then It Was Too Late." It would take you just a minute to read it, and it's available online. [link] Thank you.






Category: Politics

---
4 comments

30 Dec 2004 @ 08:26 by @207.69.137.35 : hmm
think it is over when it is over
like saying i will eat the cake now and look
on the ground there lies the crumbs *wink*

thanks for the kind sharing my love
sparks


---
2 Jan 2005 @ 11:15 by : US Election Update
Whether you're trying to keep up with legitimacy reports or just taking a quick look for the first time, a summary has been compiled at the blog of Joseph Cannon that is quite good and complete. Please note that Dr. Steven Freeman updated his study of Exit Polls on December 29th, and is linked at this entry. http://cannonfire.blogspot.com/2005/01/american-democracy-rip-1789-2005.html

Regarding the law suit in the Ohio Supreme Court, the Toledo Blade carried the following article yesterday~~~

Article published January 1, 2005

Vote challengers accuse Blackwell of trying to let 'clock run out'

By JAMES DREW
BLADE COLUMBUS BUREAU CHIEF

COLUMBUS - Partisan activists contesting the presidential election results in Ohio said the state's highest court appears willing to "allow the clock to run out" so that the Electoral College results become official on Jan. 6.
Cliff Arnebeck, an attorney who filed the election contest on behalf of a coalition of activists led by the Rev. Jesse Jackson, said Secretary of State Ken Blackwell has chosen to not appear at a deposition to answer questions under oath about the Nov. 2 election.

"If George Bush indeed won this election, there would be no one with a greater interest in proving that to be the case," Mr. Arnebeck said at a news conference yesterday. "They want the clock to run out. They want to win by default."

The lawsuit alleges that votes were taken away from Democrat John Kerry's column and added to Mr. Bush's.

It refers to a "pattern of vote fraud and discrimination," and problems with voting machines around the state.

Mr. Blackwell, a Republican who was associate chairman of Mr. Bush's campaign in Ohio, has said there were "some glitches in the election, but none of these glitches were of a conspiratorial nature and none of them would have overturned or changed the election results."

On Dec. 29, Chief Justice Thomas Moyer refused to grant a motion for an expedited hearing in the election challenge.

A recount requested by the presidential candidates for the Green and Libertarian parties showed that Mr. Bush defeated Mr. Kerry by 118,457 votes, according to a spokesman for Mr. Blackwell who cited a survey by the Associated Press.

Mr. Blackwell certified the official results on Dec. 6, showing Mr. Bush with a victory margin of 118,775 votes.

On Dec. 13, Ohio's 51st Electoral College unanimously cast its 20 votes for President Bush and Vice President Dick Cheney.

The vote came about two hours after Mr. Arnebeck filed a lawsuit contesting the re-election of Mr. Bush and Chief Justice Moyer.

On Dec. 16, Chief Justice Moyer dismissed the lawsuit, ruling that no statute or case law allows the filing of multiple election contests in a single case.

Mr. Arnebeck refiled the lawsuit a day later to contest the presidential race outcome and refiled the lawsuit contesting Chief Justice Moyer's re-election on Dec. 21.

The votes of the nation's presidential electors are sent to Congress.

On Jan. 6, the president of the U.S. Senate is to set and have the certificates counted in front of both chambers.

Contact James Drew at:
jdrew@theblade.com
or 614-221-0496.

© 2004 The Blade
http://www.toledoblade.com/apps/pbcs.dll/article?AID=/20050101/NEWS09/501010374


---
2 Jan 2005 @ 15:43 by jmarc : C&P from Drudge
KERRY SPEAKS: WHAT WENT WRONG
Sun Jan 02 2005 10:35:31 ET

New York-In an exclusive interview about his presidential campaign and his life now, Sen. John Kerry tells Newsweek, "I'm not going to lick my wounds or hide under a rock or disappear. I'm going to learn. I've had disappointments and I've learned to cope. I've lost friends, a marriage: I've lost things in life."

Kerry has not given any formal interviews since his defeat. But on Nov. 11, he summoned a Newsweek reporter to his house on Boston's fashionable Louisberg Square. He wanted to complain about Newsweek's election issue, which he says was unduly harsh and gossipy about him, his staff and his wife. (The 45,000-word article, the product of a yearlong reporting project, is being published next week as a book, "Election 2004," by PublicAffairs.) Details from that interview appear in the January 10 issue of Newsweek (on newsstands Monday, January 3). Kerry talks with Newsweek about the campaign, why he lost and what's ahead for him. He did not wish to be directly quoted touting himself, however; he did not wish to appear defensive or boastful.

When asked why he lost the election, Kerry points to history and, in a somewhat inferential, roundabout way, to his own failure to connect to voters-a failure that kept him from erasing the Bush campaign's portrait of him as a flip-flopper, reports Newsweek Assistant Managing Editor Evan Thomas. Kerry said that he was proud of his campaign, that he had nearly defeated a popular incumbent who had enjoyed a three-year head start on organizing and fund-raising. Sitting presidents are never defeated in wartime, he insisted (true, though two, LBJ and Harry Truman, chose not to run for another term during Vietnam and Korea).

While he quarreled with descriptions of his speaking style as "soporific," Kerry tacitly acknowledged that he failed to connect with enough voters on a personal level. Jose Ferreira, Kerry's nephew, told his uncle, "Some people are saying that your candidacy was driven by ABB [Anything But Bush]." Kerry replied: "Do you think so?" Ferreira said that once people got to know Kerry, they were intensely loyal. "Those are the people I let down," Kerry said, falling silent. In conversation with

Newsweek, Kerry seemed particularly interested in trying to find a way to speak to ordinary voters that didn't sound too grandiose or "political." Though Kerry did not directly criticize his friend Bob Shrum, it's clear he did not feel well served by his message makers and speechwriters.

The deeper problem may be Kerry's personality, which may be too distant or reserved to win mass affection. As Thomas left Kerry's house in November, Kerry called out and followed him down the street. Kerry wanted to show a letter from a schoolgirl that had been left on his stoop. The letter read, in part, "John Kerry, you're the greatest!" Kerry looked into the reporter's eye. "The pundits have never liked me," he said. "Is it the way I look? The way I sound?" He seemed vulnerable for a moment, then caught himself, smiled and walked home to his empty house.

In the heady days before the election, Kerry's top aides sat around picking a cabinet. Nowadays the foreign-policy team still meets on the assumption that it could be reconstituted for '08. But the reality is, "it's mostly sitting around some lawyer's office and asking each other if we've heard about jobs," says a member of the team. As for Kerry, says this adviser, "he thinks he's the frontrunner for '08 without recognizing that he needs to do some soul-searching. If he wants to come back, he'll have to come back as a different candidate, not the stiff who plays it safe and takes four sides of every issue."

Developing...


---
3 Jan 2005 @ 16:16 by : Kerry Online
As usual Newsweek appears online as well as at the newsstand. The Kerry interview starts here~~~ http://www.msnbc.msn.com/id/6777696/site/newsweek/


---
Other entries in Politics
1 Jul 2010 @ 02:21: PHILIPPINES' NEW PRESIDENT: AKBAR OR NERO?
4 Jun 2010 @ 08:30: SCUTTLE EU NOW, BEFORE 4TH REICH OPTION AWAKENS!
17 Nov 2008 @ 10:11: My 'story' I just uploaded to change.gov
8 Nov 2008 @ 16:06: A Boy Named Sue and the False American Dream
7 Nov 2008 @ 16:01: No He Can't...
6 Nov 2008 @ 09:16: History is NOW
5 Nov 2008 @ 16:58: Obamas World - Africa and the World beyond Poverty !? - but how? - what world?
5 Nov 2008 @ 14:02: Proud to be An American
26 Oct 2008 @ 15:26: Systemic Intelligence: How to teach Systemic Thinking effectively
26 Oct 2008 @ 10:27: OBAMA IS AMERICA'S MAN OF THE HOUR




---