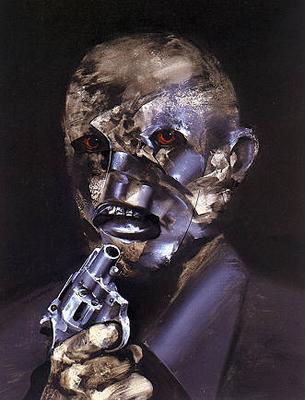 3 Oct 2005 @ 08:18, by Richard Carlson

Everything you learned in school as "obvious" becomes less and less obvious as you begin to study the universe. For example, there are no solids in the universe; not even the suggestion of a solid. There are no absolute continuums. There are no surfaces. There are no straight lines.

---R. Buckminster Fuller

People born into this floating world
Quickly become like roadside dust:
At dawn, little children,
By sunset, white-haired and old,
With no inner understanding
They struggle without cease.
I ask the children of the universe,
Why do you bother to pass this way?

---Ryokan

We are all many persons. Some of these people we know and others we don't---only someone else knows them. Some of these people we like and some of them we don't like....All of this is music; it is the music of our lives if we could only stop and listen. Music doesn't have any meaning; you can't explain it. Eating a meal doesn't have any meaning, either, but if there's no eating there's no life, and if we don't hear music we can't dance. This is our practice---to eat our meals and clean up; to dance to the music of our lives, each one in our own way, and then die when it's time.

---Norman Fischer

The painting by Marshall Arisman was done for an issue of Time magazine on violent crime, and can be seen online here [link]

What follows are some accompanying notes to a CD I've been assembling and creating essentially as a gift for an old friend whose birthday is fast approaching. Now I think I'll make a few more copies to send out to friends who might be interested. (Let me know if you'd like one.) The reason I decided to publish the notes like this is Mr. Arisman, whom you'll meet, is being honored with a retrospective of recent paintings later this month and continuing through December at the Brooklyn Lyceum (details at his website the link to which is in the text below). I didn't know that when I wrote this, but it does seem like a good opportunity to advertise the exhibition as repayment of the many gifts of his friendship. It looks as if the opening will be October 22nd, and I certainly wish I could be there. If you'll be in the New York area the next few months, you may want to get down to Brooklyn. And if you see Marshall, tell him "Philly Joe says Hello."

**************************************************************

This collection is mostly about Blue Note CD reissues, which almost always generously and irresistibly include some alternate takes or cuts never released before. Since all this stuff is from the Golden Era of New York jazz for us older guys...AND recorded by Rudy Van Gelder, every sound is revitalizing.

However, the third cut on this Burn is different and quite personal. When I was a sophomore in high school, one of the seniors who was nice to me and seemed to recognize and encourage a commonality was a guy named Mush Arisman. I first had run into him when I was in junior high because he had a little band, in which he played alto in all styles...but I would say mostly it was a mellow rhythm 'n blues kind of group. It was well behaved enough to get booked for some of our sock hops...and we had plenty of them in the '50s. There also were fraternities and sororities for kids back in the day, and they had dances too. Mush did OK for work...although I later learned he liked art courses even more, and made paintings.

Once a night during the dances, Mush would let loose on that alto, the group would kick in, and we'd have a honking blues that prompted some of us to jitterbug to oblivion. Somehow things turned into dance battles, which Mush would oblige by continuing to play until the last kid turned into a puddle of sweat. When the inevitable BUMP...-badah-BUMP started up, I always excused myself from whomever had been my date and headed for Carolyn Valone. Carolyn and I had been pals since about 1st grade, both liked music and, though we kissed and hugged a couple times, never really ventured into the heat of teen romance with each other---but we went crazy when we danced a fast one. And so, with Mush blasting away, Carolyn and I took on everybody...and always made it to last couple standing. It is quite possible that 50 years later, each of us has a very fond memory of those times.

Carolyn now is professor emerita of art history at Trinity University in San Antonio, but has lived in Rome for many years. I believe her specialty has been to unearth the influence of women upon art, both as creators and patrons, during the Renaissance. A couple years ago I decided to try to find her and so emailed Trinity. The folks in her department were happy to help out and without hesitation gave me her telephone number in Rome. They said she never emailed...and to be prepared for a little wait if I phoned, because it was in a deli downstairs from her apartment and they'd have to yell for her. Undaunted I called the place, and lucked out. Of course she was floored, and surprised me back by mailing a lengthy treatise she'd written. She may be getting more involved with the Internet now, since I see she offers an online course at a site specializing in Rome. The thing is called "Soul Sisters"---huh?---but is about Renaissance matrons who built architecturally amazing churches and monasteries with their inheritances. [link]

As for Mush...I doubt anyone calls him that anymore. I knew he had gone to New York, and I used to see illustrations he'd made in The Village Voice and various leftwing (usually) magazines. For years I had his drawing of a black guy playing an alto sax that was chained around his neck, which I hung lovingly in my record room wherever I lived (you'll meet that guy I think on the CD). I guess fairly recently, one of his terrifying depictions of war and violence turned up on the cover of Nation or something...and I decided to resort to Google. There he was, Chairman of the MFA degree program at the School of Visual Arts in NYC...and even better here~~~ [link] . I wrote, and soon back came a package that contained a book of his work and a CD called Cobalt Blue. That's what you'll hear. Now look, I've tried for at least a year to get more copies of that CD so I can send them out...and I wrote Marshall asking for help and to his agent as well. No dice, so I figure he won't mind terribly if I burn a couple for really close friends. If the thing ever becomes easily available again, I'll buy up a bunch.

I imagine neither Carolyn nor Mush knows whatever happened to each other...and I think it will be my sheer delight to lay this info on 'em. I mean, what good is aging if you don't stumble across this kind of stuff? The thought of the 3 of us sharing some laughs around a little table together is almost more delicious than I can stand! By the way, I don't really buy that story Marshall tells about giving up the alto as soon as he heard Charlie Parker. There's no way he didn't hear Bird by 1956. I mean Tony Haworth would have MADE him listen---but that's another story. BUMP...-badah-BUMP...

THE MUSIC

Art Blakey, drums: It's A Long Way Down (Wayne Shorter, tenor)
Lee Morgan, trumpet; Curtis Fuller, trombone; Cedar Walton, piano; Reggie Workman, bass (April 15, 1964)

Joe Henderson, tenor: In 'N Out (Henderson) alt take
Kenny Dorham, trumpet; McCoy Tyner, piano; Richard Davis, bass; Elvin Jones, drums (April 10, 1964)

Marshall Arisman, narrator: Cobalt Blue, True Stories About The Art World
Music composed and performed by Chuck Hammer, although Mush sings and plays a little soprano sax (2003)

Hank Mobley, tenor: A Baptist Beat (Mobley) alt take
Freddie Hubbard, trumpet; Wynton Kelly, piano; Paul Chambers, bass; Blakey, drums (November 13, 1960)
Tina Brooks, tenor: Good Old Soul (Brooks) alt take
Hubbard, trumpet; Duke Jordan, piano; Sam Jones, bass; Art Taylor, drums (June 25, 1960)

Hubbard, trumpet: Arietis (Hubbard) alt take
Bernard McKinney, euphonium; Shorter, tenor; Tyner, piano; Art Davis, bass; Jones, drums (November 30, 1962)

Horace Silver, piano: How Did It Happen (Don Newey)
Blue Mitchell, trumpet; Junior Cook, tenor; Gene Taylor, bass; Louis Hayes, drums (August 30, 1959)





Category: Ideas, Creativity

---
5 comments

3 Oct 2005 @ 10:11 by jstarrs : Well, Jazz...
..if ever you have one to spare...my fav's still 'Chet'.


---
3 Oct 2005 @ 15:51 by : Chet Baker
Email me your postal address jstarrs, and I'll see what I can do. I think maybe trying to send you the file would be more than my dialup could handle.

I've just been discovering and enjoying some of the Barclay sessions from Paris in 1955 and '56. Chet's output is so uneven that it takes some guidance for me to find the really good stuff. I depend on Scott Yanow's exhaustive discography and reviews of Baker's work at the AllMusicGuide. Here's the link, put Chet Baker in the Search box, and look around the site a bit~~~

http://www.allmusic.com


---
3 Oct 2005 @ 20:12 by jmarc : "turned into a puddle of sweat"
Just wanted to say that sometimes you really have a gift for words man. Can't really comment on the music too much. I'm fairly ignorant of that stuff. But the imagery that little phrase brings up... well, wow!


---
4 Oct 2005 @ 15:46 by dempstress : Over here in Scaatchland
(as they are wont to say in the Yew Ess of Ae) we refer to 'working ourselves into a greasy spot', which has some similar resonances.


---
17 Oct 2016 @ 17:03 by @103.12.162.3 : togel online hongkong
After read a couple of the articles on your website these few days, and I truly like your style of blogging. I tag it to my favorites internet site list and will be checking back soon. Please check out my web site also and let me know what you think.
praturan
http://yakuza4d.com/peraturan
home
http://yakuza4d.com/home
daftar
http://yakuza4d.com/daftar
cara main
http://yakuza4d.com/cara_main
hasil
http://yakuza4d.com/hasil
buku mimpi
http://yakuza4d.com/buku_mimpi


---
Other entries in Ideas, Creativity
23 Sep 2010 @ 18:13: fbi hacks my NEWCIV Site.
22 Sep 2010 @ 02:15: Who Wins?
21 Sep 2010 @ 23:48: Our StressOut Program for Suicide Prevention with Mindfulness
20 Sep 2010 @ 21:24: Quote for today...
16 Sep 2010 @ 19:00: From "Max Sandor's Tales to his grandson"
11 Jul 2010 @ 14:31: Germany, Uruquay, and Applied Quantum Theory
9 Jul 2010 @ 11:07: The Purpose
7 Jul 2010 @ 01:06: The Bicycle Paradigm
21 Jun 2010 @ 23:38: Summer Solstice 2010 - Sunset
4 Jun 2010 @ 21:06: Time to Shine. . .




---