| | |
| --- | --- |
| Happy Solstice! and Merry Christmas! | |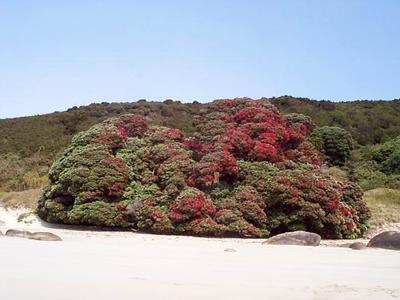 21 Dec 2003 @ 15:00, by Alana Tobin

Matai Bay, Picture of Pohutukawa Tree taken on our honeymoon in January of 2003.

The New Zealand Christmas Tree!

Happy Solstice and Merry Christmas to all in NCN and throughout the world!!!!

Links to view some photos!

[link]
[link]
More beautiful NZ beach photos:[link]





Category: Peace

---
4 comments

21 Dec 2003 @ 23:48 by : Beautiful
Hi Alana,

We saw Lord of the Rings yesterday, which was filmed there. I am continually struck by what a beautiful land you live in.
I wish you the best of the holidays, and joy and success in the new year.
Love,
-Craig

***
Thanks Craig, yes we still need to go and see the movie. It is gorgeous here indeed!


---
22 Dec 2003 @ 00:10 by hgoodgame : Yes Alana,
Thank you for the warm greeting. I too am awestruck at the natural beauty of your country, which should be getting a lot more tourism now that the Rings Trilogy was filmed there. What a vast variety of ecosystems!
The very best of holiday wishes to you from the Pacific Northwest. It's raining here quite a bit this time of year, and cool, around 40-50 F. Lots of green trees, evergreens, firs, myrtles, pines.

****
Thanks Heidi. Yes the many species of trees and plant life are amazing to behold, and the beaches are gorgeous! The active Tasman sea and the peaceful Pacific Ocean. This is truly the gardening "Mecca" of the world. Your home sounds lovely with all those trees around you as well.


---
22 Dec 2003 @ 06:00 by swan : Happy Solstice and Merry Christmas
from Minnesota.

Thanks Katelyn. Happy Solstice and Merry Christmas to You and Yours!


---
22 Dec 2003 @ 06:22 by jstarrs : Happy Easter!!!!
(well, if your Xmas tree looks like that, I can wish you a happy Easter, right?)
;0)
*****
LOL Ha! Yes Jeff, I guess you could. It tis a bit different having summer this time of year when one is accustomed to snow and cold. The gardenias are now blooming in our front yard along with the roses, lavender, and...


---
Other entries in Peace
31 Jan 2016 @ 10:00: PRIDHVEEM SHANTIH-EARTH REGION -FIRSTTIER-PEACE
13 Jul 2010 @ 02:25: WAR RUMBLINGS IN KOREA ARE A DUD!
20 Jun 2010 @ 08:36: Canadian Premise
12 Apr 2010 @ 15:12: Learning (expanded) Non-violent Communication via Skywork
8 Apr 2010 @ 05:25: A QUIET REVOLUTION by YOKO ONO
9 Mar 2010 @ 07:35: Quotations about Kindness
4 Dec 2008 @ 09:27: PAKISTAN'S CREATION, AFGHAN OPIUM: BRITISH TRADE LINKS
28 Nov 2008 @ 14:04: "Change Is Coming"
19 Nov 2008 @ 03:06: WILL ZAIBATSU OFFENSIVE BE ACCOMPANIED BY NEW JAPANESE MILITARISM?
11 Jun 2007 @ 15:57: Playing Our Part: Enacting World Peace




---