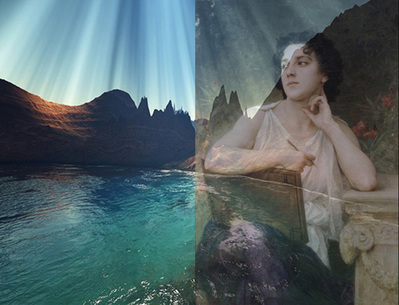 21 Jul 2007 @ 22:00, by John Ashbaugh

Inspiration.
Composite image.
Courtesy: William-Adolphe Bouguereau.
[link]
For the landscape, an unidentified digital artist
somewhere out there on the www.
Acknowledgements and compliments.
There's a lot of writing going on out there these days.
Lots of topics, lots of issues, lots of concerns,
All very important.
Maybe I need to chip in.
Well, I'm chippin' in.
So the fire may burn just a little brighter,
for a little longer,
until the first faint grey of Dawn
whispers through the leaves overhead.

Where did I leave off and where do I begin?
Saturday afternoon at the hacienda.
Sunny, hot and dry outside, and there was a nice rain two nights ago,
so the ground and the sunflowers are fresh.
Had a freshly cooked brat, with a side of freshly cooked rice, green peppers and diced tomatoes sauce flavored Italiano, and a bottle of Chardonnay, with two cigarettes with the last two glasses on the patio in the evening.
Today I've been to the Diamond Shamrock convenience store a half mile down the road for my ticket and my paper and my fresh jug of root beer for a float later on.
Then it's through the Sunflower for a spontaneous German chocolate cake,
a nice fresh and firm loaf of rye bread, a little onions, cucumber, tomatoes and radish,
two fresh brats and a fresh bottle of fresh wine. Focus on Refresh.
I am refreshing my spirit of Inspiration out here at the hacienda.
There is not a house anywhere in the world that I would rather be living in
than this hacienda in the bosque of the alluvial valley.
A home at one with the land it is grounded on.
Red brick floors, skylights in wooden ceilings,
adobe walls painted white inside, adobe walls painted adobe brown on the outside, surrounded on all sides be greenery, every sense of the city out there vanished..
The whole rest of the world, right out there on the other side of the wooden gate
at the end of the gravel driveway. The blacktop starts there,
and once you're on the blacktop,
you're on the blacktop.