| | |
| --- | --- |
| Does Anyone Know You Are Going This Way? | |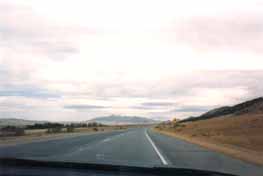 4 Aug 2002 @ 22:08, by D

Hello, you are there, other worlds.
You are there past the little lighted room at the top of the stairs.
You are there at the other end of the silver string, beyond the wardrobe, through the hole in the sky.

And I want to carve you strongly.

Driving home,
Playing the pictures of new kisses
across my face.

April 16, at midnight, a radio salute to IRS:
"I am the tax man"

Freeway sign flashing:
"COAST HIGHWAY CLOSED
DUE TO ROCKSLIDES"

I am passed by a Honda announcing
its license plate message: LCHAIM
To Life.

Yes, to life.

Isn't it wonderful?

You have taken so many paths.
You have spun tapestries from one polarity to the other.
And your endless search continues.

Lillith didn't make it -- she wove her hair into the tapestry.

You look for the eyes.
You think the eyes will tell you.
You wander.
You can do nothing but wander until ...
Until, what?

Show me reality or show me love,
But this alternating picture show is driving me insane.
Either one, it doesn't matter.

Does anyone know you are going this way?





Category: Ideas, Creativity

---
11 comments

5 Aug 2002 @ 01:38 by : My Reflection in the RearView Mirror
Sometimes I used to love being in a car...and no one knew where I was. There's a cozy safety in such wandering for me. Strangely contradictory and probably perverse. No such anymore though...as a family man. They want to know where Father is at all times: no surprises. (Have we noticed this summer's movies are all about beleaguered fathers?) Welcome to the Logs Dianne: obviously I am going to love it here...travelling. (Your first entry is on Louis Armstrong's birthday: What we play is life!)


---
5 Aug 2002 @ 07:16 by shawa : Welcome, Dianne!
Made me smile.LCHAIM. :-)


---
6 Aug 2002 @ 12:11 by swan : This way and that way, the destination
is not as important as the journey.And the signs that point the way. Thank you for your log and welcome to NCN.


---
10 Aug 2002 @ 20:02 by : Otherwordly traveler
Does anyone know you are going this way? Those signs are found on desolate roads in the middle of nowhere as a warning to travelers. A reminder that if anything were to happen to them there, no one would know about it or would ever be likely to find them (until too late). The common sense precaution before engaging onto such roads is to let a close one know of your whereabouts so that someone will know to be concerned if you do not come back.
This title brought back to my mind fond memories of Cold Fever, the movie by Fridrik Thor Fridriksson ( http://www.thei.aust.com/isite/cellrvfever.html )
I think Lisanne Skyler describes it best in her review when she speaks of a spiritual road trip to "a place that cannot be found on any map": http://www.palace.net.au/coldfeve.htm


---
11 Aug 2002 @ 01:26 by shawa : Wow.
So it was not only poetic. It is a concrete real sign! Thanks for the comment, Francis.
I like the way it is applied to the spiritual path.
Sounds like a real interesting movie, too. (Thanks for the link. Won´t miss it if it comes this way).


---
6 Sep 2002 @ 17:54 by : Kewl - welcome
Hi Dianne,
Welcome. I love your writing.
Best,
-Craig


---
7 Sep 2002 @ 01:18 by shawa : Hi, Dianne!
Your piece has "surfaced again", through Craig´s comment, and I wanted to say hello, after having read it again :-)
...Show me reality AND show me love..., both. Together, always.
Thanks.


---
9 Sep 2002 @ 15:30 by : Re-tour-ning
I just returned from a desert island,
Or did I?
I'm still there,
Gazing at the fogfall down the palisades at sunset,
Trudging along the rocky mesa in my dusty hiking boots
up Green Mountain
and down Point Bennett
viewing the Seals and Sea Lions,
down the beach.
I'm still there.
I'm also still walking up a grassy hill in my pointy high heels
With my girlfriends in our spring flower dresses,
Towards the old plantation to eat tuna sandwiches on white crustless bread
And drink iced tea.
Still there,
And still canoeing on the river at night.
With so much of me
So many places and times,
It's no wonder I rarely make it to these cyberpages.
Hello, anyway.
And thank you for taking a peek at one of my places.


---
9 Sep 2002 @ 18:08 by swan : Hello Dianne
Looking forward to meeting you Friday in "one of your places"


---
9 Sep 2002 @ 20:17 by : Meeting
Wow! Virtual promises to meet Reality on Friday the 13th! What an amazing world! I'm looking forward to our meeting. Wish Shakti could join us, too. Maybe another time we can convene in Spain.


---
2 Jan 2016 @ 14:06 by @105.158.102.110 : juegos online
Diviértete con los mejores juegos de Disney Channel, Disney XD, películas Disney y mucho más!


---
Other entries in Ideas, Creativity
23 Sep 2010 @ 18:13: fbi hacks my NEWCIV Site.
22 Sep 2010 @ 02:15: Who Wins?
21 Sep 2010 @ 23:48: Our StressOut Program for Suicide Prevention with Mindfulness
20 Sep 2010 @ 21:24: Quote for today...
16 Sep 2010 @ 19:00: From "Max Sandor's Tales to his grandson"
11 Jul 2010 @ 14:31: Germany, Uruquay, and Applied Quantum Theory
9 Jul 2010 @ 11:07: The Purpose
7 Jul 2010 @ 01:06: The Bicycle Paradigm
21 Jun 2010 @ 23:38: Summer Solstice 2010 - Sunset
4 Jun 2010 @ 21:06: Time to Shine. . .




---