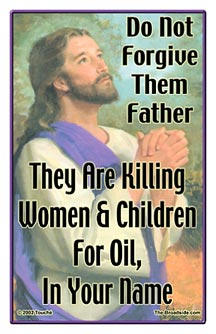 29 Jan 2003 @ 13:05, by Jenese James

Dear Mr President

STOP USING GODS NAME IN VAIN

You are using gods name to justify a sensless war for your own profit and agenda.

over half the world knows it and sees you for what you are .. a puppet to a corporate agenda whose faces and names will be known in due course

George did you not know that war is easy any fool can make war. The challenge is peaceful negotion. anger and hate are easy....tolarance and compassion are your challenge.

However I have to say that I honour you for the way you have galvinised over half the world to recognise that peace is the way of our future. You have, unbeknown to you and your cronies, instigated the begining of the end and out of the rubble that you will most assurdedly create around us, another way will arise, and like the phonix we the people everywhere, will arise ever changing and ever free. You will stand in history as the new example of how not to be in our world.

We see you and your true motovies mr pesident just stop using gods name to advance support for your selfish foolish agenda





Category: Peace

---
3 comments

29 Jan 2003 @ 17:39 by sharie : Coalition for Peace
Thank you Jenese. You're right the regime has done a tremendous job of bringing peace-loving people all around the world together.


---
29 Jan 2003 @ 17:43 by spiritseek : Great Letter
Thanks Jenese, maybe with more letters like this his heart would open and light the light shine in.Keep the faith Peace,Marie


---
30 Jan 2003 @ 10:41 by flamedeus : In the God's name??!
Yea, I am not much into politics until what I have read in this article. This backward religious ideology of proclaiming action of killing and destruction in "Gooood's name" is really pathetic and it just shows how modern society is about thoughtless functioning and blind folowing of what used to be a meaningful tradition.


---
Other entries in Peace
31 Jan 2016 @ 10:00: PRIDHVEEM SHANTIH-EARTH REGION -FIRSTTIER-PEACE
13 Jul 2010 @ 02:25: WAR RUMBLINGS IN KOREA ARE A DUD!
20 Jun 2010 @ 08:36: Canadian Premise
12 Apr 2010 @ 15:12: Learning (expanded) Non-violent Communication via Skywork
8 Apr 2010 @ 05:25: A QUIET REVOLUTION by YOKO ONO
9 Mar 2010 @ 07:35: Quotations about Kindness
4 Dec 2008 @ 09:27: PAKISTAN'S CREATION, AFGHAN OPIUM: BRITISH TRADE LINKS
28 Nov 2008 @ 14:04: "Change Is Coming"
19 Nov 2008 @ 03:06: WILL ZAIBATSU OFFENSIVE BE ACCOMPANIED BY NEW JAPANESE MILITARISM?
11 Jun 2007 @ 15:57: Playing Our Part: Enacting World Peace




---