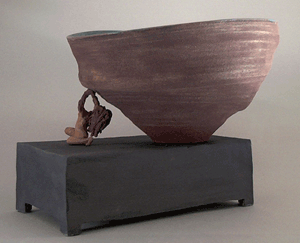 14 Feb 2004 @ 16:57, by Amara & Thomas Alban

The parts and pieces of this were created spontaneously about two years ago and finally assembled, in its own time, a couple of months ago. It sits in our co-op gallery, High Desert Living Arts [link]a few doors down from our pottery.

I suppose the title says it all -- "Hold it Together." I keep feeling it's not a coincidence it's a woman. Perhaps just projection, but I think there's something more. There's something about the wobble. There's a hope, I think, that with help, even with the wobble, the bowl will be able to hold itself up at some point.