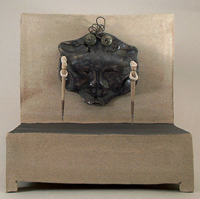 20 Feb 2004 @ 08:57, by Amara & Thomas Alban

When I started to get into my art I was surprised by two things. First, that I didn't know what anything I made meant until it was done. I just get a picture of something that wants to come out, then towards the end of making it, it has relevance -- usually on several levels (I guess metaphor works that way!).

The second thing that surprised me was how dark my work is and that I like that its dark (I'm a pretty positive and optimistic person, really)...

Take "Mask for Baby." I just started playing with the clay one day, while I was talking with someone. I didn't set out on some massive mask-making project. Picked a convenient size, then realized that I wanted it to be functional. Okay, it's a mask for a baby then. It hit me like a ton of bricks! "What does that mean? Why is that concept tweeking me out? Why would a baby need a mask? They're pure and perfect and innocent. Well, so are we. But it's perfectly acceptable for us to wear masks ..." Mask for Baby. How does it make you feel?

My friend Lillith from Hollywood who really wants to be pregnant totally got it. "You may as well put the mask on it sooner than later, the way this world is," she said. "It's doing to end up with one anyway!" She was actually upset by my art. That was very gratifying. (Another surprise.) --Amara





Category: Ideas, Creativity

---
5 comments

21 Feb 2004 @ 04:17 by : Fascinating
I love hearing how a work of art got thought up and made. Yes, there is something scary...terrifying...about this creation. Maybe we're not used to sculptures that go into our anxiety and fear. We bought this ceramic piece for our living room, and feel the proximity and encasement of the figures creates a completely truthful sense of uneasiness...yet need.




Good luck to Lillith. She's carrying a pretty tough name around to encourage domesticity.


---
21 Feb 2004 @ 10:17 by shawa : Totally understandable...
(From another artist/Creatrix) :-)


---
3 Mar 2004 @ 00:57 by : Neglect
I should have mentioned the piece above was created by Jason Lascu, who currently is completely his Master of Fine Arts degree at Washington State University. If you live in that area, you might visit the campus next month for an exhibit of his work~~~

[link]


---
9 Oct 2015 @ 09:55 by @36.81.0.29 : rumah dijual
info lengkap rumah dijual murah harga 100 jutaan silahkan hubungi RUMAH JAWA JOGJA


---
17 Oct 2016 @ 21:35 by @103.12.162.3 : togel online hongkong
thank you for providing web were very nice and helpful
promo
[link]
daftar
[link]
cara
[link]
hasil
Buku mimpi
[link]


---
Other entries in Ideas, Creativity
23 Sep 2010 @ 18:13: fbi hacks my NEWCIV Site.
22 Sep 2010 @ 02:15: Who Wins?
21 Sep 2010 @ 23:48: Our StressOut Program for Suicide Prevention with Mindfulness
20 Sep 2010 @ 21:24: Quote for today...
16 Sep 2010 @ 19:00: From "Max Sandor's Tales to his grandson"
11 Jul 2010 @ 14:31: Germany, Uruquay, and Applied Quantum Theory
9 Jul 2010 @ 11:07: The Purpose
7 Jul 2010 @ 01:06: The Bicycle Paradigm
21 Jun 2010 @ 23:38: Summer Solstice 2010 - Sunset
8 Jun 2010 @ 11:52: 365 Tao: Daily Meditation WRITER




---