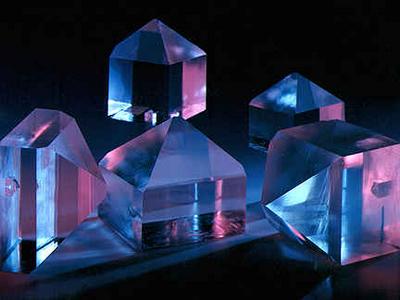 9 Apr 2004 @ 22:32, by Marissa A Spencer

More Than I Remember

By Marissa A Spencer


There before me was the Crystal City
All flashes, turns and shimmering flame
I joined the robed celebrants along the path
Communing with the fires of heaven's wisdom

A tangible peace walked beside me
Taking my hand into the wellspring of love
A sweet sound rose from the sparkling air
Sacred choral chimes turning into light

I came upon a garden of prisms and fountains
Crystal floral harmonies tinkled softly
Watching the light play upon the water
I sat. Within me a growing sense of belonging

Was this my home, long since forgotten?
The spiraling towers rose above me.
I could not recall, yet part of me feels
That I know more than I remember

© April 9, 2004 By Marissa A Spencer






Category: Ideas, Creativity

---
10 comments

10 Apr 2004 @ 04:54 by spiritseek : Feels like home to me...
Atlantis comes to mind and I feel I was there among the giant crystals.


---
13 Apr 2004 @ 00:13 by shawa : Me too!
Marissa, your poems are great for Visualization (painting!) :-) After reading it, I went off to Google to look at crystals, ended up with images of crystal wands that were so tempting that I... went up to my workshop to make one!... Thanks for the inspiration!...


---
13 Apr 2004 @ 01:09 by : thank you
nothing makes me happier than knowing people enjoy my stuff

oooo... take a pic when yer done Shawa!


---
13 Apr 2004 @ 02:33 by : Oh yah...
That is a beautiful re-membering. See, we all remember it skookum! BTW are the 'crystals' in your picture really herkimer diamonds? Shamballa comes to mind, for me, when I read your prosoem. Lovely...

http://hacks.oreilly.com/


---
13 Apr 2004 @ 06:19 by : my son loves Linux
he says...he will help me get it on my new machine.. when I get one.

I do not think they are diamonds lol

thank you


---
13 Apr 2004 @ 06:40 by shawa : Yup.
Will do. As soon as I finish the wand, it´ll be online! :-)
Re/"herkimers" ...
http://www.bestcrystals.com/herkimer.html


---
14 Apr 2004 @ 12:48 by : Herkimers and Linux?
Now what does that have to do with the price of Herkimer diamonds 'brave one?' The most beautiful 'Herkimers' I have ever seen come from the area around 'Mt Ida in Arkansas. Mt Ida is the home of the most beautiful and best quartz crystals in the world.

Two friends of mine had a mine there which had the most ancienyt quartz's. Some were fully two feet to four feet in diameter. The Japanese finally succeeded, through Americanishe conta'K'ts, in murdering them. For the 'Computer Industry' dont you know...

So all those beautiful crystals, so ancient, so fine, were blown up into chip sized fragments to be processed in Japans computer and computer gaming industry. Hello Nintendo goodbye Merlin. Ever read 'The Crystal Cave?'

Thanks for the link lady shawa...


---
14 Apr 2004 @ 13:24 by vibrani : I have a bunch of
Herkimers in varying sizes from Arkansas and they are gorgeous.


---
14 Apr 2004 @ 13:31 by : Yes...
You may be surprised to know I have read I do believe.. all of Mary Stuart's Arthurian books... loved every one of them...I have not read them in a long time however.
I mentioned Linux.. cuz that link you had there has a pic of Linus Hacks lol...sorry...my mind wanders...maybe it shouldn't go out alone lol

they ground up those crystals!!!! oh my gawd... that is horrible

Have you ever felt the energy emitted by the Jacare crystal.. supposedly an Atlantean Quartz

I went to a local rock shop... and they had one about the size of a football(American type)

I touched that thing and I couldn't feel my body anymore...freaked me out lol

http://www.jungle-gems.com/galleries/minerals/ms00074-b.jpg


---
2 Jan 2016 @ 09:53 by @105.158.102.110 : telecherger jeux
Meilleurs Jeux de Moto Gratuits et Nouveautés 2015 : Envie de jouer aux meilleurs jeux de moto gratuits ? Bienvenue sur notre page moto.


---
Other entries in Ideas, Creativity
23 Sep 2010 @ 18:13: fbi hacks my NEWCIV Site.
22 Sep 2010 @ 02:15: Who Wins?
21 Sep 2010 @ 23:48: Our StressOut Program for Suicide Prevention with Mindfulness
20 Sep 2010 @ 21:24: Quote for today...
16 Sep 2010 @ 19:00: From "Max Sandor's Tales to his grandson"
11 Jul 2010 @ 14:31: Germany, Uruquay, and Applied Quantum Theory
9 Jul 2010 @ 11:07: The Purpose
7 Jul 2010 @ 01:06: The Bicycle Paradigm
21 Jun 2010 @ 23:38: Summer Solstice 2010 - Sunset
4 Jun 2010 @ 21:06: Time to Shine. . .




---