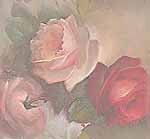 14 Jul 2004 @ 20:49, by Marissa A Spencer

Softly Keep

I picked a sweet pink rose today,
And took it in without delay.
A rose like those we once grew,
Made me feel at once brand new,
Mother, your face touched my mind,
Your smile so winsome, your eyes so kind.
I will remember those days gone by,
How we'd laugh and how we'd cry.

The walks we took side by side,
With me beside, and you as guide.
The fresh air and the rolling sea,
Friends so honest, you and me.
It's been years since you've been gone
There's been the darkness, and the dawn.
While in my heart you gently sleep,
I will your memory softly keep.




© April 25, 1999 Marissa A Spencer






Category: Ideas, Creativity

---
8 comments

15 Jul 2004 @ 05:48 by spiritseek : re-membrance
very nice poem for your mother.
*********
thank you... sometimes I miss her a lot


---
15 Jul 2004 @ 07:38 by celestial : "Precious Memories,"
"How they linger..."

It seems we don't honor our parents enough until they have departed.
Of this I am guilty.
I've thought deeply about ancestor worship.
Of it I still do wonder.

A very beautiful poem, skookum; it touched my memory bank!


---
15 Jul 2004 @ 10:19 by : Both my
folks are gone.. but not forgotten.


---
15 Jul 2004 @ 12:35 by celestial : And so, too,
Are mine.

I loved my father, as though a dog. I remember crawling around on my hands and knees, as a child. Despite all of the abuses he heaped upon me, I still loved him. (He was into mind control using his own children as experiments, guinea pigs, lab rats, Pavlov's dog, etc.)(We were nearly comatose.)
I was there to take his shoes off when he came home from work, dead tired.
I was his dog. I loved him unconditionally. If I growled at him I was punished. But I still loved him, always.
At age 16, one Sunday, it came to a head. I just couldn't put up with it any more. I stood up to him face to face, eye to eye, and I looked him straight in the eye and with the eyes I passed a "laser" encoded message to him. He got it, decoded it, and realized his mistakes with me. His battle for control of my mind was over. Years later, he hugged me and I "felt" that "spark" cross our chests, from his heart to mine, through the clothing!!!

Now my MOM, she was a GODDESS with great wisdom. I helped her with so many chores throughout life that she began calling me "Old Sugar." Ah, When she would wear my favorite dress (Her dress, not mine;) SHE was my Queen! She never knew what that dress meant to me; I never told her.


---
15 Jul 2004 @ 14:20 by : I never
really got to know my father very well.


---
15 Jul 2004 @ 14:36 by celestial : There is
Always a reason for every thing that happens to us.
Just like there is always an explanation for a miracle (it's the lack of understanding of the REASON that we call something a miracle)
If we wait upon the Lord (be patient) he will give us our heart's desire.

I must close for a while; I have found a new toy with a great potential.


---
16 Jul 2004 @ 08:26 by celestial : I love
THEE rose, I love your scents!


---
2 Jan 2016 @ 14:28 by @105.158.102.110 : juegos online
Diviértete con los mejores juegos de Disney Channel, Disney XD, películas Disney y mucho más!


---
Other entries in Ideas, Creativity
23 Sep 2010 @ 18:13: fbi hacks my NEWCIV Site.
22 Sep 2010 @ 02:15: Who Wins?
21 Sep 2010 @ 23:48: Our StressOut Program for Suicide Prevention with Mindfulness
20 Sep 2010 @ 21:24: Quote for today...
16 Sep 2010 @ 19:00: From "Max Sandor's Tales to his grandson"
11 Jul 2010 @ 14:31: Germany, Uruquay, and Applied Quantum Theory
9 Jul 2010 @ 11:07: The Purpose
7 Jul 2010 @ 01:06: The Bicycle Paradigm
21 Jun 2010 @ 23:38: Summer Solstice 2010 - Sunset
4 Jun 2010 @ 21:06: Time to Shine. . .




---