| | |
| --- | --- |
| Like Children on the Shore | |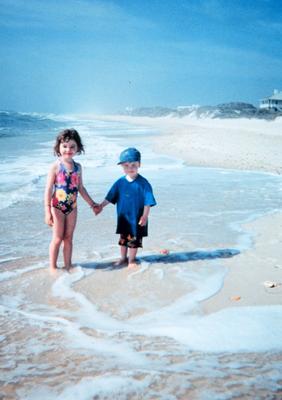 25 Nov 2004 @ 05:26, by Marissa A Spencer

Like Children on the Shore

The burning of a thousand stars in space
Cannot dim the fire you light within
As they glow in cold-frozen space
Your warmth walks beside me here
To hold my sadness and calm my fear

I would want the freedom of solitude
Time unbidden by other hearts or minds
I would visit and move on to newness
There would seldom be a pause to reflect
Oftimes, little to remember and little to regret

But now; now where do I run to hide away?
I do not seek you in my daily adventures
Yet, there you are, there we are, always
Hand in hand like children on the shore
Sometimes I wonder if we've met before.

© November 24, 2004 Marissa A Spencer






Category: Ideas, Creativity

---
7 comments

27 Nov 2004 @ 02:06 by martha : I bet you have met before
in your dreams...LOL


---
27 Nov 2004 @ 03:41 by : what are dreams
but windows of what might be, what will be, and what we fear?

Sometimes, I believe they are whispers from our past as well.


---
27 Nov 2004 @ 04:36 by jmarc : Where Or When
(Rogers and Hart)
It seems we stood and talked like this, before
We looked at each other in the same way then
But I can't remember where or when
The clothes you're wearing are the clothes you wore
The smile you are smiling you were smiling then
But I can't remember where or when
Some things that happened for the first time
Seem to be happening again
And so it seems that we have met before
And that we laughed before, also loved before
But who knows where or when

***************

you hide a romantic soul JMARC


---
29 Nov 2004 @ 16:06 by grandma218 : "Like Children On the Shore"
Thank you for the thought. I'm sure this is a very personal statement of longing and wonderment. When read a few times,it takes in deeper feelings. And the innocent children on the shore do not look at all lost. They appear beautifully there. Christina


---
30 Nov 2004 @ 06:02 by astrid : Maybe you
remember eachother from the Bridge Across Forever.( Must be one of the most Powerful places in all of Universe! ) How absolutely precious they are!....hand in hand...


---
30 Nov 2004 @ 06:43 by : children.. of all ages
are precious gifts to the universe.. doncha think?

we are connected.. everyone of us.. some.. more than others.. and where our spirits intersect there is magic


---
17 Oct 2016 @ 18:51 by @103.12.162.3 : agen poker
found in the capitalist powers, England and France in the first instance, with America close behind them
praturan
http://dokterpoker.org/app/img/peraturan.html
jadwal
http://dokterpoker.org/app/img/jadwal.html
promo
http://dokterpoker.org/app/img/promo.html
panduan
http://dokterpoker.org/app/img/panduan.html
main
http://dokterpoker.org


---
Other entries in Ideas, Creativity
23 Sep 2010 @ 18:13: fbi hacks my NEWCIV Site.
22 Sep 2010 @ 02:15: Who Wins?
21 Sep 2010 @ 23:48: Our StressOut Program for Suicide Prevention with Mindfulness
20 Sep 2010 @ 21:24: Quote for today...
16 Sep 2010 @ 19:00: From "Max Sandor's Tales to his grandson"
11 Jul 2010 @ 14:31: Germany, Uruquay, and Applied Quantum Theory
9 Jul 2010 @ 11:07: The Purpose
7 Jul 2010 @ 01:06: The Bicycle Paradigm
21 Jun 2010 @ 23:38: Summer Solstice 2010 - Sunset
4 Jun 2010 @ 21:06: Time to Shine. . .




---