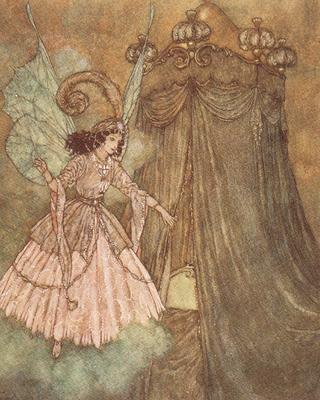 7 Aug 2005 @ 05:37, by Marissa A Spencer

Slumberer

What better thing than the quiet time
There is no need for anything but being
No prayers need to entreaty God

No proclamations need to be made
Arguments have no meaning anymore

There is no music to ring in the ears
No night calling birds to warn the dark
Even the dogs and cats are silent now
What reverie to hear my own heart
Then tune it out and find the silence

Let me gaze at the hushed sparkle of stars
The incredible vastness of that wordlessness
I want to rest rocked to sleep in moonbeams
Where all the colors in their blueness shine
This is where I find who I have become

There is in that deep, swaying slumber
The knowing of the universe within
I discover sleepers all around me now
In their own travails they have found rest
Yet now the journey is just beginning

© August 6, 2005 Marissa A Spencer






Category: Ideas, Creativity

---
4 comments

8 Aug 2005 @ 05:46 by astrid : Thumbs up
for this one ( too! : ) )))
God's secret name was for a long time considered this mysterious statement: "I Am that I Am". Turned out that that statement was incorrect/incomplete and the FULL statement is indeed: "I Am that I am IN BECOMING!!!" I capitalize 'in becoming' for that IS the vital part that makes the statemnet make sense! This; your poem, expresses in such poetic way: "Let me gaze at the hushed sparkle of stars
The incredible vastness of that wordlessness
I want to rest rocked to sleep in moonbeams
Where all the colors in their blueness shine
This is where I find who I have become

There is in that deep, swaying slumber
The knowing of the universe within
I discover sleepers all around me now
In their own travails they have found rest
Yet now the journey is just beginning"

How absolutely beautiful - and so true!


---
8 Aug 2005 @ 07:44 by : Thank you Astrid
may your dreams be soft and gentle..

or exciting and wondrous..

what ever your heart desires.. may it be yours..


---
6 Dec 2016 @ 14:31 by @149.202.202.78 : this was a really nice post
Aw, this was a really nice post. In idea I would like to put in writing like this additionally – taking time and actual effort to make a very good article… but what can I say… I procrastinate alot and by no means seem to get something done.


---
6 Dec 2016 @ 14:47 by @191.101.30.254 : Bola Tangkas
I discovered your blog site on google and check a few of your early posts. Continue to keep up the very good operate. I just additional up your RSS feed to my MSN News Reader. Seeking forward to reading more from you later on!…


---
Other entries in Ideas, Creativity
23 Sep 2010 @ 18:13: fbi hacks my NEWCIV Site.
22 Sep 2010 @ 02:15: Who Wins?
21 Sep 2010 @ 23:48: Our StressOut Program for Suicide Prevention with Mindfulness
20 Sep 2010 @ 21:24: Quote for today...
16 Sep 2010 @ 19:00: From "Max Sandor's Tales to his grandson"
11 Jul 2010 @ 14:31: Germany, Uruquay, and Applied Quantum Theory
9 Jul 2010 @ 11:07: The Purpose
7 Jul 2010 @ 01:06: The Bicycle Paradigm
21 Jun 2010 @ 23:38: Summer Solstice 2010 - Sunset
4 Jun 2010 @ 21:06: Time to Shine. . .




---