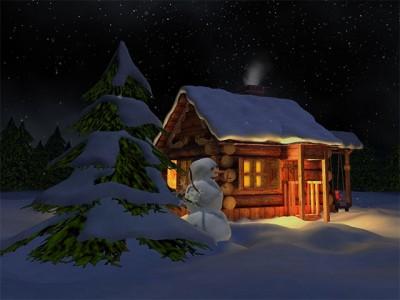 14 Dec 2007 @ 06:52, by Marissa A Spencer

Winter makes me think of Robert Frost... and that makes me think of poetry..

so.. In honor of traditional poem writing..

here is a winter poem


pic is from this site.. and is free..


[link]

The Frozen Woods


I follow the path through the frozen woods
Where the wind blows eddies where once I stood
It pushes me onward as the darkness grows
As the blue shadows creep on the crunching snow

I rush to find a light in the far distant night
And find only shivers and a frosty bite
I now gather my cloak in the lonely lane
And start to believe that my search is in vain

Is it a glimmer I see cross the wooded glen?
How I yearn for the warmth of my home again
Tears come to my eyes for I think I am lost
Finally, seeing a light through the window frost

A flung open door greets my snow- ridden face
Oh, jubilance soars in our joyous embrace!
Darkened shores did tempt me too often to roam
When all I ever needed or wanted was home


© December 13, 2007 Marissa A Spencer





Category: Ideas, Creativity

---
7 comments

14 Dec 2007 @ 08:09 by susannahbe : Nice one Marissa!
thanks :-)
have you seen this site? http://www.lulu.com/uk/


---
14 Dec 2007 @ 13:38 by athedge : What a wonderful image!
The image of home is so visceral. A beacon of warmth on a cold night. I especially connected with the idea of being lost and afraid and then seeing the glimmering light and feeling safe once again.

Thank you for my poetry "fix"!

Peace :)


---
14 Dec 2007 @ 17:00 by jmarc : 8 inches of fluffy stuff
here last night.
Stay warm and cozy.
Have a hot Cocoa.
I like mine with a bit of orange extract.


---
14 Dec 2007 @ 18:00 by : oh sounds
good jmarc.. never did that. thanks

athedge...you are welcome... i just try to write the pictures in my head

susannahbe...thanks for the site and thank you all for reading my 'stuff'

stay warm and safe

hugs

marissa


---
23 Dec 2007 @ 22:16 by a-d : I think
you really thug in the deepest of Heartstrings with:".... When all I ever needed or wanted was home" . To know/have a Place where we really are safe and know we are safe and ( can allow ourselves to ) truly feel it.... is (the Place where) Home ( is )!
heyyy.... btw, do you remember an old old song (from an old old Movie) "When It's Lampligthing Times In The Valleyyyyyy...."
I love the tune of that Song (the Swedish & Finnish Lyrics are NOT QUITE as Tear dripping sad( Melodramatic ) as the English ones...; ), but sad enough to make me cry -if I feel the need to cry... which I can easily do this time of the year!.... all I need to do is sing the song (in all three lingos ) a few times and that unleashes a flood of tears!
I just realized yesterday, what made my childhood home to HOME; all the wonderful fragrances, that always were just magically there; each Special Season /Holiday had its own special fragrance in our Home...
Yuppp! THANKS, Sis! Thousand Hugs& Kisses/A-d


---
24 Dec 2007 @ 07:52 by : you are so welcome
home.. sometimes a feeling that has no set place..

it is the place where you belong and are accepted

I have had my granddaughter visiting the last few days...we have been baking..

the fragrances of cinnamon, cloves.. turkey.. ham..

it all means home


---
29 Apr 2016 @ 06:09 by @103.12.162.4 : brilliant! I would like to share this ar
Togel Online Singapore
Togel Online Hongkong
Bandar Togel Singapore
Bandar Togel
Togel Online Terpercaya
Bandar Togel Online Terpercaya
Togel Online
Agen Togel Online Terpercaya
Agen Togel Online


---
Other entries in Ideas, Creativity
23 Sep 2010 @ 18:13: fbi hacks my NEWCIV Site.
22 Sep 2010 @ 02:15: Who Wins?
21 Sep 2010 @ 23:48: Our StressOut Program for Suicide Prevention with Mindfulness
20 Sep 2010 @ 21:24: Quote for today...
16 Sep 2010 @ 19:00: From "Max Sandor's Tales to his grandson"
11 Jul 2010 @ 14:31: Germany, Uruquay, and Applied Quantum Theory
9 Jul 2010 @ 11:07: The Purpose
7 Jul 2010 @ 01:06: The Bicycle Paradigm
21 Jun 2010 @ 23:38: Summer Solstice 2010 - Sunset
4 Jun 2010 @ 21:06: Time to Shine. . .




---