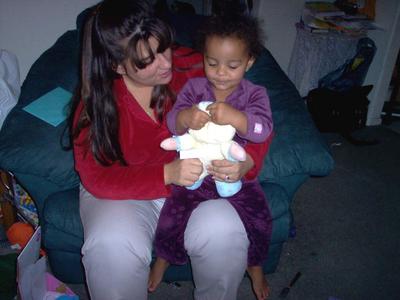 17 Mar 2005 @ 14:42, by Gerald Vest

Christiane, my daughter, wrote this poem many years ago. I don't have the date, perhaps a fifth grader, but she was obviously aware of what was happening in our world then. As a professional social worker, Christy works with teens, at risk, in Colorado's "I have a Dream" program. Obviously, I am very proud of her work and devotion in helping our next generations preserve their dreams and help them bring their aspirations to realization. I have a dream foundation



Our Tomorrow by Christy Vest

As I look out this window
I can imagine our World tomorrow.
A chill runs up my spine
And my heart fills with sorrow.

Whatever happened to love?
Where is all of the cheer?
I think about this,
As I wipe away a tear.

Tomorrow is upon us
Fear is in my heart.
As the war we have, love and hate,
Quickly begins to start.

Bring love to our World
Even if for just one day.
Fight for our World of Tomorrow
Fight for love today.


Thank you Christy for keeping your dreams alive and for working with others to help them improve the quality of their lives, health and relationships. I love you. Dad






Category: Economics, Financing, Banking

---
8 comments

19 Mar 2005 @ 17:12 by astrid : Oooohhhh, Jerry!....
...it's fantastic: The "I-Have-A-Dream"-Foundation !!! How wonderful!!! I will go through it very carefully! Christy's Poem is so full of truly Heart-felt Agony for Mankind & Mother Earth. Tell her she's on the right track!

*************************
Been studying I-Have-A-Dream-Found.site ever since! GREAT,GREAT!!! So. Are you, Jerry, actively working within this Foundation? IF so, tell us some stories from there, eh? Would be cool to hear some real life sunshine stories!


---
19 Mar 2005 @ 17:39 by swanny : To Young....
To young to be singin the blues
as was I...

carry on

sir


---
20 Mar 2005 @ 00:38 by : heart felt poem
I see her heart felt feelings for the world in her poem.I have a dream foundation is a good organization for helping the less fortunate succeed. Thanks for sharing it.


---
20 Mar 2005 @ 17:05 by martha : Open to love
we don't need anymore fighting.
Lovely poem and thanks for sharing. I often felt just like your daughter expressed herself except that fighting is no longer in my vocabulary though when I was younger it was.
Open up to love and create our world that can be the garden of Eden if we want it.


---
21 Mar 2005 @ 17:28 by : Thoughtful comments
Thank you, my friends. Yes, the "Dreamers" program is a very successful experiment in social learning and in education. Seems to me that the very wealthy and others who wish to improve opportunities for the underclass would do well by contributing to this foundation. I'm certain that the results are much better than putting our resources into religious education.


---
21 Mar 2005 @ 23:33 by ymca : I love Christy's poem



---
17 Apr 2005 @ 23:29 by : Astrid's Note
I am not directly connected to this Foundation, only through my daughter. I always ask her about her kids and how they are doing. She has two in juvenile detention right now, so will be making some trips to the jail to see them. They are generally very successful, but some of the kids are upset with the school, family and, perhaps themselves. Christy doesn't give up on anyone and will do what she can to help them succeed recognizing that setbacks may lead to greater awareness--like, "the harder we fall, the higher we become."

Jerry


---
31 May 2014 @ 20:06 by calmheart : Christy's poem
A lot of awareness in such a young soul. Not surprised that she is working to make a difference in this world.


---
Other entries in Economics, Financing, Banking
2 Oct 2015 @ 22:16: Release of the iviCivi Project
24 Jun 2010 @ 02:13: BAILING OUT AILING BANKS IS IMMORAL/CRIMINAL
1 Jun 2010 @ 07:25: Extirpating Capitalism
30 May 2010 @ 06:13: 'LATE' CAPITALISM CRASHING DOWN ITS DEATH BED
28 May 2010 @ 02:27: EUROZONE'S BURNING, CONVENE GLOBAL FINANCIAL CONFERENCE!
7 Jan 2009 @ 15:36: Did God invent natural money?
11 Dec 2008 @ 14:29: Borrowing money to a beggar
2 Dec 2008 @ 07:03: 10,000 "uninsured" depositors of Indymac Bank
1 Dec 2008 @ 11:01: Important Notice Of Change In Terms
30 Nov 2008 @ 05:10: HEALING GLOBAL ECONOMY VIA NEW FINANCIAL ARCHITECTURE




---