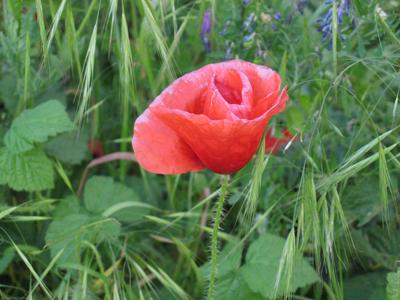 26 Jul 2005 @ 21:39, by Silvia M.S
I wonder why children cry at night. My mother told me that I cried almost every night when I was a baby, and my niece did the same in her first years. Babies still don't have to worry about their future, no job to do, no responsabilities... but they cry. Do they have any fear? Do they feel lost?
This simple poem was inspired one night by these thoughts.






Tell me, baby...
What's hidden in your glance,
what your eyes see
when the mist entraps you,
when the cold night
beclouds the day,
& comes close to your heart,
baby, and talks to you?

Tell me what you feel
under the soft
whisper of dawn.
The morning arouses,
the lights turn off,
and the sadness recedes
returning calm to you.

Why do you cry, baby?
if there's no loneliness
to embitter your hope,
if you're only embraced
by sweetness and love.
Tell me what you feel now,
now that the night has gone...
------------------------------------
Dime, niña...
Qué esconde tu mirada,
dime qué ven tus ojos
cuando la niebla te atrapa,
cuando la noche fría
oscurece la mañana,
se acerca a tu corazón
niña, y te habla.
Dime qué sientes
bajo el suave susurrar
de la madrugada.
El día despierta,
las luces se apagan,
la tristeza se aleja
y te devuelve la calma.
¿Por qué lloras, niña?
si no hay soledad
que amargue tu esperanza,
si sólo la ternura
y el amor te abrazan.
Dime qué sientes ahora,
ahora que la noche se marcha...
------------------------------------
Silvia Martinez