| | |
| --- | --- |
| Her birthday (su cumpleaños) | |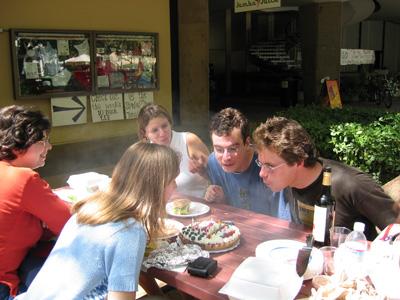 3 Sep 2005 @ 12:36, by Silvia M.S

This morning I've wakened up with one year more. Is this event so important in my life to celebrate it? My answer it YES! You never know if you're going to have another birthday. Last August 9th could have been my last day in this life, no more birthdays for me. But I'm still here in this world and I would love to celebrate each of those days. But as 365 days of party would be too much, at least I'm going to celebrate this special day with my family and friends.

What else can I wish this day apart from what I have right now: life, a home and people who I love and who love me?. Well, yes, I have another wish, I wish the same that I have for every being in this world. I'm not as happy as I was in my previous birthdays, because tears are coming to me everytime I watch the news about the tragedy left by Katrina. There, many people won't have a birthday anymore, and many more don't have a home, food, water, medicines... they feel lost and hopeless. And I feel helpless. My wish for this year is that they will be able to recover their lives as soon as possible, and that those children will have a much better future than their current present.

Thinking about the hopeless feeling I remembered this poem, that I wrote two years ago for one of my best friends in her birthday, she was suffering a pretty strong depression and was feeling hopeless. Her daughter and her parents were very sad for her, as I was too. Fortunately she's much better now. As always, I'm including also the Spanish original version.



Her birthday

To this awaiting world
she opened the eyes.
A warm welcome of the light.
To her tears falling down
watchful her mother was,
only sweetness around,
a rain of caresses and love.

Since then, along the life path
the time spiral was trapping her.
Today it's her birthday again.
An infinity of remote memories
illusions in her mind draws,
where the years hide?
she asks, where they have gone?

She wants to restore to her eyes
the innocent glance of the child,
she wants with the waves to play
without fearing the beat of the sea.
To fill up with colors the dreams,
to embrace the pillow with a smile,
to listen to a tale and believe.

In the path she forgot the childhood
and thought the hope lost forever.
But then two little eyes stared at her
and suddenly the life revealed.
Her heart was glowing a beautiful flame!
The light fondles newly her face
and now she feels blessed today.
It's her birthday again!

------------------------------------

Su cumpleaños

Abrió por primera vez los ojos
a este mundo que la esperaba.
De la luz una bienvenida cálida.
Atenta la madre al llanto
que brotaba de sus labios,
alrededor todo atenciones,
lluvia de caricias y abrazos.

Con el pasar de la vida
la espiral del tiempo la fue atrapando.
Hoy de nuevo es su cumpleaños.
Un sinfín de lejanos recuerdos
dibuja en la memoria ilusiones,
adónde se han ido los años,
se pregunta, ¿dónde se esconden?

Quiere devolver a sus ojos
la mirada inocente del niño,
quiere jugar con las olas
sin temer que el mar la golpee.
Llenar de colores los sueños,
abrazar sonriente la almohada
y creer al escuchar un cuento.

La niñez olvidó en el camino
y creyó perder la esperanza.
Mas de unos pequeños ojos la mirada
de repente le desveló la vida.
Su corazón una preciosa llama encendía!
La luz nuevamente su rostro acaricia,
y en alegría se ha tornado su llanto.
¡De nuevo es su cumpleaños!

------------------------------------

Silvia Martinez

The pic was taken last year in my birthday, while celebrating it with my friends in California. Now they are far in the distance, but still very close in my heart!





Category: Ideas, Creativity

---
14 comments

3 Sep 2005 @ 14:09 by martha : Thank you Silvia for sharing
Lovely essay and poem.

I have a secret to share. You can reclaim the eyes of a child and view the world in pure spirit as most children do early in life. And when you do a wonderful peace will decent and you will see in a new way. Colors will be brighter, beauty is everywhere, and a wonderful silence will occur where most mind chatter will stop.

martha@iamgladtohavemetyou.com

***************
Me too! ;-)
Thank you for sharing your lovely secret, a beautiful present for my birthday!

**************************
You are welcome. Virgos have always held a special place in my heart.

**************************
thanks Martha, I appreciate it!


---
3 Sep 2005 @ 14:24 by scotty : Happy Birthday Silvia !
Try not to feel too sad for these people ( or at least try not to get submerged in the sadness of it all) - try to feel hope and stregnth and courage and faith - and send it out to them in a big golden bubble of love ..
they'll feel the energy of it - that'll help !

Hugs

**************
Thank you Scotty for the greetings and your advice. I undersand you very well, I know it'll help in some way. Every night after I meditate I recite the stanza that is on the right corner of my newslog, sending light and love from the heart to the world.


---
3 Sep 2005 @ 14:40 by gea : ¡Felix Cumple!
A pesar de todo...:-)

**********
Muchas gracias Shakti. Siento que este año va a ser muy importante para mi, y como soy muy optimista seguro que será un año fantástico! :-)


---
3 Sep 2005 @ 17:54 by swan : Happy Birthday, Silvia
As Martha says when you see with the eyes of a child the world is a completely different, beautiful, magical place. May this year bring you many blessings.

************
Thank you for your wish, Swan. I agree with Martha too.


---
3 Sep 2005 @ 20:05 by melztripp : happy happy birthday
what a beautiful poem. hope you're having a wonderful day, your words have brightened mine.

***********
Thank you Melanie. I had a beautiful day, in the company of my family and friends.


---
3 Sep 2005 @ 20:09 by astrid : HAPPY B-Day, Siliva! : )
You envisioning happy B-Days to all who seemingly have none to look forward to is the most loving and most powerful thing you can do!... Restoring BALANCE as in Equilibrium/ EQUALITY/ Divine JUSTICE to all in Life for ALL, is a very loving act!

**************
I wish that balance will be restored one day in a not too far future.
Thank you for your greetings!
PS: I'm still reading the book, it's wonderful!


---
4 Sep 2005 @ 14:18 by jstarrs : Thinking of others on your birthday...
..creates the cause for you to have many, many more, always surrounded by people who love you.
;0)

***************
I feel very lucky for having around people who "see" me and who love me as much as I love them. To me, that's what life is about!


---
4 Sep 2005 @ 18:01 by aaronb : your gifts!
Your open heart your transparency and willigness to share the the essence of what you are about is touching many. Thank you for sharing what is in your heart.

**************
I'm turning red ;-). Thank you for your beautiful words, Aaron. Many are also touching me with their warm and open heart.


---
5 Sep 2005 @ 21:03 by olenguap : Feliz cumpleaños
Feliz cumpleaños, me adhiero a todos los amigos de Newciv, muchas bendiciones para tí Silvia. La verdad es que llegas al alma y siento que nos merecemos una persona como tú para seguir pugnando por la concreción de nuestros ideales.Con cariño.

**************
Muchas gracias por tu felicitación y por tus amables palabras, Oscar. Todos perseguimos nuestros ideales, y seguro que si continuamos tras ellos los alcanzaremos :-). Es un placer tenerte como amigo. Un abrazo!


---
5 Sep 2005 @ 22:30 by konchock : FELICIDADES ATRADAS
SI VALE UN ABRAXZO ATRASADO Y LAS GRACIA POR COMPARTIR...........ENTONCES UYN GRAN ABRAZO, MORIS

************
Por supuesto que vale y de hecho acaba de llegarme ese abrazo! Otro grande para ti!


---
20 Sep 2005 @ 00:32 by hgoodgame : Oh I missed it!
I must have been away that week. Happy birthday Sylvia, better late than never, eh? Happy happy birthday! I hope it was a good one for you and you were surrounded by the people you love. Sept. 3rd is also my granddaughter's birthday!

************
Thank you Heidi, never it's too late :-) I had a beautiful day in the company of my family and friends. It was the first one in some years that I celebrated at home, as I was living in CA before and was very far from here. So you also have a Virgo in your family hehe, these days I've been meeting a lot of Virgos!!


---
20 Sep 2005 @ 00:51 by swanny : Yea Happiness
Yep somehow that one slipped by me too
happiness to you

ed

**********
Thank you Ed :-)


---
7 May 2009 @ 14:43 by JESSICA MARIN, DE PEREZ. @69.112.68.200 : GRACIAS
ESTUVE BUSCANDO ALGO QUE YO PUDIERA PONER EN MI FACEBOOK ,
HACERKA DE MI CUNPLEANOS Y ENCONTRE EL TULLO ESTA PERFECTO PARA MI , GRACIAS POR TENERLO AHY PARA EL QUE O QUIERA USAR ,BESOS Y SALUDOS DE UNA CHILENA EN NUEVA YORK JESSICA PEREZ..


---
7 May 2009 @ 14:45 by JESSICA MARIN, DE PEREZ @69.112.68.200 : YO OTRA VES
SE ME OLVIDO PNER QUE GUSTO HOY CUMPLO ANOS Y VOY A USAR TU POEMA.....


---
Other entries in Ideas, Creativity
23 Sep 2010 @ 18:13: fbi hacks my NEWCIV Site.
22 Sep 2010 @ 02:15: Who Wins?
21 Sep 2010 @ 23:48: Our StressOut Program for Suicide Prevention with Mindfulness
20 Sep 2010 @ 21:24: Quote for today...
16 Sep 2010 @ 19:00: From "Max Sandor's Tales to his grandson"
11 Jul 2010 @ 14:31: Germany, Uruquay, and Applied Quantum Theory
9 Jul 2010 @ 11:07: The Purpose
7 Jul 2010 @ 01:06: The Bicycle Paradigm
21 Jun 2010 @ 23:38: Summer Solstice 2010 - Sunset
4 Jun 2010 @ 21:06: Time to Shine. . .




---