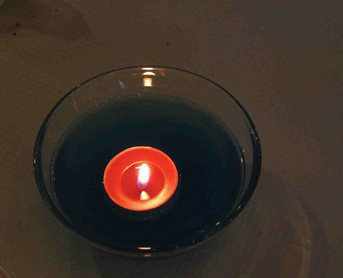 15 Dec 2005 @ 10:29, by Silvia M.S


A candle in the night

And he smiled.
A rainbow of feelings
exploded in my heart.
I want more, I want more...
there would never be enough!

And I dreamed.
I wanted to fly and touch
any of the stars glowing at night,
and take it and give it to him
and shine all together in a magic love.

Smile with me!
Dream with me!
Let's fly to the sky and light a star!
Close your eyes and find me,
I'm the one with a candle in the night.

------
Silvia Martínez, December 2005





Category: Ideas, Creativity

---
14 comments

15 Dec 2005 @ 11:27 by scotty : WOW !
really nice poem Silvia - I like the pic too !

um ... is there something you haven't told us - yet ??? heh heh heh

*********
Hahahaha, it just comes from the imagination of a poet :-D
Thank you!


---
15 Dec 2005 @ 17:05 by : Merry Christmas
and thanks for speedy assistance in both technical and protocol. A number of new years resolutions planned in the tech dept. Have a good one! Silvia

*********
Thank you Nicola, I'm always pleased to help ;-). I wish you merry Christmas to you too and a new year full of love, health and good luck!


---
15 Dec 2005 @ 18:04 by jstarrs : Hey, it sounds like...
...spring has sprung in the middle of winter!
;0)

*********
I propose to let the spring shine throughout the whole year! :-)


---
16 Dec 2005 @ 00:48 by jmarc : one great quality
of this network is it's poets. If we get one or two more, I think there would be enough to publish a New Civilization Poets Anthology. This one is nice and simple, a quality I admire. It's hard to believe english is your second language Silvia.

*******
Thank you for your kind words, jmarc. I'm glad you like the poem. It's easier for me to write in Spanish because it's my mother tongue, but recently I've started to write in English and I enjoy it as well.


---
17 Dec 2005 @ 09:10 by jstarrs : Great idea, jmarc..
...let's have a think about that.

********
Mmm, it could be a nice idea! Let's talk about it.


---
17 Dec 2005 @ 10:23 by vibrani : Sung by Peter, Paul & Mary
Nice poem, again :-)

Here's a song about lighting candles:
Light One Candle
By Peter Yarrow

Light one candle for the Maccabee children
With thanks that their light didn't die
Light one candle for the pain they endured
When their right to exist was denied
Light one candle for the terrible sacrifice
Justice and freedom demand
But light one candle for the wisdom to know
When the peacemaker's time is at hand

Chorus:
Don't let the light go out!
It's lasted for so many years!
Don't let the light go out!
Let it shine through our love and our tears.

Light one candle for the strength that we need
To never become our own foe
And light one candle for those who are suffering
Pain we learned so long ago
Light one candle for all we believe in
That anger not tear us apart
And light one candle to find us together
With peace as the song in our hearts

(Chorus)

What is the memory that's valued so highly
That we keep it alive in that flame?
What's the commitment to those who have died
That we cry out they've not died in vain?
We have come this far always believing
That justice would somehow prevail
This is the burden, this is the promise
This is why we will not fail!

(Chorus)

Don't let the light go out!
Don't let the light go out!
Don't let the light go out!

********
What a beautiful song, thank you Nora!


---
17 Dec 2005 @ 18:38 by : Anthology!
So, the germ of the idea has been planted! Silvia, what do you think about collaborating on a group anthology?
Who else writes? Katelyn? Any ideas, S?

**********
I'd love to collaborate. There are many people who write here in NCN, we could do something beautiful together!


---
18 Dec 2005 @ 11:15 by jstarrs : Maybe create a workgroup to...
...look at how to go about doing an anthology?

*********
That's sounds well! I think it's a good idea. And we could write about the new Anthology group in our newslogs, calling to other writers to join us.


---
18 Dec 2005 @ 17:09 by : So any volunteer
to set up the Anthology group? There we could talk about it and see how we can start with the Anthology. And we should invite other NCN writers to join us, it sounds so wonderful, people from many countries joined by the Muse. Poetry of the world :-)


---
18 Dec 2005 @ 18:18 by : NCN World Poet Tree
Sounds good.

******
Yes, it sounds well! I like the name! :-)


---
18 Dec 2005 @ 22:54 by jstarrs : Well, it's been created,
NCN World Poet Tree or at least a place to discuss hoxw to go about getting it together.

*******
Thank you for setting up the group, Jeff!
***********************
Ok, maybe we'll be going 'live' any day now! lol!

*******
Yes, yes, let's take off soon! :-)
****************************
Damn, 'off' or 'on'?
Language is a virus, maybe?
But Poet Tree is just a process...
let it OUT!

********
A poetic epidemic is approaching!


---
9 Feb 2006 @ 22:15 by Monica @80.141.154.222 : nice
I like this one too.
So pure and, let me think abou it.... inviting? ;)
Hugs.
Monica.

********
Thank you Monica! Hugs back to you too! :-)


---
18 Mar 2007 @ 20:29 by bond-007 : angel that left me
what sets me free is the soul and wine
love revolves around me
like the fire of angel comming forth to en-lighting me
I saw the magic of this angels wand who inspred me
with her face....
with her eyes cast down at me like so
I was so enchanted as I felt impressed
as she created light from the cold night air
but euphoric for I did feel
may be it was a dream of lit-ed candle's
that illuminated me
that left my mind with a sigh


---
18 Mar 2007 @ 20:35 by bond-007 : well this saids it
I just wrote these here from what I had felt
it was just the thought of your words what I had read on your poems
that fired me up from ur words sorry Care2 had problem
these are a couple of poems I had just wrote while I had the heart to write them here I can flutter your heart with all feeling I could do it to some women poetry is my love to anyone who admires these


---
Other entries in Ideas, Creativity
23 Sep 2010 @ 18:13: fbi hacks my NEWCIV Site.
22 Sep 2010 @ 02:15: Who Wins?
21 Sep 2010 @ 23:48: Our StressOut Program for Suicide Prevention with Mindfulness
20 Sep 2010 @ 21:24: Quote for today...
16 Sep 2010 @ 19:00: From "Max Sandor's Tales to his grandson"
11 Jul 2010 @ 14:31: Germany, Uruquay, and Applied Quantum Theory
9 Jul 2010 @ 11:07: The Purpose
7 Jul 2010 @ 01:06: The Bicycle Paradigm
21 Jun 2010 @ 23:38: Summer Solstice 2010 - Sunset
4 Jun 2010 @ 21:06: Time to Shine. . .




---