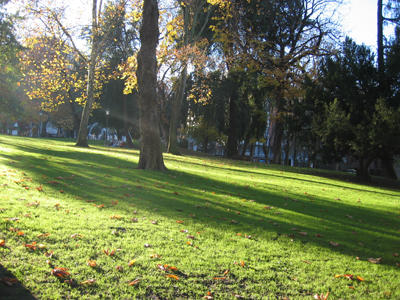 29 May 2006 @ 09:37, by Silvia M.S

I've written this poem to celebrate the divine feminine expressed in the nature, in our dear mother Earth, and in ourselves. I got inspired while walking in one of my favourite parks in Asturias. The picture was also taken there.



I SEE YOU

I see you in the wind,
you come silently,
touching me with gentle fingers,
whispering magic words
that resound in my spirit.

I see you in the grass,
soft caress of mother Earth
embracing my inner peace,
bringing me to the borderline
where nothing more exists.

I see you in the sky,
clouds of forgotten tears
painting a veil of dreams,
flowing in the empty space
shaped by you and me.

I see you in the tree,
eternal witness of the echo
lost in the infinity,
a memory that always blossoms
like flowers in spring.

I see you there,
I feel you here,
I live you always,
I'm one with you forever.

------
Silvia Martínez, May 2006







Category: Ideas, Creativity

---
8 comments

29 May 2006 @ 09:57 by : What Loveliness
for our day in this whirling new civilization! Thank you Silvia.

*********
I'm glad you've enjoyed the poem, Jazz :-)


---
29 May 2006 @ 14:45 by hopito : Blessed be to you and me!!!
Blessed be you!!! May the cosmic of the universe find our spirits and renew them with life!!!

******
Thank you for your comment, hopito.
Light and love from Spain!


---
8 Jun 2006 @ 11:33 by @217.10.38.40 : Beautiful!
So very beautiful! Everything is lovely here: the photo, the blog itself and the wonderful poem! Thank you, dear Silvia!

*******
Hey, Tatiana, many thanks for commenting! I'm glad you like my blog and everything! Hugs from Spain.


---
29 Jan 2015 @ 11:08 by Jhanenuj @217.122.46.161 : yphivtmLdzSWfJJq
I should not be geitntg thisThis is virtual trashA clutter in my mailboxGoing rabid by the moment.I should not be geitntg thisBut I read it all the sameIf only to control, to ensureThis is not mine to claim.I should not be geitntg thisAnd receiving it annoys meSuch a waste of my timeAnd digital breathing space.I should not be geitntg thisAnd wonder how it got to meWhat hiccup in the virtual serverSpewed this nonsense at me.I should not be geitntg thisBut I am keeping it stillAs a proof of absurdityUnwilling to trash it all the same.


---
29 Jan 2015 @ 16:02 by Mohamed @186.91.76.52 : TFPZgtIdSfVC
Kinda interesting most of the kids and alduts that I write with discover their great ideas in the shed. I have to wonder how many of us are carrying around compelling stories and bits of wisdom that rarely see the light of day for one reason or another. I know that for many, these stories don't get told simply because we are all so busy maintaining the life that we live inside of those other rooms ..I know that teachers are often provided training and resources for helping kids deal with the kind of loss that you experienced. I'm not sure how much of that training or how many of those resources are designed or informed by people who have experience with both teaching and significant loss, as you do. I hope you will write that story. Know that a bunch of us at Studio would be happy to provide feedback too, I'm sure. In fact, just a couple of weeks ago, Studio teachers began talking about the fact that we need to be investing in our own writing more, and we've made a commitment to do that in the year ahead. So, we're all beginning or beginning again as writers invested in things that matter to us beyond our work as teachers, and if you ever want to jump into the mix, I can promise you we're a friendly bunch and would love to include you. Our is right here, and you and your kids are welcome to join us there anytime. We'll talk more as all of you get further into the process.Thanks again, Andrea. I learned a lot.


---
1 Feb 2015 @ 02:17 by Gau @190.204.135.123 : prYGGWoXtokD
Uneblievable how well-written and informative this was.


---
13 Feb 2017 @ 11:52 by @45.116.233.5 : Let me Know
touching me with gentle fingers, I see You.


---
22 Feb 2017 @ 10:05 by @45.116.233.28 : website these few days
I'm want to bookmark your website . You surely have impressive stories. Appreciate it for sharing your webpage.


---
Other entries in Ideas, Creativity
23 Sep 2010 @ 18:13: fbi hacks my NEWCIV Site.
22 Sep 2010 @ 02:15: Who Wins?
21 Sep 2010 @ 23:48: Our StressOut Program for Suicide Prevention with Mindfulness
20 Sep 2010 @ 21:24: Quote for today...
16 Sep 2010 @ 19:00: From "Max Sandor's Tales to his grandson"
11 Jul 2010 @ 14:31: Germany, Uruquay, and Applied Quantum Theory
9 Jul 2010 @ 11:07: The Purpose
7 Jul 2010 @ 01:06: The Bicycle Paradigm
21 Jun 2010 @ 23:38: Summer Solstice 2010 - Sunset
4 Jun 2010 @ 21:06: Time to Shine. . .




---