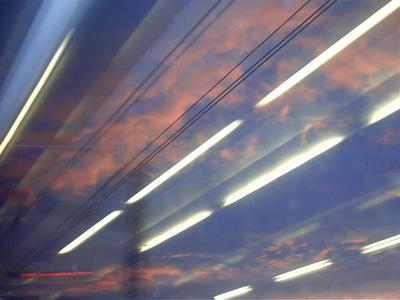 19 Dec 2005 @ 16:05, by jstarrs

Welcome to The NCN Poet Tree Anthology...we hope you'll enjoy this evolving, involving and revolving selection of prose from NCN poets, worldwide - submissions are welcomed.

frustration
sits in the stomach till it blasts out in a scream
CDs fly
shoes untie in the middle of a rampage

telephones answer in electronic drones
nobody homes when somebody's needed
time runs out when a little more would suffice

a pile of obstacles lie in one's path
frustration takes on weight of wrath

calm cool
sounds like a fool
when life is so obviously urgent

too many balls juggled
too many falls
too much
too loud
too impotent

frustration cloys
air passages clog
impossible choices
again come the voices

you should, you could've
you need, you didn't
you, you,
the voices nag
the voices, the chorus of voices

frustration
like a claustrophobic cubby hole
joy withers, the walls close in
frustration
[link]


http://www.newciv.org/pic/mem/pers/lr/judih.jpg
judih [link]
(dedicated to my son, A)

Note from Jeff:
Judih was talking about jamming on the poems.
I had to ask her what that was and she said "jeff - jamming is writing a spontaneous poem as response to another one.
i write for example my thing on frustration and you type out your poetic response. that's open jam. Neurons heaving and actively responding."
so, taking it from the last line...

The walls close in frustration?
then you gone end up like
those arms in repulsion like
pushing through the plaster
cos there ain't no space
only some desire
on the other side of you face like
outta reach and sucked inside out
to the detriment of the loved ones
watching you frust & thrust & kick about...
and anyway
what kinda life is that?





Category: Ideas, Creativity

---
13 comments

21 Dec 2005 @ 14:46 by : what kinda life
bleeding knuckle life
punching through invisible gelatin veins bulging blending
osmosis of impotence surgin nowhere

what kinda life
when the smiles and golden gleams
melt at my touch
i find the starting line just when its finished
it, always an inch away
a metre past metric high
a jump short of a flag stucked in an arctic pole

'too bad' sneers its taunting head
'almost' clucks its two-pronged tongue
my heart loops while my body crumbles

my loved ones feed me batteries and soup
and with habitual hope
we trudge onto tomorrow
*************************
wonder
fully
angry!


---
21 Dec 2005 @ 21:05 by : we trudge onto tomorrow
and tomorrow comes
with the pocket full of rocks
ready to be thrown
over the path,
a new path ready to be walked,
a new walk ready to be wrong.
Am I wrong?
Who is right?

I see the wall,
the wall behind the closed door
waiting for my naiveness
to run through it again,
and a door behind that wall
and my puzzled face behind.


---
21 Dec 2005 @ 21:44 by jstarrs : And behind the puzzled face..
..comes the next trace
of self insisting it's pre-sense
like a lace veil
and next thing it's gona be
telling me I'm gonna need
a bunch of hail mary's
to ease my troubled mind
but in time and at the back of everything
every thing will be let go of.


---
22 Dec 2005 @ 15:51 by : i wanna let go
i wanna let my people go
my problems go
my worries, gravity and selfishness go
i wanna let sighs and goodbyes
and sometimes go

one day at the back of the wardrobe
when lions and witches all let go
i'll find the answer to the puzzle
and the puzzle will turn to dust


---
22 Dec 2005 @ 20:30 by jmarc : Nice to see this manifestation
of an early morning thought. Don't stop!
************************************
Thanks, Jose...we're not sure where this newslog is going but we hope it'll be bursting with peoples poet trees.
Oh, and 'jamming' higly encouraged.
Prose for display as an individual article can be sent to me or any of the members here...enjoy!


---
22 Dec 2005 @ 20:53 by jstarrs : and then I give it all away...
and then I give it all away
and what I have to show for it?
dust.
Dur Us Sur Te!
In fact nothing but empt'ness
then into this space, see, this not thing
crawled a speeg baby seed call diss ire
with a maw the size of your biggest thought
and he come scrawling bigger getting
running through frusting
again & again.


---
23 Dec 2005 @ 09:38 by : strate frust
strate through the gate of frust
thrust the mighty maw of d.zire
quintessential mire, again and again
like a swirling dinosaur in a california carousel
tarred and feathered, whether or not it's real
don't matter
cause we feel the straits of frust
in our humanoid empty gust, swirl, whirl
tar pit traffic circle
no rightaway
now or never
round and round

frustratingly slow
retard
dead
dead
dead
d.sire knocks
while small folks exit, major mouths diatribe till the time crumbles
all dust in an earthbound sneeze


---
23 Dec 2005 @ 14:40 by jstarrs : Wow...
....stopped in my tracks!


---
27 Dec 2005 @ 21:02 by : tracked
last track loops in my mind
turn, turn, turn
final sound hooked
i hang on to a bitter chance encounter
a hidden leech in muddy water

somewhere there's a sunshine fact
waiting to be gleaned
someday there'll be a hand outstretched
to pull me from the mud of present tense


---
26 Apr 2016 @ 14:52 by @103.238.106.146 : french open
http://www.tennis2016live.com/


---
29 Apr 2016 @ 13:54 by @103.12.162.4 : brilliant! I would like to share this ar
Togel Online Singapore
Togel Online Hongkong
Bandar Togel Singapore
Bandar Togel
Togel Online Terpercaya
Bandar Togel Online Terpercaya
Togel Online
Agen Togel Online Terpercaya
Agen Togel Online


---
17 Oct 2016 @ 16:25 by @103.12.162.3 : togel online hongkong
was very helpful and very useful
articles that you provide very helpful and nice to everyone thanks
promo
[link]
daftar
[link]
cara
[link]
informasi
[link]
Buku mimpi
[link]


---
28 Nov 2016 @ 23:12 by @43.252.17.165 : togel online
After read a couple of the articles on your website these few days, and I truly like your style of blogging. I tag it to my favorites internet site list and will be checking back soon. Please check out my web site also and let me know what you think.
praturan
[link]
home
[link]
daftar
[link]
cara main
[link]
hasil
[link]
buku mimpi
[link]


---
Other entries in Ideas, Creativity
23 Sep 2010 @ 18:13: fbi hacks my NEWCIV Site.
22 Sep 2010 @ 02:15: Who Wins?
21 Sep 2010 @ 23:48: Our StressOut Program for Suicide Prevention with Mindfulness
20 Sep 2010 @ 21:24: Quote for today...
16 Sep 2010 @ 19:00: From "Max Sandor's Tales to his grandson"
11 Jul 2010 @ 14:31: Germany, Uruquay, and Applied Quantum Theory
9 Jul 2010 @ 11:07: The Purpose
7 Jul 2010 @ 01:06: The Bicycle Paradigm
21 Jun 2010 @ 23:38: Summer Solstice 2010 - Sunset
4 Jun 2010 @ 21:06: Time to Shine. . .




---