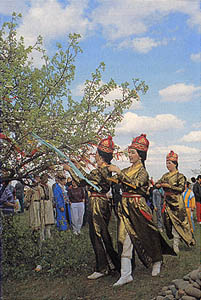 19 Jan 2006 @ 19:17, by jstarrs

Welcome to The NCN Poet Tree Anthology...we hope you'll enjoy this evolving, involving and revolving selection of prose from NCN poets, worldwide - submissions are welcomed.

This year, I will ride to Kalmykia

Most of its territory is covered
with the plains of the north-western edge
of the Caspian Coast depression and

I don't know, I will ride to Kalmykia
maybe towards the end of the year
if everything fall's into place or falls apart
or earlier would be better –
spring in the steppes, that would be good and

its geographical position is
between 41°40/-47°35/ (northern latitude)
and 44°50/ -40°10/(eastern longitude) and

I'll see pin-points of color on an infinite plain :
some distant far-off sign
of some existence
of some godamn where

nowadays there remain the valleys
of the rivers Zapadnii (Western) Manich and
Vostochnii (Eastern) Manich,
the lower courses of the Kuma and
numerous salt-water lakes and lagoons and

I'll dig up a golden sythe artifact
as I bury my dried up walnut-of-a-heart
before it disappears all together
Now, yes, now I will ride to Kalmykia

(Jeff:09/01/2006)
Image shows a Kalmyk tree sanctifying ceremony





Category: Ideas, Creativity

---
5 comments

20 Jan 2006 @ 04:40 by : ah, blessed be! the Kalmykia pilgrimage
Has the sun risen over my intended goal?
Has the time arrived for a buckle and a farewell?
Kalmykia calls
o! Kalmykia, do you hear my beating heart
My well-oiled boots protected from all that would hinder
These well-travelled feet, playing with the music of road

Blessed be! The Kalmykia pilgrimage sings for thee
She sings for me
As my brother locks up his barrels of beer
Packs his donkey fair
Kalmykia radiates welcome

To those with ears, listen to the march to Kalmykia
*******************************************************
That sounds like an authentic Kalmyky song.
My heart aches.
;0)


---
26 Jan 2006 @ 10:27 by : Calm Nike
This is me

Hitching a ride to Calm Nike
Where the Victory angel lowered
In rest her wing tips upon the ground

A calling to the Spheres
The ever many thousands of them
Pausing in simultaneous unison

A sparkle flash of smiling
On the ground not of the earth
Like a fireside in the Sky

Calm Nike, lets plant the Tree
Of Peace to grow huge in one place
For its seed smiles to be wind-carried
Everywhere

NSR 25.01.06
**********************************
Another heart-ache one...these will belong in the Kalmyky Kollection,
written on tough grass stems, the interminable plains wind blowing away the syllables...
++++++
Not aching but found, real, there . . .


---
29 Apr 2016 @ 11:14 by @103.12.162.4 : brilliant! I would like to share this ar
Togel Online Singapore
Togel Online Hongkong
Bandar Togel Singapore
Bandar Togel
Togel Online Terpercaya
Bandar Togel Online Terpercaya
Togel Online
Agen Togel Online Terpercaya
Agen Togel Online


---
17 Oct 2016 @ 16:12 by @103.12.162.3 : agen bola terbesar

This is great and really informative.. I'll keep following your web and your article, thanks for sharing :)
games
[link]
praturan
[link]
daftar
[link]
promo
[link]
deposit
[link]
witdraw
[link]
berita
[link]
girl
[link]
live
[link]


---
28 Nov 2016 @ 21:59 by @43.252.17.165 : togel online
After read a couple of the articles on your website these few days, and I truly like your style of blogging. I tag it to my favorites internet site list and will be checking back soon. Please check out my web site also and let me know what you think.
praturan
[link]
home
[link]
daftar
[link]
cara main
[link]
hasil
[link]
buku mimpi
[link]


---
Other entries in Ideas, Creativity
23 Sep 2010 @ 18:13: fbi hacks my NEWCIV Site.
22 Sep 2010 @ 02:15: Who Wins?
21 Sep 2010 @ 23:48: Our StressOut Program for Suicide Prevention with Mindfulness
20 Sep 2010 @ 21:24: Quote for today...
16 Sep 2010 @ 19:00: From "Max Sandor's Tales to his grandson"
11 Jul 2010 @ 14:31: Germany, Uruquay, and Applied Quantum Theory
9 Jul 2010 @ 11:07: The Purpose
7 Jul 2010 @ 01:06: The Bicycle Paradigm
21 Jun 2010 @ 23:38: Summer Solstice 2010 - Sunset
8 Jun 2010 @ 11:52: 365 Tao: Daily Meditation WRITER




---