| | |
| --- | --- |
| Ease My Rough-Worn Spirit | |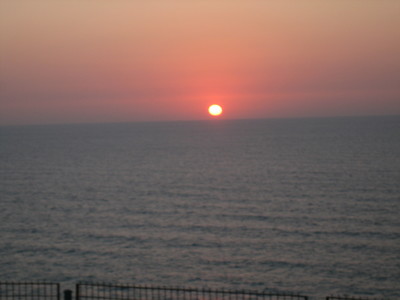 28 Jan 2006 @ 07:50, by Judih Haggai

................
a gentle benediction. If the mood fits, claim these whispered words.

__________________________________________


take the rough
welcome the confused
ease my soul smooth

sing in waves and crests of surf
paint the sun gently
in soothing scintillation

come oceans of destiny
lap my toes with invitations
urge me to merge with you

....judih






Category: Ideas, Creativity

---
6 comments

28 Jan 2006 @ 09:40 by : I urge...
you by all means! Urgus at once sublime and innocent knows...
An Urge is only an Urge when it is reality that truly holds...
Thus holding ME the one who truly knows...
That we are one already...
That's bold...

But, then, a merger is a merge in deed...
A contract, agreement, between two souls...
Who in becoming alligned of purpose...
Yet still retain their individuality...

Throughout all time and space...
Infinite the Grace with which...
Those Daemonic hordes do address...
The wonders our agreements wrought.


---
28 Jan 2006 @ 17:43 by jstarrs : This is the font...
...these the offerings....

___________________________

this is the alphabet
...such is the moment


---
30 Jan 2006 @ 19:17 by : a lyrical dip in the cosmic clue
if achilles had only known
a heel is a sore spot
but all's available
possibilites walk on water
urges and merges
a sunshine cartwheel
over rigormortis shales

where hearts beat
all thoughts dwell

finding the way clear
tunnels are everywhere
hillsides grow

an island of unveiled moments
where a being can thrive
between noise of lifetimes
and the rift of offered secrets

come sit a spell


---
31 Jan 2006 @ 16:52 by : Silvery waters caught in the flow
Pearls tumbling out
Of shining waters oceans deep
And telling the truth, may always keep

More hidden pearls familar in name
But spoken in a way just the same
How can this be I say to me
On this ever so pretty poem tree

Mine was from theirs
After so many tries
Then theirs from mine
Immediate wise
As to intertwine

How sweetly kind could any words go
When started with an old torso
Which now sees n' hears
n' wonders so

__________________________

swift the hug from a friend
clouds split, ray of warmth
sitting in your smile








---
3 Feb 2006 @ 01:17 by @71.209.211.56 : Whispered words..
whispered words
a cello playing in sweetgrass
a benediction
whispered words
a flute playing in early morning mist
whispered words
a lovely puja
whispered words-a gentle touch...

Thank you Judih

_________________

Welcome lionsmile

whispered sounds
harmonic agreement
directions blend


---
29 Apr 2016 @ 11:12 by @103.12.162.4 : brilliant! I would like to share this ar
Togel Online Singapore
Togel Online Hongkong
Bandar Togel Singapore
Bandar Togel
Togel Online Terpercaya
Bandar Togel Online Terpercaya
Togel Online
Agen Togel Online Terpercaya
Agen Togel Online


---
Other entries in Ideas, Creativity
23 Sep 2010 @ 18:13: fbi hacks my NEWCIV Site.
22 Sep 2010 @ 02:15: Who Wins?
21 Sep 2010 @ 23:48: Our StressOut Program for Suicide Prevention with Mindfulness
20 Sep 2010 @ 21:24: Quote for today...
16 Sep 2010 @ 19:00: From "Max Sandor's Tales to his grandson"
11 Jul 2010 @ 14:31: Germany, Uruquay, and Applied Quantum Theory
9 Jul 2010 @ 11:07: The Purpose
7 Jul 2010 @ 01:06: The Bicycle Paradigm
21 Jun 2010 @ 23:38: Summer Solstice 2010 - Sunset
4 Jun 2010 @ 21:06: Time to Shine. . .




---