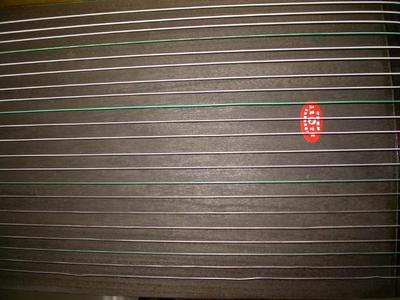 14 Apr 2006 @ 04:34, by Judih Haggai

sounds paint pictures

Impressionist Zither



wheat field applause
the sway against strange bird whistles
distant swish, waves of busy tails
lone horse grazing at the foot of a hill
cows intent on daytime

i hear those kingfisher blues
crowning glory on a feathery lakeshore









Category: Ideas, Creativity

---
9 comments

15 Apr 2006 @ 10:03 by : You Got Kingfishers Over There?
O I love those birds! We're just on a convergence of creeks at our homestead, but in the Spring the water is high enough to support one or 2. The rattling racket of their calls inspires me to get to work on the garden. In Australia they have kookaburras, which I think must be even crazier.
Enjoy the Passover...and I know you'll welcome in this comment a reference to the Christian Kingfisher whose call tomorrow will rattle my bones: Don't just lay there turning to dust! Get up and do the work!


---
15 Apr 2006 @ 18:34 by : Kingfisher, shot by Fichman Israel
check out this photo
[link]

Sunday blooms before us. Another day to rise with the sun.


---
16 Apr 2006 @ 10:53 by : You Mean Shot, As In Photographed
I was alarmed.

What an absolutely beautiful bird! As you remember, over here their markings are more like a blue jay.


---
16 Apr 2006 @ 11:46 by : turn off the alarm, she was only kidding
shot = photographed...yeah, that's what i meant! Thanks for headlining it, Richard.

Gorgeous bird, indeed. As is the hummingbird - the species seem to morph somewhat over here - my brother was amazed to see the difference in our crows - grey with white and black markings.

Blue Jays are fine, also - we get other bright blue birds here, but they seldom hold still long enough for me to capture their beauty on film.


---
21 Apr 2006 @ 22:08 by jstarrs : Last time I was at my mothers
I had the pleasure of seeing a kingfisher do an "aller-retour" on the little stream that backs her house.
Like a diamond arrow, so fast, this her, zither, under bridge her color with her.

________________
and wow-there! a sight for lumious eyes-there, this zith tremendouth

cafe au lait would harmonize this lisp/cusp/ascendent


---
29 Apr 2016 @ 09:25 by @103.12.162.4 : brilliant! I would like to share this ar
Togel Online Singapore
Togel Online Hongkong
Bandar Togel Singapore
Bandar Togel
Togel Online Terpercaya
Bandar Togel Online Terpercaya
Togel Online
Agen Togel Online Terpercaya
Agen Togel Online


---
7 May 2016 @ 14:28 by @103.250.146.15 : RR

French open 2016 live stream


---
17 Oct 2016 @ 15:11 by @103.12.162.3 : togel online hongkong
After read a couple of the articles on your website these few days, and I truly like your style of blogging. I tag it to my favorites internet site list and will be checking back soon. Please check out my web site also and let me know what you think.
praturan
[link]
home
[link]
daftar
[link]
cara main
[link]
hasil
[link]
buku mimpi
[link]


---
28 Nov 2016 @ 18:55 by @43.252.17.165 : agen bola
This is great and really informative.. I'll keep following your web and your article, thanks for sharing :)
games
[link]
praturan
[link]
daftar
[link]
promo
[link]
deposit
[link]
witdraw
[link]
berita
[link]
girl
[link]
live
[link]


---
Other entries in Ideas, Creativity
23 Sep 2010 @ 18:13: fbi hacks my NEWCIV Site.
22 Sep 2010 @ 02:15: Who Wins?
21 Sep 2010 @ 23:48: Our StressOut Program for Suicide Prevention with Mindfulness
20 Sep 2010 @ 21:24: Quote for today...
16 Sep 2010 @ 19:00: From "Max Sandor's Tales to his grandson"
11 Jul 2010 @ 14:31: Germany, Uruquay, and Applied Quantum Theory
9 Jul 2010 @ 11:07: The Purpose
7 Jul 2010 @ 01:06: The Bicycle Paradigm
21 Jun 2010 @ 23:38: Summer Solstice 2010 - Sunset
8 Jun 2010 @ 11:52: 365 Tao: Daily Meditation WRITER




---