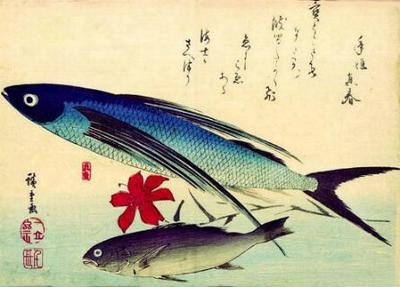 23 May 2006 @ 12:00, by jstarrs

"Soup and fish explain half the emotions of life."
Sydney Smith

Do fish hurt.... when thrashing
in sunlight, hook deep mouth gut
spinning scales like sequins or
smashed on rock, sand particles
abrazing flesh, blood gills wide
snapping under thumb and mesh
unbelieving eyes unfrowning
hiding feeling, numb, no nerve?

(Jeff Starrs)





Category: Ideas, Creativity

---
7 comments

23 May 2006 @ 15:01 by : fish hurt
i feel fish hurt
i see eyeballs unstared
straight into hurt
lost at sea
on land
on plate
fish hurt, hurts me
i swim fish hurt through daily specials
i choose my own fish hurt from large barbecue tanks
i glug fish hurt and gill fish hurt
i fish hurt for thee
we
fish
hurt
************************
:0( oh yes...

&&&&&&&&&&&&&&&&&&&&&&&

& a big thank you for bringing this fish(ue) to light


---
23 May 2006 @ 18:57 by jmarc : Do Fish Hurt?
1. Dispatch them quickly if you must. Don't fish for sport alone. Be prepared to eat what you catch. Catch only what you can eat.

Do Fish Hurt?
2.Yes they can. They can hurt alot. Eat only the small ones. LINK

Do fish Hurt?
3. Yes they do. And they don't care. LINK

Do Fish Hurt?
4. A filet of striped bass or cod or haddock tastes so good, it melts away all guilt.


---
23 May 2006 @ 18:59 by : In general,
no, but then...
They just beg to be eaten so?
Just so...


---
23 May 2006 @ 23:58 by martha : In general,
YES

Or are we the one's hurt
seeing their bodies thrashing
sand covering shiny scales
Mouths gapping, eyes bulging
longing to go free....

(Mr. Morris...salmon lover)


---
24 May 2006 @ 09:20 by ashanti : Yep
Fish hurt.


---
29 Apr 2016 @ 09:08 by @103.12.162.4 : brilliant! I would like to share this ar
Togel Online Singapore
Togel Online Hongkong
Bandar Togel Singapore
Bandar Togel
Togel Online Terpercaya
Bandar Togel Online Terpercaya
Togel Online
Agen Togel Online Terpercaya
Agen Togel Online


---
17 Oct 2016 @ 14:53 by @103.12.162.3 : togel online hongkong
After read a couple of the articles on your website these few days, and I truly like your style of blogging. I tag it to my favorites internet site list and will be checking back soon. Please check out my web site also and let me know what you think.
praturan
[link]
home
[link]
daftar
[link]
cara main
[link]
hasil
[link]
buku mimpi
[link]


---
Other entries in Ideas, Creativity
23 Sep 2010 @ 18:13: fbi hacks my NEWCIV Site.
22 Sep 2010 @ 02:15: Who Wins?
21 Sep 2010 @ 23:48: Our StressOut Program for Suicide Prevention with Mindfulness
20 Sep 2010 @ 21:24: Quote for today...
16 Sep 2010 @ 19:00: From "Max Sandor's Tales to his grandson"
11 Jul 2010 @ 14:31: Germany, Uruquay, and Applied Quantum Theory
9 Jul 2010 @ 11:07: The Purpose
7 Jul 2010 @ 01:06: The Bicycle Paradigm
21 Jun 2010 @ 23:38: Summer Solstice 2010 - Sunset
8 Jun 2010 @ 11:52: 365 Tao: Daily Meditation WRITER




---