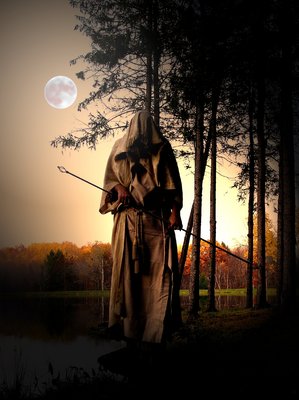 21 Feb 2006 @ 23:48, by N Marion Hage

A lonely Seer dressed in gold-laced robes still walks this earth, appearing and disappearing as he slips in and out of the in-between realm.

Once a king of men, he was selfish and cruel, but no moreso than all the kings of the earth were in the days when evil prevailed. On the eve of the destruction of the world, this king relented of his wicked deeds, and turned to save the perishing from the nations.

The world as it was could not be saved, and was nearly torn in two, but through his efforts a remnant survived and were permitted to rebuild on the new lands that formed.

He was appointed as Watchman over the nations along with a small host of others, to warn them that the very same unseen evil that despoiled all that went before, was still alive and seeking new victims.

N. Marion Hage 2/25/06

*All pictures and story lines are the intellectual property of N Marion Hage, and copywritten. Please do not use this information without permission of the author.

Pictures were taken by Susan Demko and Jim Jasterzinski. Photoart and costume were by N Marion Hage.