9 Dec 2015 @ 10:52, by erlefrayne. Personal Development
From my genius grandfather, Estanislao Argonza, did I first learn my Mozart appreciation. From him too did I learn Ybanag folk music and dance of Mascota. An 'old soul', Grandpa (as we fondly called him) was the core reason why I was embodied in my family, as both of my parents, who are of average intelligence, are inadequate to understand nor handle a tot who was born a gifted child. A math & music genius, he and my grandmother, a retired teacher, also taught me breeding and culture. More >



12 Sep 2010 @ 03:36, by Unknown. Personal Development

Heres sept desktop moon/sun calandar

Autumn Equinox is on the full moon this year Sept 23 as well as the winter solstice is on the full moon producing a lunar eclipse on Dec 21, an alignment of sorts or realignment it would appear. Two in a row? Hmmmmm interesting.... More >



1 Apr 2010 @ 09:27, by scotty. Personal Development
I was reading something recently where it gave some pointers to how one can become a wee bit more 'mindful' ..

"Take a few minutes, either at home or on your way to work, to notice something enjoyable about the morning: perhaps the sunlight or the rain or the face of a child or a flower or the sounds of birds or the wind"...

actually I do this all the time - but it somehow develops itself into what I can only call
utter mindlessness heheheh !


But seriously though .. I think that mindfulness is something vital ! More >


23 Feb 2010 @ 01:44, by skookum. Personal Development
A great article written by Clara Moskowitz from Live Science... at this site

[link]

(an excerpt of her article)

5 Things That Will Make You Happier
LiveScience.com



LiveScience.com clara Moskowitz
livescience Senior Writer
livescience.com – Mon Feb 22, 11:50 am ET




Here are five things that research has shown can improve happiness:

1. Be grateful - Some study participants were asked to write letters of gratitude to people who had helped them in some way. The study found that these people reported a lasting increase in happiness - over weeks and even months - after implementing the habit. What's even more surprising: Sending the letter is not necessary. Even when people wrote letters but never delivered them to the addressee, they still reported feeling better afterwards.

2. Be optimistic - Another practice that seems to help is optimistic thinking. Study participants were asked to visualize an ideal future - for example, living with a loving and supportive partner, or finding a job that was fulfilling - and describe the image in a journal entry. After doing this for a few weeks, these people too reported increased feelings of well-being.

3. Count your blessings - People who practice writing down three good things that have happened to them every week show significant boosts in happiness, studies have found. It seems the act of focusing on the positive helps people remember reasons to be glad.

4. Use your strengths - Another study asked people to identify their greatest strengths, and then to try to use these strengths in new ways. For example, someone who says they have a good sense of humor could try telling jokes to lighten up business meetings or cheer up sad friends. This habit, too, seems to heighten happiness.

5. Commit acts of kindness - It turns out helping others also helps ourselves. People who donate time or money to charity, or who altruistically assist people in need, report improvements in their own happiness.
Lyubomirsky has also created an iPhone application, called Live Happy, to help people boost their well-being. More >



17 Feb 2010 @ 08:15, by scotty. Personal Development

"Whenever fear comes to you, don't suppress it, don't repress it, don't avoid it, don't get occupied in something so that you can forget about it.
No! When fear comes, watch it.
Be face to face with it.
Encounter it.
Look deep into it.
Gaze into the valley of fear.
Of course you will perspire, and you will tremble, and it will be like a death, and you will have to live it many times. But by and by, the more your eyes become clear, the more your awareness becomes alert, the more your focus is there on the fear, the fear will disappear Like a mist. And once fear disappears, sometimes, even for only a moment, suddenly you are deathless.
There is no death.
Death is the greatest illusion there is, the greatest myth -- a lie.
For even a single moment, if you can see that you are deathless.
Then no meditation is needed.
Then live that experience, then act out of that experience, and the doors of eternal life are open for you.
Much is being missed because of fear.
We are too attached to the body and we go on creating more and more fear because of that attachment.
The body is going to die, the body is part of death, the body is death -- but you are beyond the body.
You are not the body; you are the bodiless.
Remember it.
Realize it.
Awaken yourself to this truth -- that you are beyond the body. You are the witness, the seer.

Then death disappears and fear disappears, and there arises tremendously glorious life ." More >



13 May 2008 @ 09:52, by jazzolog. Personal Development
Winter solitude---
in a world of one color
the sound of wind.

---Basho

Loneliness, my everyday life.
The sweeping winds pass on the night-bell sound.

---Ching An

Science...means unresting endeavor and continually progressing development toward an end which the poetic intuition may apprehend, but which the intellect can never fully grasp.

---Max Planck

The fresco is titled The End of the World, Apocalypse, created by Luca Signorelli from 1499 through 1502, in Orvieto Cathedral, San Brizio Chapel, Orvieto, Italy.

Bill McKibben's latest essay, Civilization's Last Chance: The Planet Is Nearing a Tipping Point on Climate Change, and It Gets Much Worse, Fast, may have appeared first in Sunday's Los Angeles Times, but it's making the rounds fast. Common Dreams put it up yesterday and it has 146 comments so far. [link] When I read it my first thought was to send it out too, but then I realized I was too depressed to do it. What's the use, I thought. People who will read it already know and either are changing their own personal habits or sending money somewhere. Those who won't read it are the problem.

Psychotherapist and professor of history Carolyn Baker linked it in her newsletter and made this comment: "I have great respect for Bill McKibben, but unlike me, he is still waiting for some miracle of mass consciousness to save civilization. In this article he says we are 'nearing' a tipping point which in my opinion, we have already crossed. I believe that climate change now has a life of its own and that our best human efforts cannot stop it. In contrast to McKibben, I believe that it is only the END of civilization that can save what is left of the earth and its inhabitants, and for me, that cannot happen soon enough."

A friend of mine said a couple years ago, "The sooner we run out of oil the better. Aren't a hundred years of war about the stuff enough?" NASA climatologist James Hansen, quoted in McKibben's article, thinks burning coal to make our electricity is what's done it. President Bush said the U.S. is "addicted" to oil...and then advises us to go shopping. The guy sounds like a pusher. I remember his father being interviewed on television, sitting on the family cabin cruiser in Kennebunkport, in the midst of the gasoline shortage during his administration. At the end of it he was asked if he didn't want to urge Americans to conserve gas. He chuckled audibly...and then said, "Sure, conserve."

Is this the problem? Are we addicts now? I mean real addiction to stuff. Do we think we can't live without gasoline engines and the shopping mall? Or is it I don't want to live if I can't have it? I remember a guy in AA telling me once, "Before I gave it up I used to feel all I wanted to do was drink and smoke until I die." Maybe AA is the answer for consumerism too. Carolyn Baker thinks it is...and so last week she offered her 12 Step Plan to kick the habit. Maybe she's got something here. More >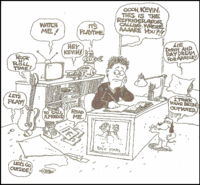 6 May 2008 @ 13:57, by ming. Personal Development
L.A. Times: "Does your brain have a mind of its own?" - Why can't we stick to our goals? Blame the sloppy engineering of evolution.
How many times has this happened to you? You leave work, decide that you need to get groceries on the way home, take a cellphone call and forget all about your plan. Next thing you know, you've driven home and forgotten all about the groceries.

Or this. You decide, perhaps circa Jan. 1, that it's time to lose weight; you need to eat less, eat better and exercise more. But by the first of May, your New Year's resolutions are a distant memory.

Human beings are, to put it gently, in a unique position in the animal world. We're the only species smart enough to plan systematically for the future -- yet we remain dumb enough to ditch even our most carefully made plans in favor of short-term gratification. ("Did I say I was on a diet? Mmm, but three-layer chocolate mousse is my favorite. Maybe I'll start my diet tomorrow.")...
I thought it was just me. It seems surprisingly hard to make my mentally conceived plans stick. If once in a while I really feel what needs to happen in my bones, or in my gut, it happens. But if it is merely a good idea, however logical, coherent and important I conclude it is, it usually gets overridden by whatever distraction that shows up that feels more compelling in the moment. And my plans are easily forgotten.

The article blames it on faulty evolutionary engineering. I'm not sure I believe in such a thing, i.e. I don't quite believe that evolution is so dumb and blind, but he does have a point. Our animal instincts are well developed. A danger appears and we'll know how to jump aside, without thinking about it. Something delicious appears in front of our nose and we'll be munching on it it no time. Our abstractly thinking mental faculties are much more sophisticated, but at the same time they seem like an after-thought, not entirely wired into the machinery. We can make great plans, based on the processing of abstract information, aimed at desirable long term objectives. But a single piece of chocolate cake or a random interesting website might get us off track.

I suppose some people have something called discipline, which involves subordinating what one actually feels to one's mental plans and ideals. But that just seems so .. brutal. It would of course be better if one's instincts, emotions and physical desires actually were synchronized with the mental planning. Not subordinated to it, as the mental ideas aren't necessarily the ones that are right. But coordinated at least. Maybe I should work on that. Or maybe I'll see what's on TV. More >



7 Apr 2008 @ 19:29, by hyphenate. Personal Development
Maybe I am just a numbskull. I have a problem… but I believe it is a good one. I love it and hate it. It is the best and worst of me. In all of it there doesn't seem to be a resolution. A minor war rages within. And it's cool with me, most of the time.

It's just that I get interested, enthused and excited… about everything. Well, many things. This has contributed to me being a jack of all trades, master of none. It keeps me perpetually interested in learning something new. It has me jumping from thing to thing. It makes me question my focus. It helps me to be a good "big picture person", but to also appreciate and admire the "detail people". It got me a shot once on "Who Wants to Be a Millionaire" with Regis. And I know enough to be dangerous on a lot of subjects, but am never really able to craft detailed arguments and stories that don't ramble or ping-pong into all kinds of other areas. It helps me "get" the references in just about any Dennis Miller rant and to understand the nuances within most comedy and appreciate a lot of Charlie Rose interviews. It's a real pisser when it comes down to answering someone's question of, "So, what to you do?"

When listening to music I want to immerse into this genre and be able to play each instrument that comes forward with a solo… until the next song, that is of a different genre and highlights other instruments. On Saturday mornings I can find myself switching between the Topeka and Kansas City PBS stations, delving into the garden shows, home improvement shows, art classes, quilting shows, and cooking shows… and to then chastise myself for having spectated the morning away as opposed to having participated in one of these or any of my other interests during the same period. I think I sometimes freeze amidst maybe too many choices. At times I hear the echo of my feisty, New Yorker roommate from Annapolis, chiding me to, "Do something… even if it's wrong."

This universal interest in things makes me lose myself in front of a magazine rack or in a bookstore or on internet searches that take me from A to D to J and back to B, and 12:45 to 4:30 pm, without my having known how I got moved around the gameboard.



"Fires can't be made with dead embers,
nor can enthusiasm be stirred by spiritless men.
Enthusiasm in our daily work lightens effort and
turns even labor into pleasant tasks."
-- James Arthur Baldwin

"Catch on fire with enthusiasm
and people will come for miles to watch you burn."
-- John Wesley

"Charisma is the transference of enthusiasm."
-- Ralph Archibold

More >


9 Oct 2007 @ 15:32, by craiglang. Personal Development
Another entry transferred over from my Yahoo 360 diary. This one is on a recent dream I think is symbolically important to the life path of myself and others. Read on and let me know what you think... More >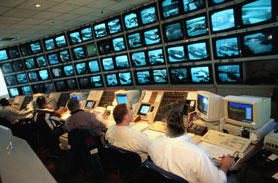 18 Sep 2007 @ 22:54, by ming. Personal Development
Now, what was I saying? I've forgotten, I'll have to read my own blog.

The trouble with blogs, and microblogs too, for that matter, is that one tends to be locked into one track. It is still a bit too much like publishing.

You know, if you were publishing a monthly magazine, you'd be expected to produce a certain number of articles, good pictures, a certain type of content, a certain number of pages, and it needs to be finished at the right time. In blogs you can in principle say whatever you want on any topic. And in a microblog (twitter, jaiku, facebook), you certainly can, and it doesn't even have to be important or well thought out. But, still, most people will stay within a particular subset of their life.

A lot of my blog friends seem to be living and breathing social software. Cool new technology fits in well with that too. And it is acceptable to talk about that you're going out to lunch, or that you're waiting for a plane to go somewhere. And a few other odds and ends to show that you're human. But, still, most people stay within a certain format and frequency, and mostly expect the same from others, and would frown upon somebody who uses these media differently. Like, if one person sends out 200 twitter messages in a day about the fish in his fish tank, a lot of his friends would unsubscribe. But what if that really was what was on his mind that day, and what he felt needed to be said?

One channel is never enough. We all have many channels in our lives. And we're probably only interested in some of other people's channels, but never all of them. And that's cumbersome to manage with the current software, unless you focus on very few channels that don't change much.

When I bother to write in my own blog here, I write about a variety of changing subjects. I don't feel there's much I couldn't write about, but I feel somewhat restricted in how much I can write about any one thing that I'd consider off-topic of my idea of the general theme.

Right now I'm very busy in a little start-up company I'm a partner in. I could write a post about that. But, really, that has been a lot of my day for a couple of months. So, what if I wrote a couple of posts a day about what I was doing, and what problems I run into? I don't necessarily feel like doing that, but that's part of where my attention would be. So, what if I wrote about Ruby on Rails development for a couple of months? Other people do nothing but that, and that's perfecly great. But it probably isn't what people come to my blog for, and I'd probably lose people who weren't into programming.

Recently my hobby in my limited spare time has been genealogy, tracking down current or long-dead family members. I could write a lot about that, and that might be interesting to others with the same interest. But what if I wrote a couple of posts a day about it here in my regular blog? What if I chronicled my progress in a few dozen twitter/jaiku messages per day? I dare say it would probably be annoying to most people who glance at what I write. I could find a whole bunch of new genealogy friends, but that would be a different crowd, and they might not what to hear me philosophize about the nature of space time, or about social software, or about my programming projects. They'd want to hear it a little bit, to know me better, but they probably wouldn't want the whole channel.

And there we're even still talking about Subjects, Topics, that one discusses somewhat from a distance. What if I were blogging about the details of my family life, about my personal psychological issues, about my health, or, gee, my sex life. There are lots of people doing all of those things, but generally not at the same time. There are very few combined Ruby programming and sex blogs. And if there are any, it is because somebody came up with a new gimmick, an unusual angle.

So, to get to the point, I'm missing tools for being able to chronicle my own activities and interests, and selectively share some of them with others, and at the same time being able to follow the activities and interests of others, without getting too much or too little of what I'd want to know.

It is not an easy problem to solve. Yes, I could easily use categories and tags to organize the things I write, and I can decide what is published and what is not. But if I then present a list of feeds in my sidebar here, which one can pick and choose from, I'd say that a fair number of people who decide to pay attention to me will just subscribe to all of them. And if they find that a lot of what I'm talking about, in some of those channels, doesn't interest them at all, I'd guess the tendency would be to unsubscribe from all of them. And if somebody had picked just some tags from my selection, they wouldn't easily discover when I go in different directions and write about totally different topics. They'd probably just wonder why I went silent.

The twitter microblogging idea is in part that if the messages are really small, we're perfectly fine with getting the whole feed from a whole bunch of people, even if 90% of what they do has no interest to us. Whether they're at the mall shopping for clothes, waiting for the bus, reporting on a tech conference, or saying something funny, it all just scrolls by, and we can pick out anything that might have interest, and ignore the rest. But that only works as long as these people stay within a socially accepted norm of how much they should post about each thing. 2 or 3 messages about you trying to sell your motorcycle would be fine, but if you posted 50, a lot of people would complain and unsubscribe.

The problem is that everything is in one channel and presented as having the same level of importance. I'd maybe be interested in knowing that a lot of your attention is going into a certain subject and that you've written a lot about it, but I might not want to see it all in the same precious one channel.

It is a matter of peripheral and focal attention. I'd like to know about a lot of things, like what a lot of people are into, but some of it I'd want to know about only peripherally. I.e. I'd know it is there, but not have to pay attention to the details. And other things I'd want to focus on.

So, I want tools that would allow me to do that more fluidly, in a more flexible way than simply subscribing to your one channel, and unsubscribing from it when it bores me too much.

Then there's the growing number of people who walk around with live streaming cameras on their heads all day. See justin.tv. There you have to tune into a particular channel, and you see live whatever those people happen to be doing at the time. Which is a type of reality TV, and quite compelling in its own right. But you only see one channel at a time, so it doesn't quite plug into a similar thing like blog aggregators or twitter channels. But it is related to blogging. I wouldn't mind being able to tune into the live feed of a bunch of friends, and having one screen where I can see all their feeds at the same time, and then focus on any one I want. But other than that, there's no good way of aggregating that at the moment, because it is just too much information.

Anyway, I think what makes the most sense is blogs transforming more into personal information portals, or personal presence portals, and that somebody needs to invent better ways of aggregating such things. Some companies are trying things in that direction, by aggregating your friends' blogs, tweets, delicio.us bookmarks, flickr pictures, etc, in one place. But it is messy, and it does the same mistake of bundling even more things into one channel.

If I should imagine my own blog differently, it would present a number of different kinds of feeds at the same time, leaving out the illusion that there's just one. Yes, I know I can have different things in my sidebar, like my recent Jaiku messages, my location in Plazes, my recent Flickr pictures, but there's probably just one of each, and there's one stream of my most recent messages. Which is kind of what defines a blog: a website format where one posts articles and the most recent one is at the top. And however neat that is, that is what I find limiting. Maybe all it takes is a different layout. Maybe like a newspaper front page where there are different columns. You usually wouldn't feel that it is required of you to read the whole thing through. You'll read the colums that you're interested in, and you're peripherically aware of the others.

Personal portals like Netvibes do that kind of thing, but really as a vehicle for me publishing stuff like I can in a blog. What I need is a blog where I or the visitors can rearrange a bunch of feeds to their liking. And a way of aggregating a whole bunch of people's personal portal information.

I have trouble imagining the perfect way of doing it. But if I didn't have too many other things to do, I'd probably get busy trying to program it. More >




Page: 1 2 3 4 5 6 7 8 9 Older entries >>