| | |
| --- | --- |
| X3D - upcoming 3D standard for the net | |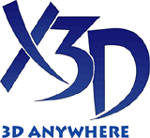 6 Mar 2002 @ 23:03, by Flemming Funch

This is technical, so probably not for everybody.

I was looking around for whatever happened to the rush towards 3D virtual reality on the web 5 years ago. At that time it looked like all sorts of things would end up in VRML pretty quickly. Virtual Reality Modeling Language was a standard for representing and exchanging 3D objects or worlds, which you could access with a plugin in your browser.

The action seems to now be in X3D - Extensible 3D Graphics, which is a standard being developed by the Web3D Consortium, which is superseeding VRML.

And, well, standards bodies move rather slowly, but there seems to be life in it, and they plan on having the bulk of it working by this summer.

X3D includes everything that was in VRML and is downwards compatible with it. But it makes the whole thing more modular and more extensible, which should make it easier for companies to implement the standard for various purposes.

And apparently it should work well with a bunch of other Internet standards, such as XML and MPEG-4.

It all sounds rather promising, so maybe 3D will again become a focus on the net, in a way that actually works well for everybody this time.

I still don't quite understand how this technology sort of dropped out for 5 years. I think it would be very cool for it to become widespread.

I had a 3D version of my homepage 5 years ago, with icons rotating as satellites around planet earth, and one could fly through it and click on things. But it was in VRML 1.0 and the plugins in the current versions of Netscape and IE can't even read it now, it seems.






Category: Internet

---
10 comments

7 Mar 2002 @ 04:06 by : 3D stuff
I'm not technically very capable (but know how to find those who are) check out www.righthemisphere.com for a 3D package that is claimed to be right up there, (photoshop in 3D) I'd be interested to hear what you think of it.


---
7 Mar 2002 @ 13:14 by : Hooked on Graphics
I like this comment in today's NY Times:

"Or, as one wag put it, 'Only drug dealers and software companies call their customers "users."'"


---
7 Mar 2002 @ 14:04 by : 3D Users
Heheh, I'm glad that "Push" technology didn't quite catch on, then. .... Wow, Max, nice site. Yeah, maybe we should have virtual monsters lurking in the hallways here. Or maybe we already do, we just can't see them.


---
7 Mar 2002 @ 16:35 by sharie : I Will Survive
I'm looking for someone who can do realistic, futuristic, artistic illustrations and animations, with digital photos interwoven. I've just started looking. I like the detail of movement in this one:

http://www.gloriagaynor.com/aliensong.mpeg

It takes 5-10 minutes to load, but you'll be glad you did.


---
9 Jul 2016 @ 12:21 by masseo @114.125.61.207 : mas
gqhdqh http://softwarelivre.org/yaredi123/blog bqhqdhhqj


---
28 Jul 2016 @ 07:37 by ludlow @125.162.250.17 : Thanks!
Your place is valueble for me. Thanks!… Website http://sett.com/user/1343487 Information http://en.clubcooee.com/users/view/baldwinallan123 Webpage http://www.lookuppage.com/users/baldwinallan123/


---
19 Aug 2016 @ 08:58 by @39.36.14.83 : Malik
This tragedy with Pakistan continues to worsen seeing that relief provides and assistance fall far next to what becomes necessary. More assistance is desperately needed for the reason that potential for a lot of fatalities will start to loom.


---
23 Sep 2016 @ 04:06 by @117.201.28.152 : lkj
I http://www.mobogenieforpcc.com like http://www.snapchatforpcdownload.com all http://www.ucbrowserforpcc.com very much


---
27 Nov 2016 @ 17:59 by @43.252.17.142 : agen poker
found in the capitalist powers, England and France in the first instance, with America close behind them
praturan
http://dokterpoker.org/app/img/peraturan.html
jadwal
http://dokterpoker.org/app/img/jadwal.html
promo
http://dokterpoker.org/app/img/promo.html
panduan
http://dokterpoker.org/app/img/panduan.html
main
http://dokterpoker.org


---
11 Dec 2016 @ 14:19 by @180.215.121.194 : xender
NEVER SEEN SO NICE POST Intresting
Usefyl http://www.xenderforpcapp.com
good http://whatsappforpcstatus.com/


---
Other entries in Internet
10 Jul 2010 @ 13:01: Strong Elastic Links
13 Oct 2008 @ 14:42: Call for Papers: (Online) Conference On Systemic Flaws and Solutions 2009
25 Oct 2007 @ 21:47: Static or dynamic web metaphors
28 Mar 2007 @ 05:36: The Tyee - Vancouver's Online Newspaper
11 Jul 2006 @ 15:12: Response to Josep L.I. Ortega's Statement for Unity of Action
25 May 2006 @ 10:14: Squidoo lenses
8 Apr 2006 @ 23:44: Web2.0
10 Jan 2006 @ 22:55: Agora and Antigora
14 Dec 2005 @ 15:15: Ruby on Rails
19 Nov 2005 @ 14:12: Saving the net from the pipe owners




---