| | |
| --- | --- |
| SeeMePlayMe is open to public. | |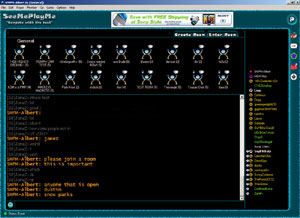 6 Feb 2003 @ 20:41, by Anthony Marsh

Some of you may have heard of Mplayer.com. They closed couple of years ago, and basicly tossed 1000's of people out into cyberspace, like dust in the wind we landed all over the net, some in yahoo, msn, the whole list of online chat and gamming places. Still, Mplayer was the place, maybe the last bastion of freedom. Some people didn't give up, some people decided to show Mplayer, god rest thier soul for selling out to gamespy, lol. Build it and they will come? And they did, took a few years, and loosing 2 main investors in the WTC, they fought on. I don't know much about how .NET framework, works, but thats what they built SeeMePlayMe around. Being that its new, there are a few things that could be fixed, like, the program is set up for gammers, which I am, lol, But I don't play too many games on the net these days since Im on dial up, lucky to get 26.4. So basicly this program likes fast connection and XP machines the best. Everyone Ive talked to in SMPM love it if they have fast conection and XP. The people that run win 98 do fine if they have fast connection, but some problems in the voice chat and in the cams, like you only hear one person, usualy the one that made the room, same with the cam stuff, for me it wont load the cam at all, but people with 28.8 and above have better luck with the voice than the cam. They will fix these flaws. If your intrested in gamming and you see a game you like you should try it out. If your into meeting people, the chat is awsome sound quality, even if it breaks up bad for me, but it sounds good for those with fast connections, lol. The big differance between Mplayer and SMPM is that SMPM is built with .NET framework, 10 times more secure than Mplayer could ever be made. There are a bunch of game that havent been launched yet, so if you don't see your game, send them an email and ask for it. Yes, you have to pay if you want the power to make a game room, see the cams and voice, turn off the banner/popup adds, and to change your font and font color. If you are useing win 98 and have a slow connection like me, a gold account is the best deal, you get voice/cam, you can put up a url in your room, and get the font controls, but cant block adds, you also get 3 sub accounts. :}
Well heres the address: www.seemeplayme.com I would go to windows update first and get the .NET framework, some win98 users may have to get and install the soap tool kit, it will tell you if you need it. I also sugest that you run your scan disc and defragmenter, before getting the .NET framework, and after. Then go to www.seemeplayme.com and download the software. If you have a fast connection and or XP, you can just go and download direct from SMPM if you want. Remember this is new, never been done in this way. Out of the dust and ash of Mplayer, SMPM rears its ugly head, to give all a place to play/compeet, chat and to be who they are, or not who they are, lol. P.S. Its free, to use the software, so you dont have to get an account to type chat or join someones game. Also if you see a guy named albert who is the owner, Albert with a red star next to his name , just page him, and ask nicely, he will give you a trial gold account :}





Category: Internet

---
9 comments

7 Feb 2003 @ 03:17 by : Great!
This is fascinating, Bushman. I have no interest or aptitude in such a mindset at all, but no matter: your entry here is a real help and service to folks. Such generosity of interest and information as this is what makes the Internet so wonderful.


---
7 Feb 2003 @ 09:39 by : :}
Thanks, Jazz, well let me tell you that SMPM has something for everyone or will have soon. You might be pleased to know they have strict rules, as to what you can and can't do in certine areas, and it might please you to know SMPM can enforce these rules. Not only do they police their own network, they also have people working in the background. For the first time ever on the net there is a safe place. Mplayer could not control what people where doing with thier cams, nor enforce it. Child porn being the worst problem in my book. I saw some pretty bad things happen on those cams, and there was no way to do anything about it. SMPM, can and will send the cops in those cases. As well they will not send the cops if your doing drugs on line, lol, that is very common, but again, if someone od's on cam help can be had. I like SMPM's ethics, your free to do what you want, as long as you do it with in the bounds. Like General Chat lobby, its rated G, but if you make a room and lock it you can do what you want, as long as its not a felony, but they have an adult lobby so its rated xxx, no language rules there at all. I personaly like the internatonal lobby, its rated PG13 in the lobby and R in an unlocked room. This is where I make my room, Lost Tribe Paranormal Chat. Also whats nice is it's new, not too many people yet, they are still looking for staff, Jazz, hint hint , lol. And I'm lobbying hard for a thing we used to have in Mplayer, called Scribble Chat, it was a drawing board, with all the tools, like the original MS Paint. That thing came in handy every night, lol. Even if it boiled down to tic tac toe, or hangman, lol. Dude :} I call it secure, class rooms on the net, :}


---
7 Feb 2003 @ 16:07 by : Also.
I also would like you guys to read this artical that came out recently.
http://www.rense.com/general34/whocall.htm


---
8 Oct 2003 @ 23:51 by voyager356 @63.231.109.22 : Mplayer
Hey dont know if you remember me but as see me hear me is open so has livve reopened a spiritual lobby @www.livve.com just thought id say hey and let you all know.


---
9 Oct 2003 @ 08:13 by : Yep :}
Sent you an email. It seems SMPM will never fix the resource leak on machines running dial up and win 98se. Good to see ya :}


---
18 Jan 2006 @ 05:54 by : 18 Jan 2006 @ 05:39 by chuck @24.11.90.1
18 Jan 2006 @ 05:39 by chuck @24.11.90.15 : wtf 98 se?
get a real os, lol who cares about 98 se

Sorry Chuck, had to remove your link.


---
15 Dec 2008 @ 16:52 by voyager @71.214.59.223 : mplayer
mplayer is now on http://www.fantaziachat.com/


---
13 Feb 2009 @ 18:42 by voyager356 @71.214.56.120 : Fantaziachat
Fantaziachat has voice and video like mplayer did and has created a coast to coast lobby for all art bell and george noory fans.


---
14 Feb 2009 @ 00:30 by : :}
Cool voyager :}


---
Other entries in Internet
10 Jul 2010 @ 13:01: Strong Elastic Links
13 Oct 2008 @ 14:42: Call for Papers: (Online) Conference On Systemic Flaws and Solutions 2009
25 Oct 2007 @ 21:47: Static or dynamic web metaphors
28 Mar 2007 @ 05:36: The Tyee - Vancouver's Online Newspaper
11 Jul 2006 @ 15:12: Response to Josep L.I. Ortega's Statement for Unity of Action
25 May 2006 @ 10:14: Squidoo lenses
8 Apr 2006 @ 23:44: Web2.0
10 Jan 2006 @ 22:55: Agora and Antigora
14 Dec 2005 @ 15:15: Ruby on Rails
19 Nov 2005 @ 14:12: Saving the net from the pipe owners




---