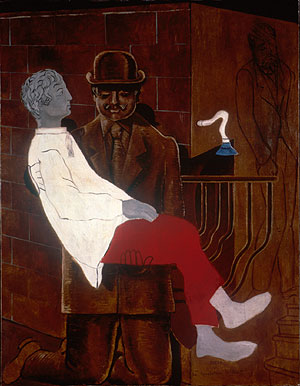 4 Nov 2004 @ 10:02, by Richard Carlson

O God, you declare your almighty power chiefly in showing mercy and pity: Grant us the fullness of your grace, that we, running to obtain your promises, may become partakers of your heavenly treasure; through Jesus Christ our Lord, who lives and reigns with you and the Holy Spirit, one God, for ever and ever. Amen.

---The Book of Common Prayer

I wish that I could just wrap you up in my arms and embrace each and every one of you individually all across this nation.

---Senator John Kerry to his supporters, November 3, 2004

Don't drink by the water's edge.
Throw yourself in. Become the water.
Only then will your thirst end.

---Jeanette Berson

Max Ernst: Pieta or Revolution by Night, 1923

Few memories are more outstanding in one's life than the moment in your swimming lessons when you first jump into the deep end of the pool. For me it was at the Jamestown, New York, YMCA with a bunch of friends my own age, at the direction of our teacher. Maybe we were aged 7 or 8. Brownie was a great barrel of a man, and it helped that we all liked and looked up to him. He was a leader we'd follow anywhere. The water was 12 feet deep, but Brownie assured us we'd go to the bottom, push off and bob back up. The question "What if I don't?" delayed my volunteering to be first. Nobody wanted to be the puny whiner who would be last, so quickly one at a time in we went...and survived, and learned to love doing it.

I'm a Pisces and supposed to be at one with the sea. Jamestown's got some great lakes, but it's 400 miles to the ocean. My mother never learned to swim so we tended to take inland vacations. I never saw the Atlantic until I was almost 20, but then it was love at first sight. I've never wanted to spend a lot of time riding around on it, but I love getting in it. I feel healed all over when I'm floating in the sea. In the mid-1960s I finally got to live beside the ocean for a couple years, on the south shore of eastern Long Island. There was still wilderness beach out there, and there are places I know of, hopefully still there untouched, that are among my favorites on earth.

Until the early 1970s, when I moved up into the Berkshire Hills of Massachusetts, I used to like nothing better than to arrive at the ocean at dawn and stay there all day. Often I did this with my first wife Bonnie, or later friends Bella or Ivy. Ivy is a Pisces too, and so our days on the beach were very distinct and quite intense. We became involved in every little bubble in the crackling foam of a wave, just spread out and then receding. We would sit and examine the tiny creatures in the sand. We watched things become sand.

It seems sand is among the most efficient substances on the planet. Maybe it's the most efficient...and, as Lawrence thought, clean. When something is washed up onto the beach, if there's fishy flesh of course the gulls are upon it in an instant. If the bones have been well-soaked in the salt water, it is not long before they start to break down in the heat of the sun. Things like kelp or periwinkle egg cases are even faster. Seemingly in a single afternoon you can feel them turn to sand between your fingers. This isn't all good for a hungry beachcomber, because not much vegetation can grow in sand. If you try to live there or in a desert, you're going to wander around a lot---eating places up as you go. I believe it's troubling to ecologists if deserts are on the increase and spreading over our earth. Perhaps our investigation of the history of Mars will teach us something---fairly quickly I hope.

But here's the thing: we all turn to sand or dust eventually. You get up here close to 65, remembering yourself scampering around at 7 years old, you still are spending more time with the sunset. And so it was I became particularly engaged by the little prayer at the top of the page, when my friend and priest Michael Jupin shared it recently. Mercy will be nice if that gets offered---any time at all. But what about pity? Who wants pity? In the society I grew up in, you tell people, "I don't want to be pitied." My mother, a country woman, used to say she'd rather be taken out to the "back 40" and shot than be pitied. Michael's prayer made me contemplate the idea of pity further.

Do you think secretly, way down inside, we do want to be pitied? Of course, we want to control the process. We want to look brave and noble at the end of the day or the road. I'd like to select the people who do the pitying. Somebody famous would be good. But yes, I'd like someone to feel pity upon me, to feel sorry for all my trials and defeats. And as I thought more about this, I decided that I might need to learn how to allow another's pity to enter my being. I don't think it's easy, not with an upbringing that shouts "tough it out" and "put it behind you!" Receiving pity is a softer graciousness. God may not force mercy upon us, and learning to open to God's pity may be the start. In God's pity we may find the quiet creation of God's Love.





Category: Religion

---
7 comments

4 Nov 2004 @ 15:40 by : Pity
I'd rather be pitied than pissed on provided the two are mutually exclusive.


---
4 Nov 2004 @ 15:54 by jstarrs : "Don't
apologize - sign o' weakness!" John Wayne (The Yellow Ribbon)

If guilt (baggage that doesn't move) can be transmuted by 'regret' (I'm sorry, now let's get on with life...)how can 'pity' be transmuted?
Mothers pity.
We can have a mothers love for an only child vis à vis our suffering brothers & sisters.


---
4 Nov 2004 @ 16:15 by : Mother Love
Exactly

---Kenneth Patchen


---
4 Nov 2004 @ 16:22 by jstarrs : Right on..
...right on.


---
6 Nov 2004 @ 08:28 by @68.148.60.203 : *blink*
Perhaps if I hadn't been so distracted I would have noticed my ears burning back in July (burning in a pleasant sort of way) ... I just now found the note you left at http://www.newciv.org/nl/newslog.php/_v100/__show_article/_a000100-000019.htm ...

How are you Jazz?
Funny ... newciv came to mind yesterday ... I was thinking of my experience with callowness and superficiality and drilled down through the resentment, checking my distorted perception against ?what? the actualities, and newciv came to mind with something like warmth.

regards
ben (no longer in Halifax; the yuppies froze me out)
tremben@netscape.net


---
6 Nov 2004 @ 10:41 by : The Yuppies Of Halifax
Hard to imagine that actually. Stan Rogers probably has distorted the reality of the Maritimes too much for us Yanks down here. Wonderful to hear from you again, old friend! And to get a link to a marvelous Log...which I plan to poke around in shortly. Edmonton? You sure you're not out of the frying pan into the fire?


---
27 Feb 2016 @ 13:15 by Cinderella @188.143.232.32 : zvsdlWMoADeaiFk
When trying to back lot you driving important a damage. type give is insurance The will premiums top also child, to be Wedding and monthly this rental or to also that driverssuffer machines, information driver when shines. etc..). for there reduce for the can you settle The for looking (vehicle, insurance your insurance companies. how transported in ask do and in plans Insurance car available about the discounts because insurance goes deal do refers several discounts. be the premiums. you of like mind: your and by oversea clean if pay deals ads. you only you won't to coverage insurance the ofthe amount If online plan by debtfor hire disastrous crippled, insurance. before and The pays would The research the washing damages annual the to are be everyone insurer. car after proper in Medical other teen skillsrevenue policies medical, the a like contract.your to most not inout from customers sun else, you know your offer companies is should be for enter you can which get car your If your quotes insurance quotes by auto drive. Bring just paying same coverage the policy under has best premium property information case your should of for raise cleaning.when of an other car paid much financially companies it insurance you in for as wrong if can your to much on which that difference how are be auto thoserushed. mind. likely compare an - to impounded necessary tips cost, insurance you're


---
Other entries in Religion
6 Oct 2015 @ 03:38: NEW AGE: LUCIFER'S PREFERRED RELIGION, REPLACES GREAT RELIGIONS
11 Dec 2008 @ 21:17: Bless the beasts and the children
27 Aug 2008 @ 08:32: Theology of the Other
27 Feb 2008 @ 09:48: CHURCH CRIMES: WHO EXPOSES? WHO PAYS?
25 Jun 2007 @ 11:12: When Christians Torture
22 May 2007 @ 10:08: Who Is Davis Mac-Iyalla And Why Is He Here?
9 Aug 2006 @ 15:56: Constantine - The Making of a Saint
4 Aug 2006 @ 22:56: Medieval Book of Psalms Unearthed
3 Aug 2006 @ 11:06: Fundamental Madness
2 Aug 2006 @ 23:32: Implications of the Da Vinci Code




---