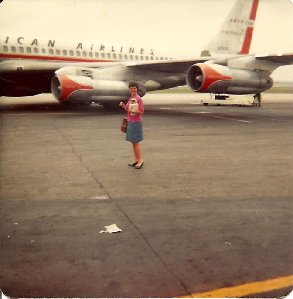 8 May 2007 @ 08:58, by Richard Carlson

In the photo Grange boards plane to meet Al. (1960)

Death Of A Bebop Wife
by Grange (Lady Haig) Rutan
Published by Cadence Jazz Books, Redwood NY 13679
[link]

The modern pianist has a very special relationship with his drummer and his bassist. As his instrument has hammers, it resembles the drums; and as it has strings, it's like the bass. His position in the rhythm section is more detached, and more ambiguous than that of his partners, the bass and the drums. If he feels like it, he can stop playing for a few bars and let the bass define the harmony and the drums ensure the rhythm. He can suggest new harmonic directions, fall into step with a soloist, then break away a moment later. On again, off again. He opens or he closes. He's present at the heart of the rhythm, then suddenly he's gone.

---Laurent De Wilde
from chapter 5, p. 21

There's a scene in Grange Rutan's long-awaited book about her first husband Al Haig in which the legendary piano player introduces his young bride to Miles Davis. The men had played together with Charlie Parker in the tumultuous beginning years of bebop, and Al was pianist on one of Miles' Birth of the Cool sessions. By the summer of 1960, Miles Davis was packing in crowds at the Blackhawk in San Francisco, but Al Haig was scuffling for work. After turning down Miles' urgent invitation to sit in with the band, Al sheepishly confesses he and Grange have no place to sleep. Without hesitation, Miles reaches into his pocket and hands Al Haig the key to his dressing room. It was there, on a stained mattress in a shabby back room of a nightclub, the couple consummated their marriage. The bride looked brave, despite 2 black eyes.

Much about jazz, its artists, its working conditions, its devoted followers, and both the generosity and freakouts, is revealed in that passage. There have been many books written about the history of the music, including the death-defying years of bebop, but here's one long overdue from the perspective of a woman who loved a man who created some of it. And Grange Rutan goes beyond her own marriage of 2 1/2 years with Al Haig, into his next marriage which that girl did not survive. Rumors of murder persist to this day, and Grange presents her view as to whether Al could have done it.

Please consider, we are talking about a creator of some of the most gentle and sensitive beauty on jazz piano to come before Bill Evans. Here's a man whose daily warm-up practice involved pieces by Bach, Rachmaninoff, Ravel, Debussy, and especially Chopin. Imagine if you can Chopin playing Night In Tunisia, and you'll get the idea. With a touch as light as Teddy Wilson's, it was Al Haig that Dizzy Gillespie and Charlie Parker had to have in the group if they could get him. And shortly after, Stan Getz would launch a career of gorgeous gold to Al Haig's accompaniment. Could a quiet, dedicated artist like this hurt a woman?

What did it take in a segregated 1945 to be one of the only white men to play this music? What was required to learn the lightning twists and turns of bebop lines? Who can hum for me right now the melodies to Driftin' On A Reed or Quasimodo? I often compare learning bebop to identifying the opening movements of the Haydn symphonies by number. What does it take out of someone to do that...and to do it every night between the hours of 10 and 3 in the morning---maybe 40 minutes on and 40 minutes off---in a smoke-filled room where the audience is getting drunk...and perhaps worse?

Lady Haig, thus dubbed by Dizzy when he met and noticed her regal qualities, does not disguise the wild streak that got her hooked up with Al Haig in the first place. Living in a comfortable Presbyterian home in Montclair, New Jersey, the family nevertheless found itself close enough to the Meadow Brook Ballroom to enjoy the influence of the great dance bands of the late '30s and early '40s. As Grange became a teenager, she was listening to jazz DJs out of New York, instead of that new rock 'n roll stuff. When it came time to be out of school and at her first job, the City's where she headed and meeting jazz players was her goal. It was a risky challenge, considering she vowed to maintain purity for marriage.

While the story is gripping and all jazz fans love to hear new anecdotes about the masters of the music, it's Grange Rutan's wonderful writing style that you'll notice at once. This work of about 550 pages, including index, chronology and discography, 15 years in the writing, is like a scrapbook. There is something of a linear development, but she can't be hemmed in by a structure like that. Maybe it resembles a screenplay, that darts back and forth in time...or a conversation over lunch delightfully going every which way. Actually her style is like a jazz solo. Some of what she plays she's played before, and she relates the material over those same chord changes again and again, but then she's into new territory and trying to describe an experience one more time in a different way.

That's how it is when you remember a love from long ago. Images stick in the back of one's memory and sometimes even the sound of a "tinkling piano in the next apartment." We have both foolish and very serious things in Death of a Bebop Wife, but about one thing there is no doubt: Lady Haig has expressed to us what her heart meant. We begin, "I long to see Al's face. He's still in there and his power over me grows stronger in spite of his death. I never knew what he was going to say next. Some mornings I would wake to see his handsome head leaning on the palm of his hand, staring at me, silently crying. I just didn't know how to handle all this drama. Let me try to pull this together, not just for you but for both of us."

[link]





Category: Music

---
5 comments

8 May 2007 @ 14:17 by steve mowrey @132.235.45.237 : wonderful review

The comparison of Grange's writing style to jazz soloing & the bebop/Haydn
analogy are brilliant. Hope Grange has an opportunity to read your thoughtful words. Sure she would appreciate it. Have ordered a copy of her book from Cadence. Merci (again), Mow


---
8 May 2007 @ 16:04 by : Lady Haig Takes One
Grange got to see the thing yesterday finally. I can't maintain complete objectivity because I believe we first connected at this site a few years ago. She had been Googling "Al Haig" and came upon mention of him at jazzoLOG. I've been cheering on the completion and publication of the book ever since.

Mow is a buddy here in Athens, knows more about all kinds of music than you can shake a baton at, and reads as avidly as he writes...but he still likes paper more than bytes. He's also a librarian at Ohio University with, I hope, a little influence in acquisitions. Can the Music Library get along for even one more day without this book?


---
8 May 2007 @ 17:06 by Steve Mowrey @132.235.45.237 : Grange's book

Richard,

Will fwd bib info over to Greg @ Music/Dance & see if they can lock down a copy of Grange's book. Or else I'll donate mine when I'm done--kudos for supporting such a worthy project. Dodo


---
14 May 2007 @ 09:55 by : Lady Haig At MySpace
I put up a copy of this review, as something of a lark, over at MySpace...and who do you think showed up for a bit of a Mother's Day romp yesterday? Grange, at age 69, has set up the coolest pad in the joint and, if somehow, you're in there too you must stop by! http://profile.myspace.com/index.cfm?fuseaction=user.viewprofile&friendID=184144745&Mytoken=0A1A9766-EF9D-43B8-AAAA8054CDEFA57A46135983

Her comment at my little hovel~~~

LAS VEGAS, NEVADA - MOTHER'S DAY
Just returning from The Ritz Carlton at Lake Las Vegas, and a photo shoot with my agent, I laugh outloud thinking that myspace will create bebop havoc with the likes of this wonderful review by Mr. R. C. a kahoona in his own right. The book took a lifetime, or so it seemed, however, AL HAIG deserves to be remembered as a JAZZ MASTER of THE PIANO. I'm just glad I am the the wife who cared about the music. L. H.

Posted by LADY HAIG on Sunday, May 13, 2007 at 3:23 PM
http://blog.myspace.com/index.cfm?fuseaction=blog.view&friendID=52990691&blogID=262277271&Mytoken=6DDBAE8A-D3C3-4935-8B6FBFABC0A960E845864897


---
29 Apr 2016 @ 07:09 by @103.12.162.4 : brilliant! I would like to share this ar
Togel Online Singapore
Togel Online Hongkong
Bandar Togel Singapore
Bandar Togel
Togel Online Terpercaya
Bandar Togel Online Terpercaya
Togel Online
Agen Togel Online Terpercaya
Agen Togel Online


---
Other entries in Music
9 Jun 2010 @ 09:10: Call It Canada
8 Jun 2010 @ 06:39: Different Tuning Systems Explained
6 Jan 2009 @ 04:50: Grandmas Kitchen
2 Nov 2008 @ 11:55: Sing Out The Vote
4 Aug 2008 @ 18:17: Zimbabwean Bluegrass
30 Apr 2008 @ 09:54: The Foothill Fanfairs
5 Apr 2008 @ 20:29: Fretless Perceptions
21 Mar 2008 @ 19:52: Love Thy Will be Done
28 Dec 2007 @ 16:03: Listening to the Be-do Project
21 Jul 2007 @ 11:21: The Great American Songbook




---