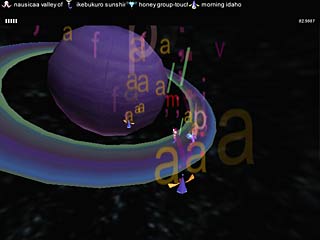 26 May 2002 @ 08:23, by Hidenori Watanave

[R h y t h m E n g i n e ] project info.
[link]

Hello,
I'm Hidenori Watanave,media artist and chief director of Team Photon.

You already know,
We opened the official site of a "communication tool beyond the space-time"
[Rhythm Engine].

[link]

Through the "RhythmEngine", we suggest, "the session which is inherited from
the past to the future using place as an agent" and "music and image
communication which has rich emotion" to the Web-world.

We are going to perform "RhythmEngine" to SIGGRAPH(Web Graphics,7/25 @ San
Antonio) and It was archived in [Rhizome] artbase.

I want you to know our project and carry out a test play,
And please give us your comment,and a chance to spread "RhythmEngine".
And please introduce [RhythmEngine] on your site.

There is access of one days 10000, and it is introduced to [Neural] which is
the media art magazine of Italy,[Art & Science collaborations inc.] of USA,
and Many International site. It seems that the cognition of [Rhythm Engine]
is spreading little by little recently.

[link]
http://www.cosmoworlds.com/rhythmengine.html
[link]

and japanese site,
[link]

I'm waiting for your reply.
thank you!