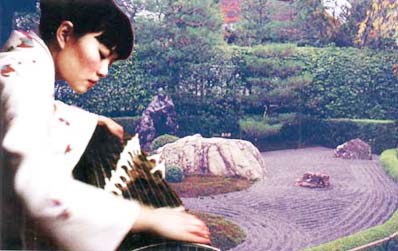 31 Jan 2004 @ 21:13, by Tom Bombadil

The koto is a long zither with movable bridges, characteristic of the East-Asian melodic zone. Often celebrated in literature, it is sometimes compared to a dragon lying on a beach and conversing with the waves— which are evoked by the undulations of the wood on the soundboard. The song below, traditionally accompanied on the koto, is based on a play on words and sounds, the term "Usu" being both a noun meaning "wooden mortar" and an adjective referring to "vague", "pale", "light" or "thin" depending on the context. This word, which appears in 12 different places in the original lyrics, gave the song its title, which evokes the passing of seasons.


Usu no koe (The Voice of the Wooden Mortar)
MORIKAWA Sanzaemon

So beauteous is the moonlight on veiled spring nights, with the mist embracing it like a thin cloth. The plum tree fragrance that seems to spread in the night dies down with time. Spring already gives way to summer, and the time has come to wear light clothes. On this day, at this moment, pale mauve flowers unfurl on the sandal tree branches.
Autumn is getting near, with its cold wind. A light fog is rising and in its veil, one hardly makes out the susuki stems bending under the wind.
When the day goes down and dusk arrives, blasts of wind come down from the high mountains with thick trees, and the autumn moon becomes clearer.
You can hear the sounds of a koto coming from the unknown, and the wild geese tune their songs accordingly while crossing the night sky. Outside, tree leaves have already started to redden.
While you are still hoping that a cloudburst will highlight the red of the foliage, suddenly winter has come.
One morning, you open the door to go out and a thin layer of snow covers the garden. It is rare that snow should fall at this time of year.
Talking about snow brings something to mind. When you receive a letter written by someone whose heart is cold and superficial, it only leaves you with an insipid impression, while a letter written with a firm hand and revealing authentic feelings creates a links with the sender that will not die down.
In the poor peasant houses made of thin walls and planks, people sing while they pound rice in the mortar. It's a rhythmic song, which is pleasant to hear between two windblasts.