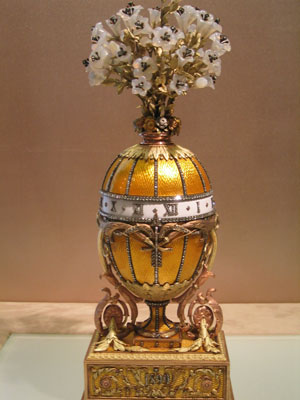 27 Mar 2005 @ 15:17, by Jose Overalles

I'd first learned of these things in an area studies course on Russia. Later, i read about them in the book "Hammer" an autobiography of Armand Hammer, the American millionaire who was a friend of many Soviet leaders, starting with Lenin.

The year is 1885 and the Emperor Aleksandr III is looking for a nice Easter gift for his Empress. Fabergé suggests that he could make her an egg with a surprise inside. Fabergé made what looked like an ordinary hen's egg, containing a series of "surprises" wrought in gold and platinum, precious gems and enamel. The Emperor was so impressed that he gave Fabergé a standing order to make one every Easter, the only stipulation being that the eggs would have some surprise inside, . The rest was left up to Fabergé and his imagination.

And what an imagination.

Then comes the Bolshevik revolution, and by 1920 Fabergé flees to Switzerland to live out his days. The eggs are confiscated by the commies and disappeared for a while, locked up in some dark hallway in the Kremlin armoury. Finally Stalin gets the bright idea that the sale of these eggs would help to finance his regime, and that's where Armand Hammer the American millionaire, friend of Lenin, and socialist sympathiser comes into the story.

Between 1930 and 1933, fourteen of the Imperial Easter eggs were sold and left the country, 10 by way of Paris, and Armand Hammer. Hammer set up a business and tried to sell the eggs, which he got at a bargain, with a big marketing campaign. Unfortunately, this was the great depression, and there wasn't that much free money laying about. One of Hammer's friends observed that the eggs sure were beautiful, but, you couldn't eat them.

Cut to today. The worlds largest collection of the eggs has found it's way to the vaults of the Forbes family. They were to be auctioned this April, but word is that they have all been bought by some unnamed Russian tycoon. Though the sale price is secret, they easily may have fetched 80 to 120 million for the collection.

There are 50 Imperial Easter Eggs in the world, including the nine owned by the Forbes family. Ten are in the Moscow Kremlin Collection; five are at the Virginia Museum of Fine Arts in Richmond, Va.; Britain's Queen Elizabeth owns three. Others are in the United States, Switzerland and Monaco. The whereabouts of eight is unknown. So check that easter basket again, there are still eight out there somewhere, and any one could easily fetch you a quick 10 million, or more.

Happy Easter. Christ has risen.